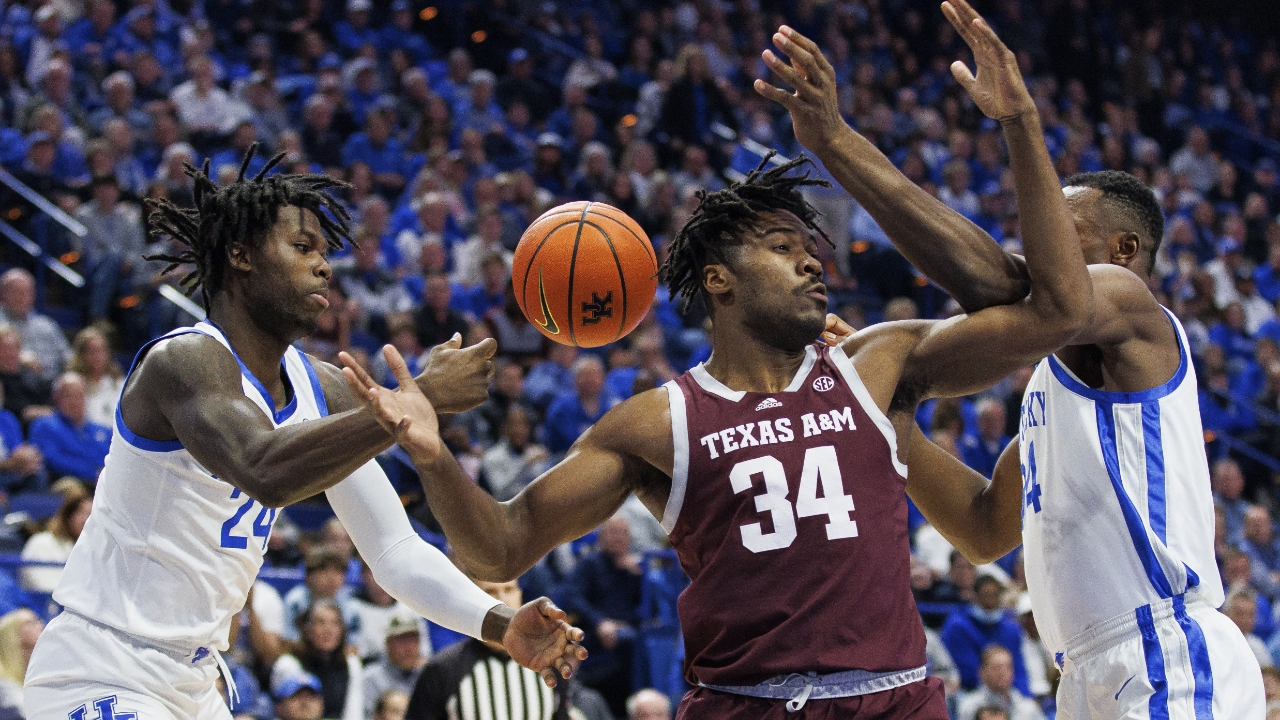 Photo by Jordan Prather-USA TODAY Sports
Texas A&M Basketball
Kentucky's second-chance points too much for A&M to overcome, 76-67
---
Press conference video courtesy of University of Kentucky Athletics
---
Down the stretch, Texas A&M had a chance to post another Southeastern Conference basketball victory.
But Kentucky had a second chance. In fact, the Wildcats had 17-second chances — in the form of offensive rebounds — which led to 16 second-chance points.
The Wildcats also parlayed 16 A&M turnovers into 16 points on the way to capturing a 76-67 triumph on Saturday at Rupp Arena in Lexington.
The loss, A&M's first in conference play, ended a seven-game winning streak for the Aggies (13-6, 5-1).
"We needed to end an offensive possession with a defensive rebound and play with a low turnover rate," A&M coach Buzz Williams said. "We didn't do that well enough."
The Aggies were out-rebounded 38-31 and managed only four offensive boards. They had just two second-chance points.
However, A&M did score 19 points off turnovers by Kentucky (13-6, 4-3).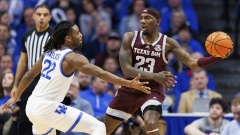 Jordan Prather-USA TODAY Sports
The rebounding numbers were a stark reversal of A&M's previous five SEC games.
"What has led to the first five wins is what caused the first loss," Williams said. "We had been dominant on the glass on both sides of the ball. Today, we missed 25 shots and only got four of them back.
"We played with our lowest offensive rebound percentage. We played with our lowest defensive rebound percentage. And we played with our highest turnover percentage. Just mathematically, you're burning the candle at both ends. It's so hard to overcome."
Despite those issues, the Aggies trailed just 63-61 and were shooting for the lead with less than four minutes remaining. But Wade Taylor IV could not connect on a 3-point attempt from the right wing.
Unfortunately, that was an issue throughout. The Aggies converted only 3-of-16 shots from beyond the arch, while Kentucky hit 11.
Taylor and Dexter Dennis combined to go 0-for-11 from 3-point range.
The Aggies tried to compensate with Tyrece Radford, who scored 20 of his 22 points in the second half. Also, Julius Marble II had 12. Henry Coleman III had 10, as did Dennis. Taylor finished with eight.
After Taylor misfired with 3:55 to go, Kentucky's Cason Wallace found an opening on the baseline for a reverse layup and a 65-61 lead.
A turnover and missed shot on A&M's next two possessions enabled Kentucky to build a 67-61 lead with just under two minutes left.
Kentucky scored on five straight possessions in the final minute-and-a-half to clinch its third straight win.
In the Aggies' five previous SEC victories, they used a suffocating defense to gain a sizable lead in the first half and then held off rallies in the second half.
"We needed to end an offensive possession with a defensive rebound and play with a low turnover rate. We didn't do that well enough."
A&M followed a similar MO on Saturday. Kentucky shot just 30.6 percent from the field and was scoreless over the final 3:18 of the first half.
All-American Kentucky forward Oscar Tshiebwe was held scoreless in the first half. He finished with just seven points.
However, guard Antonio Reeves picked up the slack with a game-high 23 points, 15 of which came from 3-point range.
Largely because of 11 first-half turnovers, A&M took only 23 shots in the first half. The Aggies shot 56.5 percent (13 of 23), but because of the low volume, they managed a scant 31-29 halftime lead.
Radford scored 12 points as A&M outscored Kentucky 14-5 in a three-in-a-half minute span to give the Aggies a 51-47 lead with 12 minutes remaining.
But the Aggies managed just two Radford free throws over the next five minutes.
However, the Aggie stayed in contention by shooting 49 percent (24 of 49) from the field and hitting 16 of 16 at the free throw line.
It just wasn't enough to overcome their 3-point inaccuracy, Kentucky's clutch shooting in the final minutes or the fact the Wildcats took 18 more shots.
That left the Aggies frustrated and feeling they had squandered a chance to extend their winning streak.
"When they get to shoot 18 more balls, it's just hard," Williams said. "The underlying part of that is 16 times we have the ball, and we give it to them. And 10 of those, 16 were live ball.
"In the first half, we held them to 30 percent, but we just played with too high of a turnover rate. When we turn it over, yes, our defense is not set, but when we turn it over, it's a missed opportunity for us to have a chance to get an offensive rebound if we missed the shot. But if we don't get a shot, it's taxing you both ways."
Never miss the latest news from TexAgs!
Join our free email list