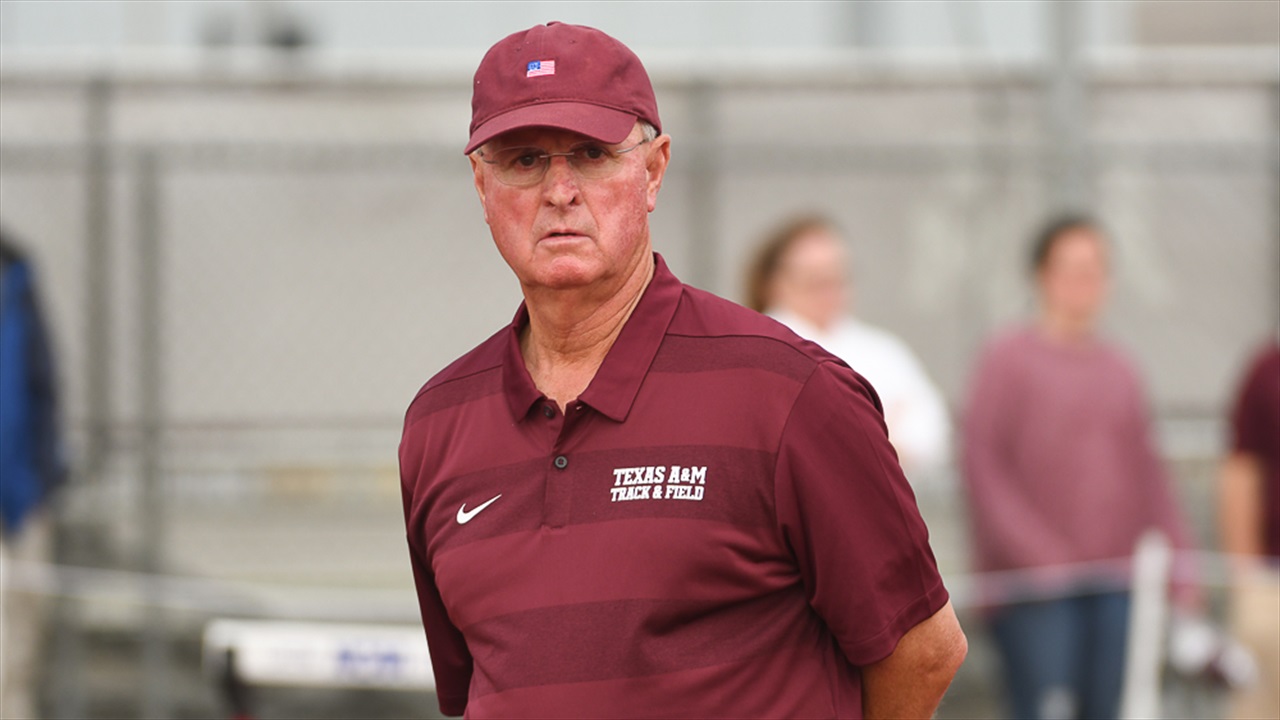 Photo by Mintie Betts, TexAgs
Texas A&M Track & Field
Track & Field Report: Henry provides latest as indoor season heats up
---
Texas A&M ran in its first indoor meet of the season last weekend, and the Aggies will head to Lubbock on Friday. During Tuesday's edition of TexAgs Radio, head coach Pat Henry shared the brightest performers from last week and looked ahead to the Red Raider Open.
---

Key notes from Pat Henry interview
People that go out and start running again, you can read a little bit and want certain things to happen. Everything is about time. Everything is a time. I see that stuff on TV about how you're going to change your abdominals quickly. That's not going to happen. It's the same with all sorts of training. It takes time. It's the same thing with running, and it's all a time factor.

Eric Casarez is lifting right now. He's more of a circuit lifter. He does some Olympic lifts. Some of our people do Olympic lifts only. Our sprinters are almost all Olympic lifts. Our strength coaches do a great job of putting a different variety of things in. You have to strengthen a lot of factors before you can get under a bar and be effective.

Arkansas was a good first competition for us. We've been training since the first week of school. By my log, I'm on week 23 right now. Our distance people had a season already. They've come back. Their season is different than the sprint people and our throws, who are just getting started. We have different groups within our team that have to do some things differently than others.

The mental aspect of racing is as much of a thing as we're working as the physical. The mental part of putting yourself in a position to get the best out of yourself on that day is very difficult, but that's what we're trying to do. The training after performing your best will build on top of that.

Bára Sajdoková was hurt for a year when we brought her in. We saw immediately that she can really jump. Europeans have a different pattern of jumping sometimes, and she's one that comes at the bar very fast. To jump 6-feet on her first weekend is a significant jump. She's going to jump higher than that. She has a great training partner in Lamara Distin.

Eric Hemphill III was going to play football in college, but then he ran well late in his track season. He decided to run track & field. He's going to be good, and he has a great mentality. He talks about Brenham every day in practice. It's good to hear them talk about their high schools and their teams. I started my college coaching career in Brenham at Blinn Junior College before I went to LSU, so I love that little town.

Hemphill ran well on the anchor, and he ran some by himself. I was pleased with how he ran in that competition. The first two legs of our 'B' group were faster than the 'A' group. We have six or seven guys that are going to be competitive on our 4x400. On the ladies' relay, we ran well but got beat by Arkansas. We know where we need to get better. We will see some changes this weekend when we go to Texas Tech.

With Distin, we're going to back off a little bit and make sure she's ready for the big, big meets. It's hard for a person who is a 6-foot-5 high jumper to go into an environment where people are jumping 5-foot-8. Elite people have to compete against elite people, or else you can get dragged down. She doesn't need to compete right now. There are people who need more competitions and people who need fewer competitions. There are people who need more rest in between. You have to balance that.

In distance events, this is a very difficult and competitive conference. Casarez ran a 4.2 mile. He beat his group pretty well. He looked really good posturely, and that's the key for him. As long as people keep their brains in the competition, they have the chance to do very, very well.

Not having an indoor stadium is not something we want to do, but it's a have-to environment. We're building a new facility, and it's going to be really nice. Still, it forces us to be on the road every week, indoors and outdoors, this year. I'll go backward to 2009 and 2010 when we had no indoor facility, and we couldn't have a meet on our outdoor facility either. We traveled for every meet for the first five years when I got here. That became a challenge for us. It was a fun challenge. We have to make this a fun challenge. We were national champions, and we didn't compete at home. Still, it's hard to leave your community, fans and people that come to your track meets. They have nowhere to go to meets this year, and that's not good.

This team seems to be a little more cohesive. Some years you have groups that don't know each other. That is a factor in track. This group seems to be working to develop those friendships and understanding of each other. I push it. You have to know the person sitting next to you. The team is working on it, and I think that will help us as we go. With this kind of environment where you're on the road kind of forces that, and it should help us.
Never miss the latest news from TexAgs!
Join our free email list