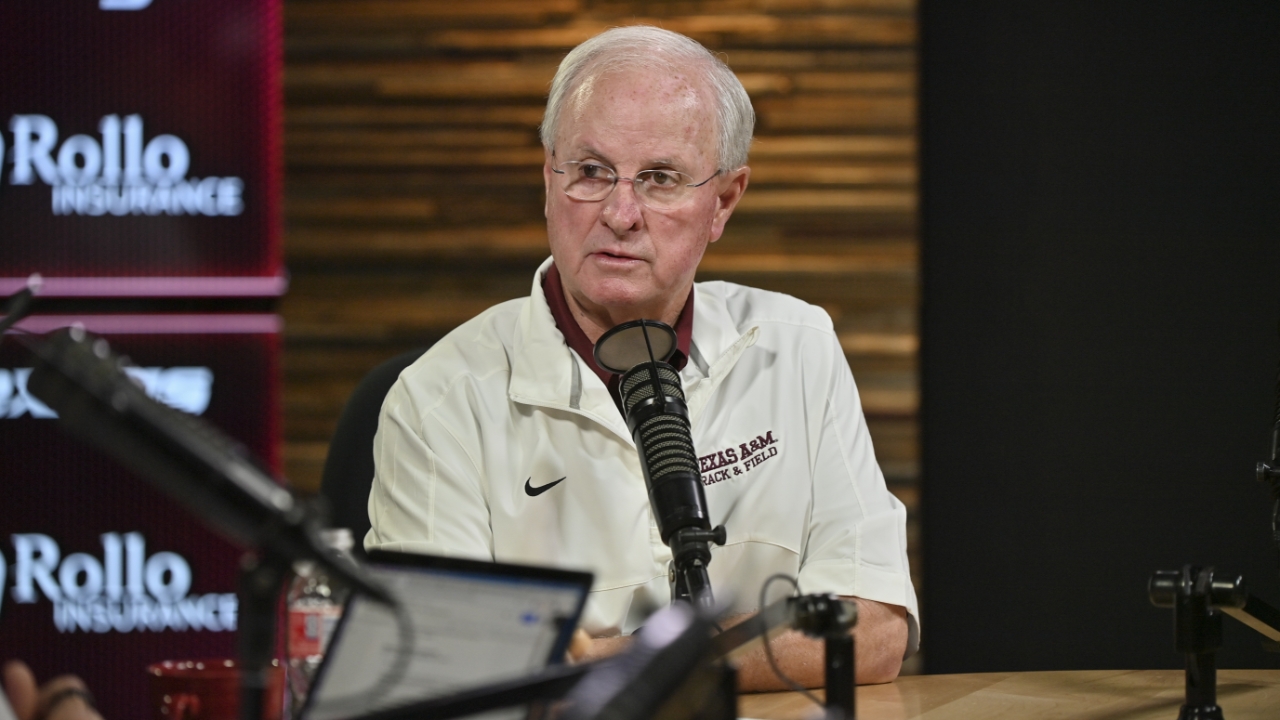 Photo by Jamie Maury, TexAgs
Texas A&M Track & Field
Track & Field Report: Pat Henry previews 2023 season, lacking a home meet
---
While construction for a new facility is underway, Texas A&M Track & Field lacks a home meet advantage this season. Pat Henry joined TexAgs Radio to preview the upcoming indoor season and which athletes could rise up this spring.
---

Key notes from Pat Henry interview
We tore down the best facilities in the United States. We are building a new one. It's where the old track stadium used to be. It changes the way our throwing field has to operate. Because we are doing that, we don't have a way to have an outdoor meet either. We are stuck this year. We don't have an indoor or outdoor season that has a home meet. That's tough. If you think of any sport and if they don't have any home competitions, that's a tough year.

For us old people, traveling is really tough. You have to leave every week. This happened when we first got here in 2004-05 through 2009. We didn't have any home meets for a number of years. We had good teams. We won a national championship during those years. It can be done, it's just a little extra work.

It's going to be pretty good. I'm not as involved in the venue as I was in our other facilities. It's going to be different. We would warm up in the football building. We don't have that anymore. If it's cold outside, we are in trouble.

We get started this week. We travel to Arkansas for an indoor meet this week. We have been back since the first day of January. We've been training all fall. In track, you don't keep a cumulative record. You don't say I won the 100-meter 10 times. The important thing is you are ready to go on a specific day to win the national championship. We saw it last night. There is an opportunity for teams or athletes to get to a national championship, but it's a different deal altogether. Qualifying for it is one thing. Being successful is the other thing.

Lamara Distin is a great high jumper and one of the best we have seen in the NCAA. She will jump higher this year. She will be jumping at 6-foot-6 and 6-foot-7, which are really good.

Lianna Davidson is one of our javelin throwers. She was a freshman last year and has come a long way. Staying healthy and being ready to go is always the challenge. At the national championship, she wasn't ready to really excel at that meet.

Bryce Foster will help us out. He comes to every practice and meet. We had Junior Day this weekend for juniors to look at the campus and meet our team. Bryce is very involved. He is a great recruiter for Texas A&M University. We had a panel of athletes that talked on Junior Day, and he was in that group.

As you watch Bryce right now, I'm surprised by how mobile he is. He is not completely done with therapy. He wants to try throwing in the outdoor season. He won't in the indoor season. I think that prepares in for football. If you can get across that ring and be as ballistic as it takes to do that, that's going to prepare you for a lot of things.

Devon Achane was fun to be around. A quiet guy who could do it when it counted. That's Devon. When it's time to be at your absolute best, he can do it.

James Smith II is an intermediate hurdler. This is his third year with us. He has really progressed in the last six to eight months, more than I have seen in the last two years. He scored at the national meet. He can complete when he is supposed to.

This time of year, it's fun to get started. I'm tired of training and practice. This is the first rehearsal.

I'm sad we aren't able to talk about home meets, but I think next year we will be pretty happy about it. The completion date of the building is Dec. 23.
Never miss the latest news from TexAgs!
Join our free email list