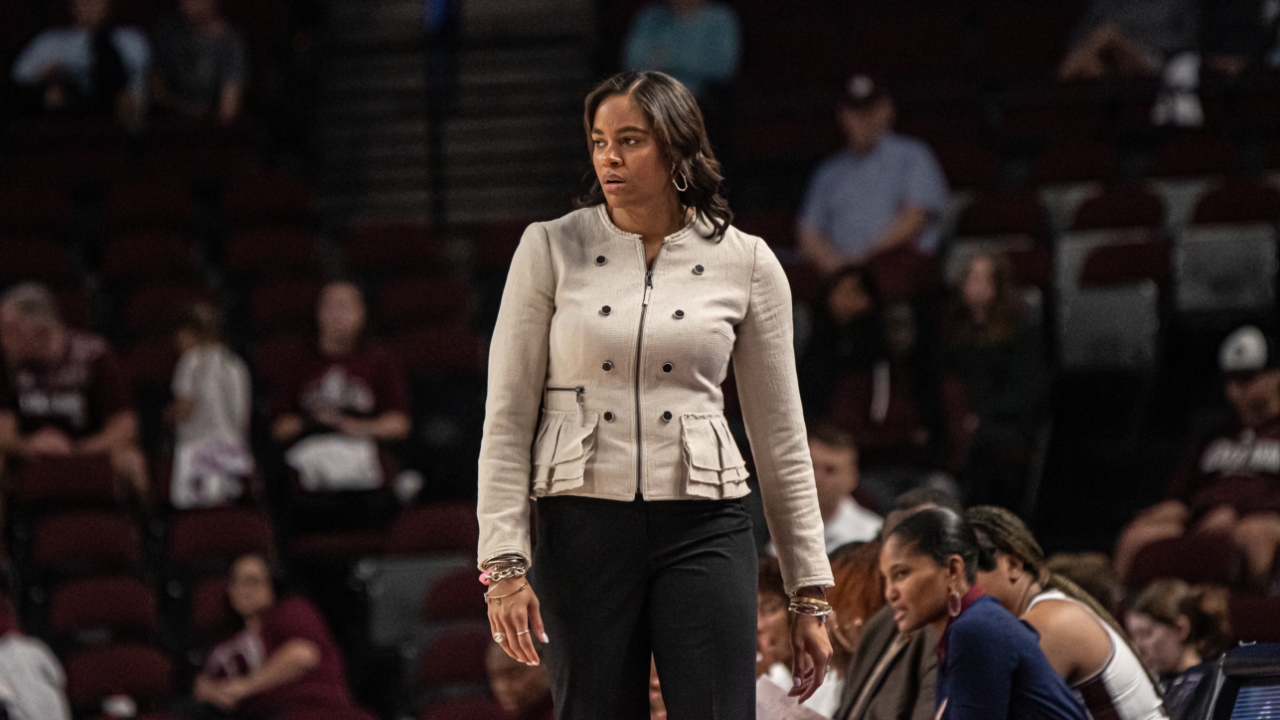 Photo by Zoe Kelton, TexAgs
Texas A&M Women's Basketball
Joni Taylor continues to navigate short roster as SEC action begins
---
Back from their holiday break, Texas A&M women's basketball returns to practice on Tuesday with the same seven players they had vs. Purdue last week. During Tuesday's edition of TexAgs Radio, Joni Taylor joined to discuss the challenges that come with playing such a short roster.
---

Key notes from Joni Taylor interview
We had a great Christmas. Family came into town. The girls got a lot of great things. It was great. I love this time of year. It's my favorite time. I'm in my element coaching and practicing, and when I have free time, I'm with my family. I thrive in busy moments.

As an assistant at Georgia one year, we played with six players all year for an entire conference season. The difference was those players were experienced and had good size to them. Under coach Andy Landers, they had a rotation. They were used to that grind. This is the shortest roster I've ever had as a head coach.

From a preparation standpoint, this is what we have. This is what we know we have, so this is what we have to do. Our players understood what they had to do. Our prep was really good. Against Kansas, we lost two players and had to make adjustments on the fly. During this break, we had time to prepare and know that we would only have seven players.

I think we ran out of steam vs. Purdue in the third but had a final push in the fourth. I was really proud of our effort. Two weeks ago, Purdue would have beaten us by 25 points. For us to make that kind of growth in such a short amount of time, I'm proud of our team. At the same time, we have to close our games. We left some opportunities on the table on both sides of the basketball while trying to close out that game.

For us, we talk about how we measure success, and that's not always the win-loss column, especially this year as we're growing this team. You can see the measured growth with this team. We talk about drowning out the noise of everybody else's expectations. If they're not in our locker room or our huddle every day, don't listen to them. We show them where we are getting better in the film room and with specific stats. Those are teaching moments, and we take every moment to show them the little things that affect the game.

Health-wise, it is the same as it was when we left. We will have practice today for the first time since we left. Some of our players went home with extensive rehab sheets. Going into practice today, we have the same seven that we had against Purdue.

I'm excited to face South Carolina on Thursday. It's an opportunity to play the No. 1 team in the conference and the country, and I'd rather do that early in conference play. Why not play against the best right away? It gives us a lot of time to use this game as teaching moments throughout the rest of conference play.

Dawn Staley's roster is loaded with talent. She has a great roster and does an excellent job of moving people around. They only lost one starter, and she added new talented pieces. They have the ability to go get offensive rebounds. They kill you on the offensive glass. Defensively, they're so sound. It's challenging to score against them. You have to be smart about how to take shots, and you have to be strong on the boards. If we don't take disciplined shots, they will take our bad shots and turn them into transition opportunities. We have to make it a half-court game and try to limit their offensive rebounds.

Staley is a friend. My husband worked at South Carolina while we were dating. When we got married, he stepped away. The Staleys were at our wedding. She's a close friend. To see the impact she has had on the game is incredible. To see what she has built at South Carolina is tremendous. I call her all the time, and she calls me all the time. She has extended herself to me and anyone else in the women's basketball community.

Florida is really good, and they're electric offensively. I haven't watched much of them this year, but they want to play fast. We need the 12th Man at Reed Arena on New Year's Day to have our backs.
Never miss the latest news from TexAgs!
Join our free email list