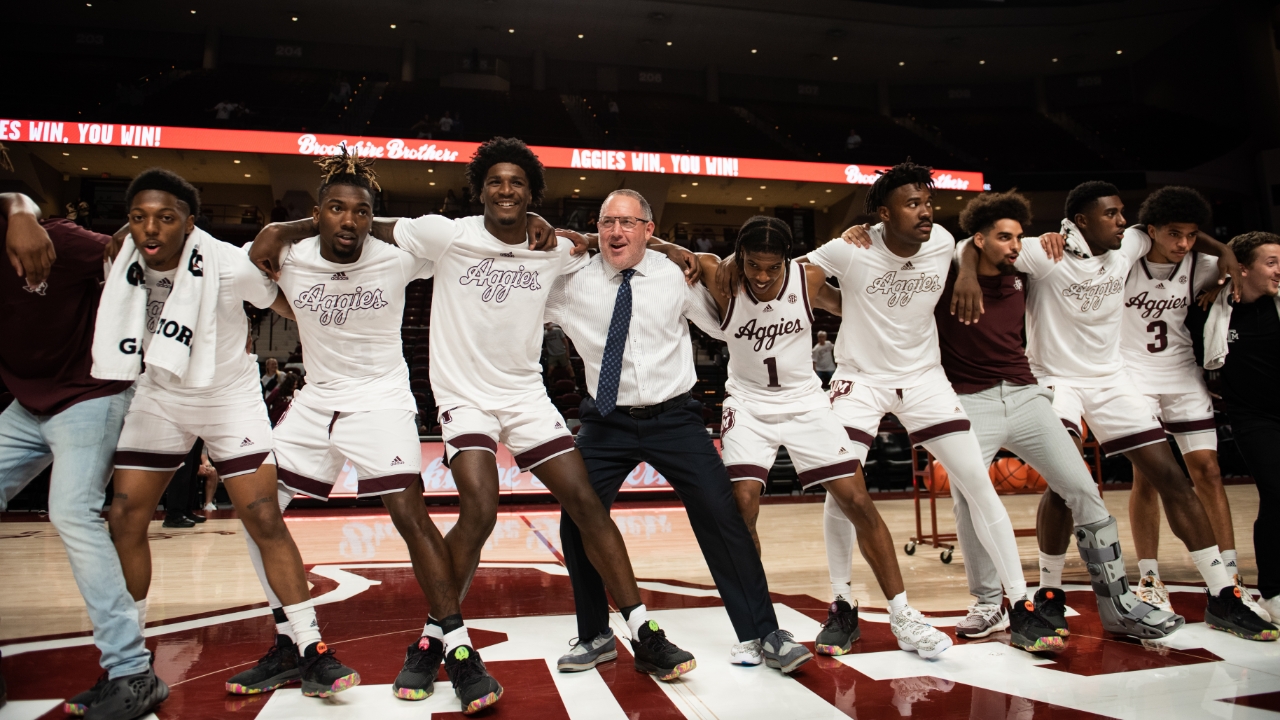 Buzz Williams
Manny Obaseki
Solomon Washington
Texas A&M Basketball
Texas A&M hoping home court success continues vs. Oregon State
---
A return to Reed Arena may mean a return to the win column for Texas A&M.
The Aggies (5-3) have played their best basketball on their home court. Maybe it's because of familiar surroundings. Maybe they're just more comfortable. Maybe it's because they've played lesser opponents at home.
"Probably a little bit of all that," Texas A&M coach Buzz Williams said. "We haven't gotten in a rhythm at home because there has been a lot of start and stop, but I do think all of those things apply. In all sports, I think all of those things apply."
Whatever the case, it's obvious the Aggies play better, shoot better and defend the 3-point line better at home.
They aim to continue those trends on Sunday when they play host to Oregon State (4-5) at 5 p.m.
Don't be fooled by the record, the visiting Beavers aren't a lesser opponent.
The Beavers have a victory over (7-2) Washington. They had an upset bid come up just short in a 54-51 loss to Duke. Last Sunday, they were edged by USC, 63-62.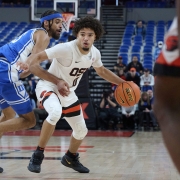 Troy Wayrynen-USA TODAY Sports
Oregon State is led by freshman guard Jordan Pope, who averages 14.2 points and 3.6 assists. Junior guard Dexter Akanno averages 11.3 points and 3.1 assists, while 6-foot-6 sophomore forward Glenn Taylor Jr. averages 12.2 points and 2.9 rebounds.
But they could be in trouble if the Aggies continue the excel on their home court.
In three games at Reed Arena, A&M is shooting 49.1 percent (85 of 173) from the field and 48.4 percent (24 of 49) from 3-point range.
That's significantly better than when on the road. In five games away from Reed, A&M has shot 41.6 percent (122 of 293) and 27.3 percent (29 of 106) from behind the arc.
Perhaps even more important, A&M has limited opponents to 33.1 percent shooting (55 of 166) from the field and 29 percent from 3-point range (18 of 62) at Reed.
On the road, A&M is allowing opponents to shoot 47.3 percent from the field (116 of 245) and 41.6 percent (52 of 125) from behind the arc.
Sophomore guard Wade Taylor IV and junior forward Henry Coleman III have led the Aggies most of the season. They, too, have excelled at home.

Taylor is averaging 17.3 points and is shooting 60 percent (9 of 15) from 3-point range at Reed Arena.
Coleman averages 16.6 points and shoots 58.3 percent (21 of 36) from the field at home.
But in their most recent outing, the Aggies struggled — especially on the defensive end — in an 86-71 loss to Boise State at Dickies Arena in Fort Worth last Saturday.
Boise State shot more than 50 percent from the field and hit 11-of-25 attempts from behind the arc.
A&M used the last week of practice to focus on shoring up its shortcomings.
"We've only concentrated on us," Williams said. "We have to make some adjustments on who plays, on when they play, on the energy they play with, on how we start.
"We've studied our losses in comparison to our wins. There is some personnel that is concerning. That's up to me in regards to figuring out the right groupings.
"Defensively, there are some common threads that we've made strategic adjustments to in hopes that one is connected to another that is connected to another. Hopefully, those adjustments will help us."
Never miss the latest news from TexAgs!
Join our free email list
PRESENTED BY