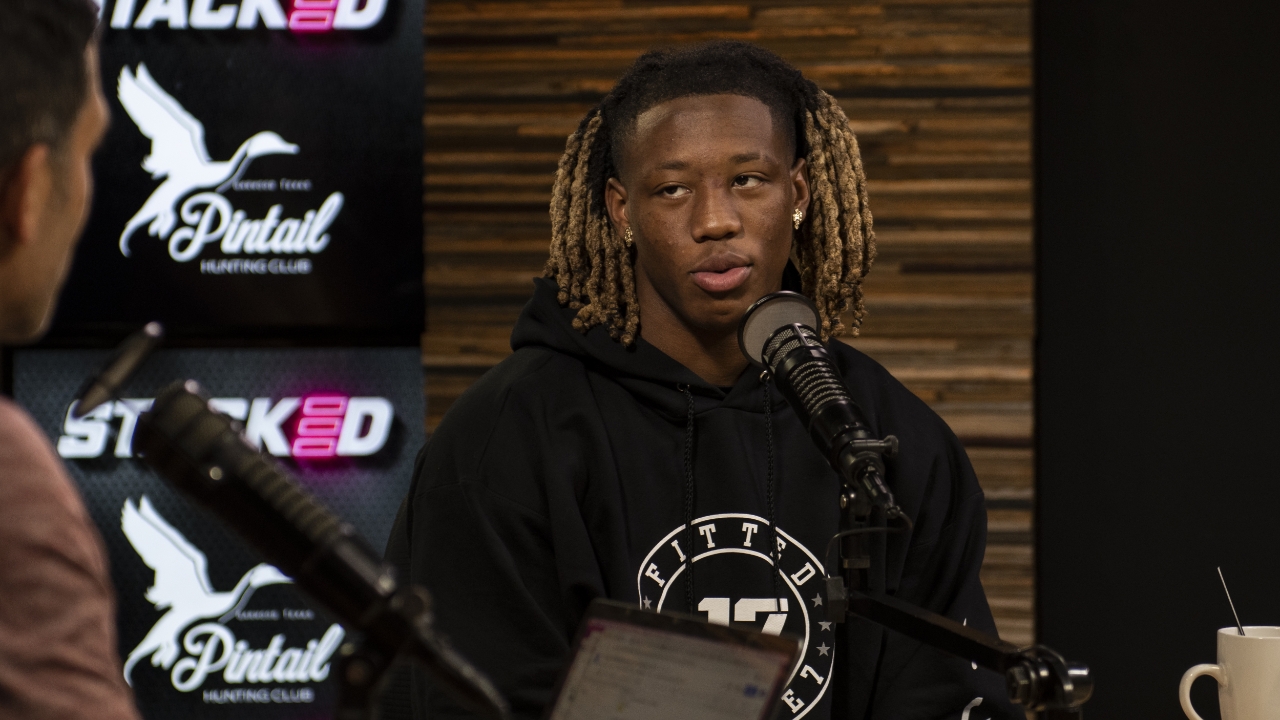 Photo by Jamie Maury, TexAgs
Texas A&M Football
Jaylon Jones opens up about his decision to enter the NFL Draft
---
Texas A&M junior cornerback Jaylon Jones has declared for the 2023 NFL Draft after being a starter since day one in Aggieland. Courtesy of Pintail Hunting Club, Jones sat down with Billy Liucci to look back on his time in Maroon & White and discuss what went into his decision.
---

Key notes from Jaylon Jones interview
I want to start by thanking God and my family and say that I am declaring for the NFL Draft. This process has been a very special process for me. This has been a dream of mine since I was little, and I cannot thank God enough.

It was definitely a difficult decision. Before I get into that, I want to thank y'all, Kenny Lawson at C.C. Creations, the Robinson family, my teammates and coaches, all the way from high school and little league. The guys that brought me in like Coach Elko, Jimbo, Coach Rushing, Coach Mo and Coach Cromartie. Even my trainers and the learning specialists for getting me through this whole experience. All of the people in the facility I made relationships with and everybody around me. This decision was hard because when you make relationships like this it's hard to move on to another chapter in life. I'm forever grateful for everyone around me helping me get me to this point.

Ever since I was little, I was always obsessed with football. I would cry in little league when we would lose in the playoffs. I've always been in love with the game. I've always known this is what I wanted to do in my life, to go play for a prestigious university like this and play for these great fans before going on to have an NFL career. I've been thinking about this for a while.

My family. For myself to put them in the best position. In a lot of talks I had with God, this has been something I have wanted to do. It has been my dream and is the reason why I'm making this decision.

Being in the SEC every Saturday is like being in the NFL, especially playing corner, because you're going to go against some guys and receivers that are big, fast, physical and willing to catch everything. That's what you're going to see at the next level. Coming to the SEC and coming to a school like this, you're going to see some guys. Coming to this school helped me tremendously.

When I got scored on against Vanderbilt in the first game of my freshman year (2020) was a "welcome to the SEC" moment because I had never been scored on in high school while playing corner. Anybody can score on you in college. You have to bring your game week in and week out. That was definitely my "welcome to college football" moment. After the Alabama game the next week, I was thinking to myself that there were some doubts as a true freshman. You're thinking to yourself, "Can I really do this?" I talked to Coach Rushing, and he told me I'd be alright. After that Florida game, I told myself and knew I could do this. That carried me throughout.

For those young guys and anybody coming to this next level, there will be some doubts. That's with anything in life. That's what comes with adversity. It's about what you're willing to do to get through it and push through it. If you're here, you haven't come this far for no reason. Sending a message to the young guys: You can do this.

As a person in the locker room, you'd be getting a great teammate. I have a genuine heart, and I'm here for anybody and everybody. I want everybody to eat. That's on the field and off the field too. I don't just want to be a teammate, but I want to be a friend to you. You're going to get somebody that's going to come to work every day. I'm going to play through injuries or how I'm feeling. It doesn't matter how I'm feeling because it's not always about me. It's about the bigger picture. On the field, I'm a big, physical corner with speed that is an intelligent player. I'm a workhorse on the field, in the gym and in the film room. I want to do anything it takes to help the team win.

My improvement this year came with a lot of preparation and work. I knew the things I needed to improve on. I set goals for myself to go out and do those things. It comes with the film and preparation and what you do leading up to the games, on and off the field. I can't thank God enough for giving me the ability and believing in me.

I'm not sure what my best game was this season. My first game back against Miami was emotional. I knew what I was battling with. I had some issues going on earlier that kept me from being out there with my brothers vs. Sam Houston and Appalachian State. To be back out there felt good, so I felt that was one of my best games for me.

Two of the toughest guys I've faced were DeVonta Smith and Jaylen Waddle, and going against those guys showed me what college football and the SEC were about.

I know the corner room is going to be special. Being with those guys every day, I know to expect greatness. I know Rushing and Durkin will do amazing jobs to put them in position. You have Tyreek Chappell, Smoke Bouie, Deuce Harmon, Marquis Groves-Killebrew, and I could keep going. I know those guys are going to do what they're supposed to. The safety room has Jardin Gilbert and young guys that played a lot this year like Jarred Kerr, Bryce Anderson and Jacoby Mathews. A lot of young guys and true freshmen played this year on the defensive side of the ball. Seeing them mature and develop as the season kept going, it's going to be a monster to go against in future years. Even on the defensive line, you have Shemar Turner and Shemar Stewart. McKinnley Jackson and Fadil Diggs said they are coming back to help out those young guys like LT Overton and Martrell Harris at linebacker. All these young guys played a lot of ball this year. They're vets now. They have experience. It's going to be amazing to see next year.

There have been times in practice when you can be in perfect position against our receivers, and you can still see them make insane catches. Any time we were doing one-on-ones or even during team periods when those guys would make catches, it was like, dude... When Moose Muhammad made that catch against LSU, you were like, "Oh my god," and then you were like, "That's just Moose." He does that every day. Same thing with Evan Stewart in the Alabama and Ole Miss games. They do that every day, and we know to expect it from them. It's fun to have guys that can make catches like that.

Conner Weigman showed his toughness by coming into the season late like that. We went through adversity and didn't have the season we wanted. He showed his toughness and pride and played through some things. He is going to be an amazing quarterback. He is definitely an NFL quarterback in the future, and I think Conner is going to be an amazing play. It's very natural to him.

Winning the LSU game the way we did means a lot for this program. I know Jimbo Fisher is going to do an amazing job putting everyone in the best position being the great head coach he is. Having this young team that played at a high level this year, you had 17 and 18-year-olds playing against much older dudes. They played at a high level this year. In the future, this team is going to be electric. I could keep going on and on. It's going to be electric.

Being the #1 team in the nation in passing defense started off with coach Durkin doing a tremendous job and putting us in the best position. The biggest part of our success was playing for our brotherhood. We were playing for each other. If you don't want to do it for yourself, do it for your brother. Going out and executing as we did was amazing.

The best memories of being on this team were the locker room. There are some real comedians on this team, and even if you came to the facility in a bad mood, you'd leave and walk out laughing. Guys around you making the game fun. Having guys around you like that makes the game amazing and something you don't dread. When it comes to games, every game was a blast. Win or lose, I know we did everything we could to come out with a win. Orange Bowl my freshman year, Alabama my sophomore year and LSU this year, to see the joy and happiness on everybody's face... Those are memories that will go down for a lifetime.

We knew we didn't have the season we wanted this year. The LSU game was our last game and the last time this group was going to be together. We told ourselves that we had to do what we do. We couldn't worry about the outside noise. We were in it together. That night, you saw was brotherhood was. We came out and flared out. Things we were missing during the season, like little small things, it was time to grow up and go and do it. Pee'd in their cornflakes.

I was so happy for Demani Richardson to get that touchdown in the LSU game. It couldn't have happened any other way. When that happened, I just knew it was over. At that moment, we won that game. I knew we were going to win from the get-go, but at that moment, we won that game.

Being around the guys at the banquet tonight for the last time... The whole staff in that facility... Everybody in the Bright facility, I am thankful for. Everybody in there — from staff, coaches, janitors and people I've built relationships with, knowing that they brought me in as a kid at 17 years old — became like family.

When I was coming to A&M, everyone was telling me it was a 40-year decision. At 17, you feel that, but you don't REALLY feel that until you start growing up. I met amazing people. I can't thank the 12th Man enough. I met my wife here. Coming here matured me, and I turned into a man here. This was definitely the experience of a life time. To walk out of here knowing I'm an Aggie for the best of my life is the best decision I ever made.
Never miss the latest news from TexAgs!
Join our free email list
PRESENTED BY