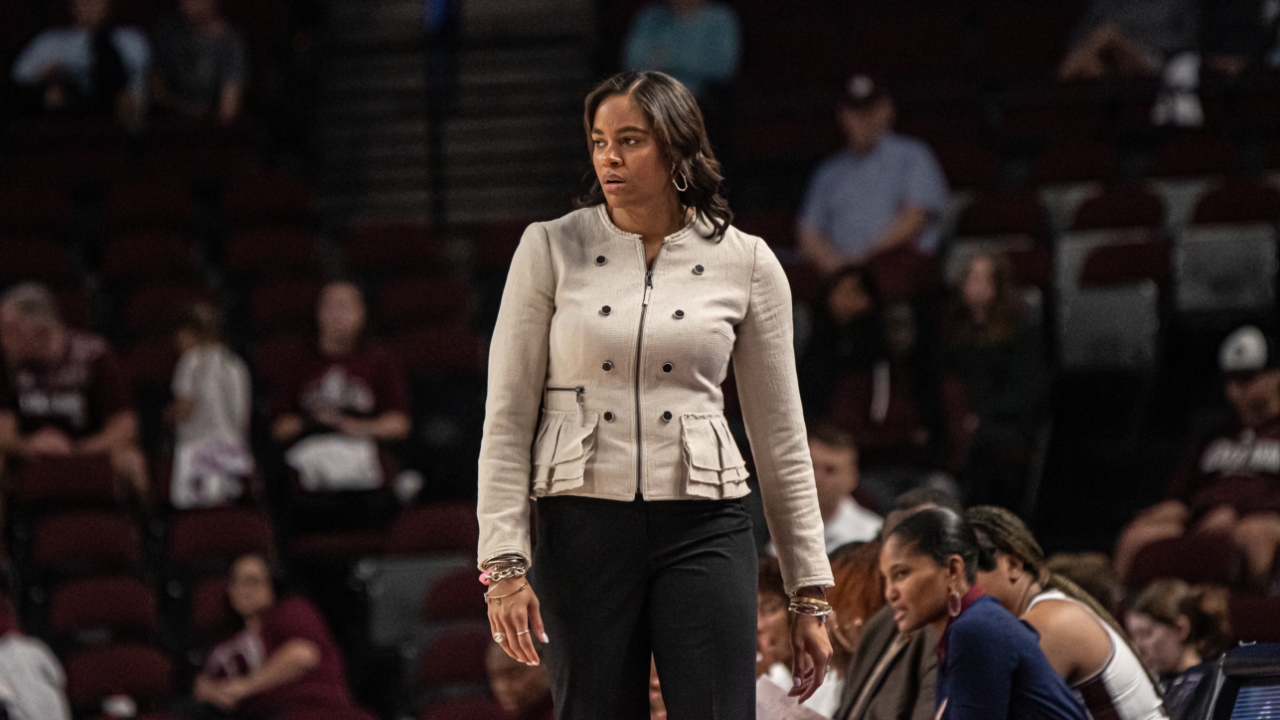 Photo by Zoe Kelton, TexAgs
Texas A&M Women's Basketball
Joni Taylor takes Aggies to 'The Phog' for battle with unbeaten Kansas
---
After going to Cameron Indoor last week, Texas A&M women's hoops ventures to Allen Fieldhouse for a Wednesday contest with undefeated Kansas. On Tuesday's edition of TexAgs Radio, Joni Taylor discussed visiting historic venues, preparing for the Jayhawks and more.
---

Key notes from Joni Taylor interview
Our challenge has always been stringing along consecutive possessions on both ends of the ball. We did that to start the third quarter vs. Rice, and then the wheels fell off. We fouled jump shooters. That's a principle of our defense: Don't foul jump shooters. We got an intentional foul called against us as well. We gave them a seven-point swing, and we couldn't gain momentum after that. We have to learn to string together more possessions.

We're a young team that hasn't been in many close games, and we have to learn how to win. Even though we didn't win, that Rice game was good for us because we have a lot of young players who have never been in those situations. These players, even if they're returners, did not play last year. Playing a one-possession game in college is different than in high school. Until you have experience doing it, these situations can be painful. Nobody on the floor had been in those situations before, so we have to learn how to push through to get to the other side of it.

I'm seeing growth in certain areas, and I'm still seeing us make the same mistakes in other areas that we've been making since April. We have a long way to go, so we can't sit here and pat ourselves on the backs. We're not even halfway across the bridge. We have absolutely made strides, and I'm proud of what they've done. That said, we have more to do.

We want to disrupt on defense. Our plan is to take the opponent out of their plan. We never want them to have Plan A. We want to force them into other actions. We did that against Texas State. We did it at times against Rice, but at times, they did exactly what they wanted. If you do that in conference play, it's going to be tough. We want to disrupt because that leads to our transition offense.

Kansas is very experienced and senior-led. They have a number of players averaging 10 points per game. We have to force them into a half-court game. We can't let them score easy points in transition. We have to take away what they want to do, which is spread you out and then kick it out to 3-point shooters. We cannot give them second chances. We have to box them out and only give them one attempt.

I hope our players understand the opportunity to play at Cameron and Allen Fieldhouse. It's amazing, and not many players have those opportunities. We take time to help them understand the history. We want the players in this generation to know and appreciate the history of their sport. We'll take time during shoot around when we get there to help them understand the history of where they're standing.
Never miss the latest news from TexAgs!
Join our free email list