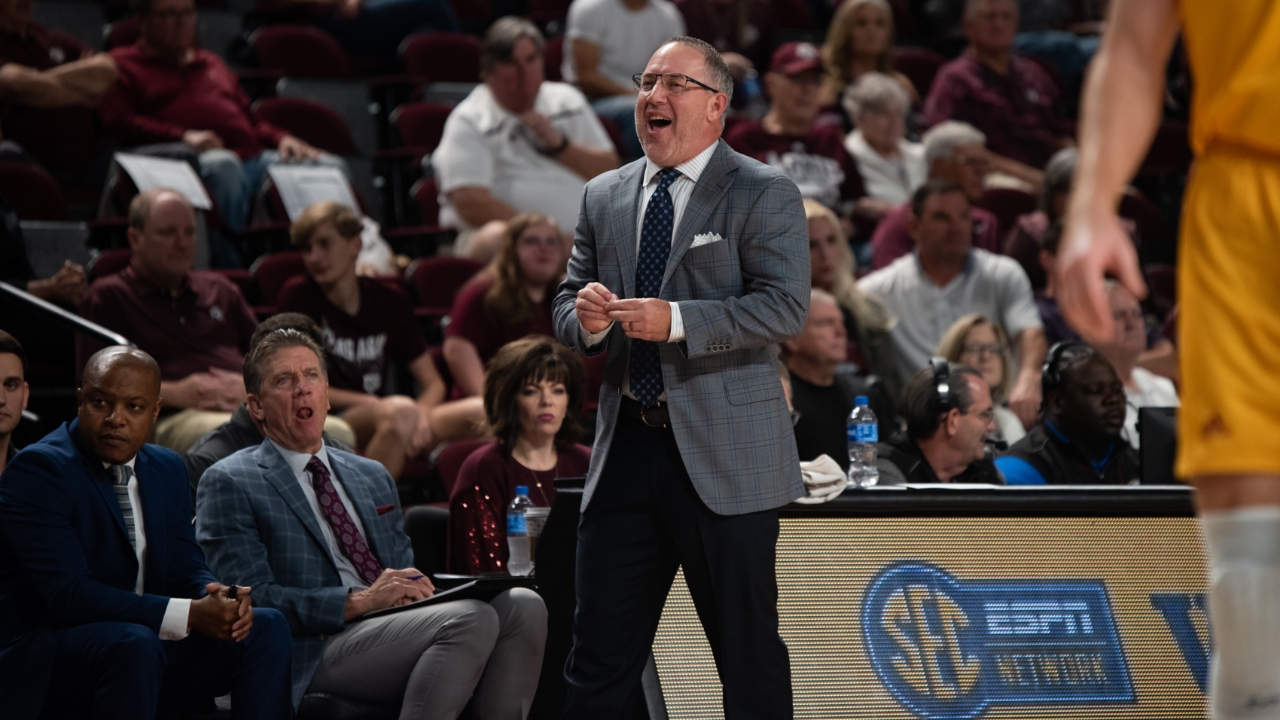 Photo by Jamie Maury, TexAgs
Texas A&M Basketball
Buzz Williams looks back on successes against DePaul, previews SMU
---
Texas A&M men's basketball and head coach Buzz Williams secured a Black Friday road win in the Windy City on Friday. Now, the Aggies will continue to weave through their non-conference slate with the SMU Mustangs up next.
---

Key notes from Buzz Williams interview
I thought we were good in a lot of respects. Wade Taylor, Henry Coleman and Tyrece "Boots" Radford were back to who they were. We played from start to finish. What we were trying to do was evident but sloppy towards the end. From what had transpired from the previous Friday, three neutral games, I thought we improved.

Our staff did a good job of trying to get to the lowest common denominator of what we needed to do. DePaul had lost their two previous games. We had good work on Wednesday and Thursday. Today is two days before SMU. There's a rhythm to what we do today and tomorrow. That's specific to all parts of the organization. That was the best shoot-around we had on Friday. We need to figure out how to be better in our preparation. Those reps are important to everyone. That was the first true road game, and there was good that came from it.

That's what Boots is such a good player. His games prior to DePaul were awful. He did not play well in Myrtle Beach. A bunch of guys didn't play well. I was telling KK Robinson, who I think will be a coach one day, to get players that get fouled offensively and not foul defensively. Boots has such a presence on the glass. Going into DePaul, I think he was the leading rebounding guard under 6-foot-2 in the country. He does a very good job of defending without fouling. That's one thing we have got to be better at. We are one of the top 20 teams in causing turnovers but the bottom 20 in fouling.

I do a bad job of coaching Boots, to be honest, because I have such admiration for him and his family. I am inspired by him. A lot of his past is not public knowledge, but there are people who know where he was way back when and now he's getting a graduate diploma from Texas A&M. I remember when he wasn't even an academic redshirt. We had a tremendous advisor at Virginia Tech that helped him. Boots has grown as much off the court as he has on. He graduated from Virginia Tech in three years. When I came to A&M, I told him, "If I have to recruit you, I don't want you to come. You know what we do." I asked if he wanted to see Texas A&M, and he said wanted to come to see the coaches, so he came on a visit.

Against DePaul, Taylor, Coleman and Boots were going back to who they are. Andersson Garcia's numbers don't show his comfortability. We need this week to be better than last week.

Taylor looked like the greatest bank robber of all time. He had six steals, and Henry Coleman had six assists. Neither of them had those numbers in Myrtle Beach. Wade Taylor helps us, and he is the soothing ointment to our team.
Never miss the latest news from TexAgs!
Join our free email list