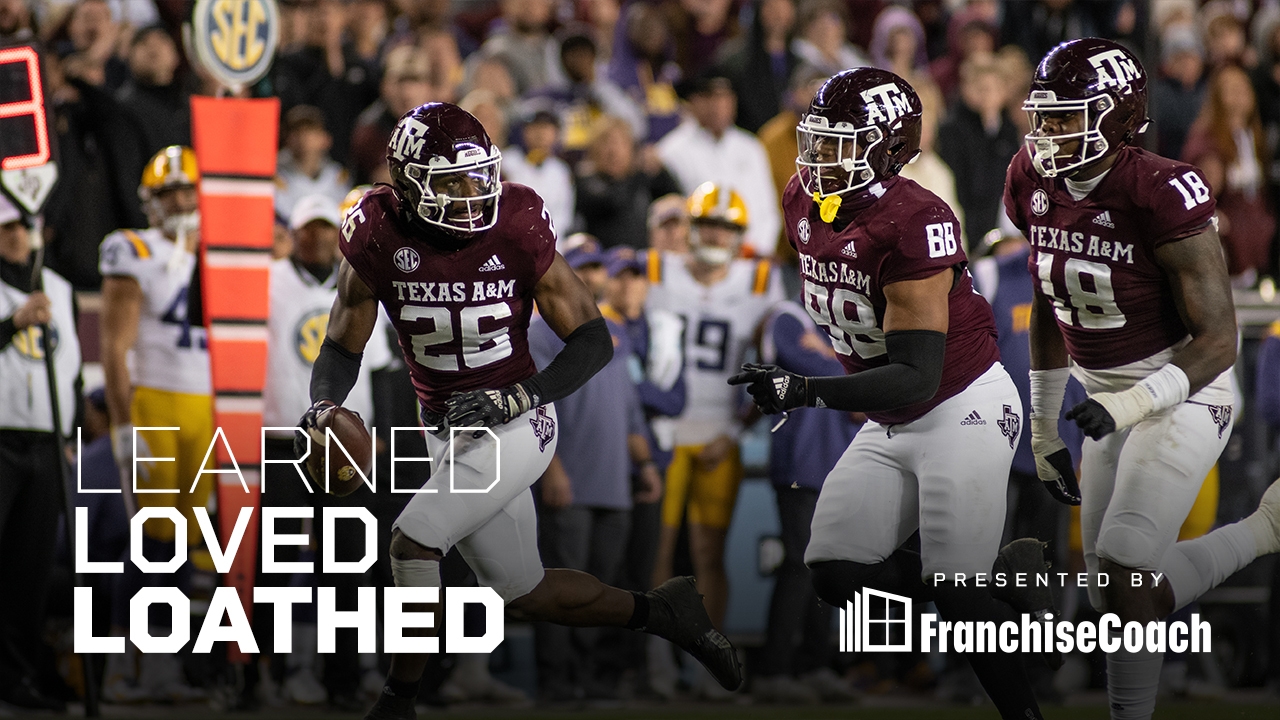 Photo by Jamie Maury, TexAgs
Texas A&M Football
Learned, Loved, Loathed: Texas A&M 38, LSU 23
---
Looking back on what was learned, loved and loathed in Texas A&M's 38-23 Southeastern Conference football victory over No. 5 LSU on Saturday night.
Learned
What was possible. A season marred by injury, illness, suspensions and erratic play resulted in a disappointing 2022 season. Yet, in pulling off the upset, A&M demonstrated why it was ranked No. 6 to start the season. Reasonably healthy, the Aggies were explosive, opportunistic and won at the line of scrimmage against the SEC West division winner. Had they played to that level all season, A&M would be the team heading to Atlanta to face Georgia for the SEC Championship.
Moose Muhammad only needs one hand. The sophomore receiver made the catch of the year for a 21-yard touchdown. Muhammad used only his left hand to snatch a pass that quarterback Conner Weigman placed between two LSU defenders. Muhammad later made another circus catch for a 39-yard catch in which he outwrestled LSU's Sage Ryan for the football. But Muhammad used two hands on that catch.
Harold Perkins wasn't a threat. Coming into the game, the one-time Texas A&M commit was among the most productive defensive players in the country. He had posted 21 tackles and six sacks in the last three SEC games. But Perkins was a non-factor against A&M. He had two total tackles and one tackle for loss. The TFL came with 2:30 remaining in the game and A&M holding a 15-point lead.
Loved
Devon Achane's grand display. Achane was back in the lineup after missing the previous two games with a foot injury. He made up for lost time. The junior running back needed 113 yards to reach the 1,000-yard mark for the season. He reached that at halftime. Achane finished with a career-high 215 yards and scored twice on 10-yard touchdown runs.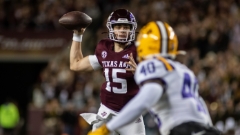 Jamie Maury, TexAgs
Offensive line play. The big guys up front have been maligned for much of the season. But Achane doesn't go off without their help. Overall, they paved the way for A&M to rush for a season-high 274 yards. They also did not allow a sack. Quarterback Conner Weigman was only pressured twice.
Scoop and score. Everybody loves defensive touchdowns, right? With the score tied, 17-17, early in the third quarter, LSU was looking to convert on third-and-1 on its own 35. LSU quarterback Jayden Daniels ran left in an attempt to pick up the first down. Linebacker Edgerrin Cooper immediately diagnosed the zone read and swooped in to jar the football loose. Safety Demani Richardson converged to pick up the fumble and streaked 27 yards for a momentum-changing touchdown.
Loathed
Three-man front. Admittedly, A&M used it at times effectively in an effort to keep Jayden Daniels contained in the pocket. Still, it's typically not been the best usage of personnel, especially against the run. LSU attacked it with running back John Emery. He gained 11 yards on second-and-10 late in the first quarter when A&M was in a three-man front. He also exploited the look for a 19-yard touchdown run in the third quarter.
Pass interference on Jaylon Jones. There's always at least one call by the officials to criticize. Overall, the officiating was atypically good. But a 12-yard pass interference call on A&M cornerback Jaylon Jones seemed bogus. There was minimal contact, and Daniels' pass for Malik Nabers on the sideline didn't appear to be catchable, anyway. That call gave LSU a first down instead of facing third-and-7. The Tigers took advantage and went on to score their first touchdown.
The end of the season. Obviously, there was a lot of frustration in a 5-7 campaign. But closing with a decisive victory over the nation's fifth-ranked team and SEC West division winner showed that A&M can be among the best teams in the nation. Even an obscure bowl game would be welcome. A&M started five true freshmen. Several others made significant contributions to the victory. Next year's season-opener against New Mexico on Sept. 2 can't get here soon enough
Never miss the latest news from TexAgs!
Join our free email list
SPONSORED BY