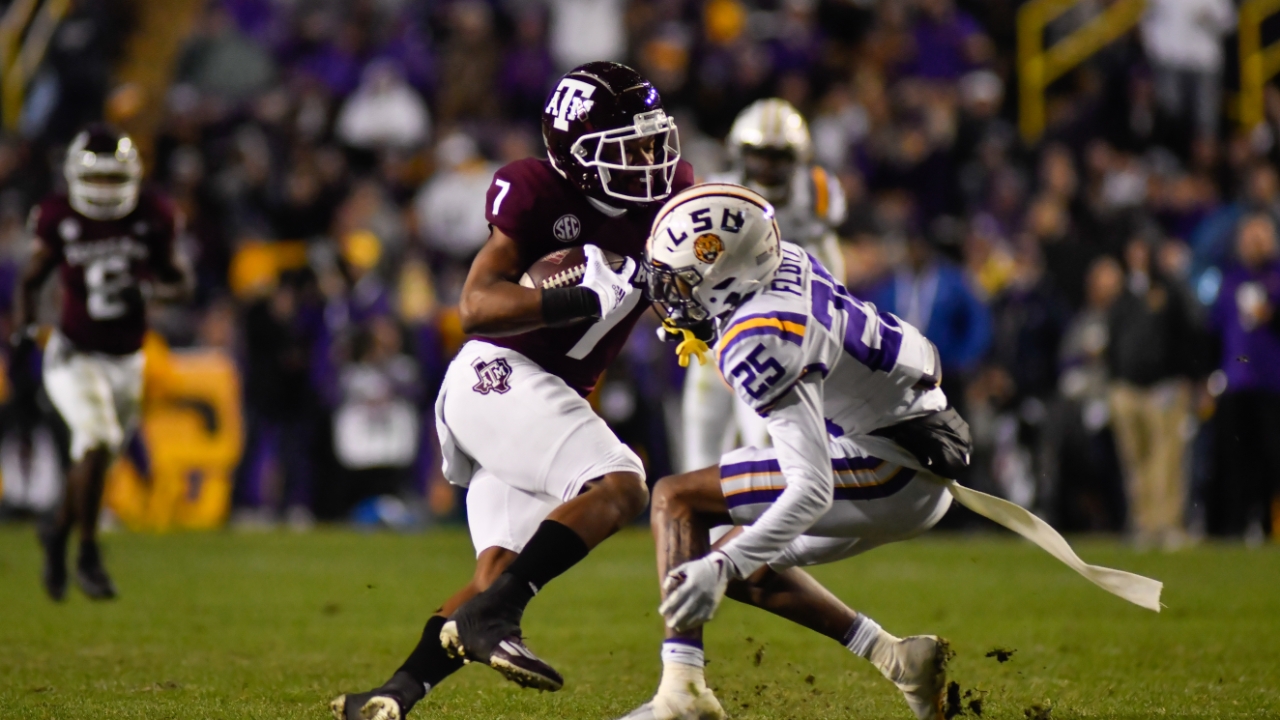 Photo by Jamie Maury, TexAgs
Texas A&M Football
Different Similarities: No. 5 LSU having season A&M expected to have
---
Identity theft is a growing problem.
It's been growing increasingly problematic since … oh, about Oct. 1.
That's the day Texas A&M fell behind Mississippi State, 14-0, and never recovered in a 42-24 loss that started a six-game losing streak.
That's also the day LSU trailed 17-0 but rallied for a 21-17 victory over Auburn.
Two months later, A&M is 4-7 and hoping to beat LSU on Saturday at Kyle Field just to salvage something from a historically disappointing season.
Meanwhile, LSU is 9-2, has clinched the SEC West division title, is No. 5 in the College Football Playoff rankings and will play Texas A&M intending to remain in the national championship picture.
If that doesn't sufficiently turn the stomachs of Aggies everywhere, consider this gut-wrenching reminder:

 A&M opened the season ranked No. 6. LSU was unranked.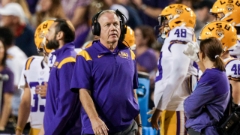 Stephen Lew-USA TODAY Sports
LSU has stolen A&M's identity. Or, at least, the Aggies' season.
Identity theft requires a couple of factors to be successful. The victim might be careless or at least unsuspecting. The perpetrator is conniving but smart and willing to do whatever is necessary to pull off the scam.
In retrospect, it started when linebacker Harold Perkins — who was committed to Texas A&M — flipped to LSU. Perkins is now a legitimate All-American candidate. Meanwhile, porous linebacker play is a major problem for the A&M defense, which is ranked 123rd in the nation against the run.
Perkins' star potential was obvious. How in the name of Harvey Williams and NIL could A&M let Perkins get away?
Then the season started.
Under first-year coach Brian Kelly, LSU started slowly with a Week One loss to Florida State but consistently got better.
"There are two or three one-play games they were able to get and gain confidence from early," A&M coach Jimbo Fisher said about LSU. "I think they kept building on those."
For example:
In Week Three, the Tigers fell behind Mississippi State, 13-0, but rallied for a 31-16 victory.
As previously mentioned, A&M couldn't recover from a deficit to Mississippi State.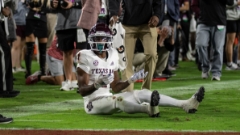 Jamie Maury, TexAgs
Later, LSU held a 28-21 halftime lead over Florida. The Tigers played a strong second half to close out a 45-35 win.
A&M held a 24-20 halftime lead over Florida. But the Aggie offense went comatose in the second half, and A&M lost, 41-24.
Also, LSU had a three-point halftime lead over Ole Miss. The Tigers dominated the second half to win, 45-20.
The Aggies held a four-point halftime lead over Ole Miss but fell, 31-28.
Perhaps the most painful "different similarity" was the ending of games against Alabama.
Needing two yards for a game-winning touchdown, A&M showed no motion. Quarterback Haynes King's pass for true freshman receiver Evan Stewart at the right pylon fell incomplete, and A&M lost, 24-20.
Needing two yards for a game-winning two-point conversion, LSU put true freshman tight end Mason Taylor in motion to create space. Quarterback Jayden Daniels completed the pass near the right pylon for the winning points in a 32-31 victory.
Daniels' style of play even seemed to help LSU steal A&M's season.
He has been a true dual threat. Daniels has passed for 2,377 yards. More impressive, though, he leads all quarterbacks in the nation with 740 rushing yards on 162 carries.
Consider this gut-wrenching reminder:

 A&M opened the season ranked No. 6. LSU was unranked. LSU has stolen A&M's identity. Or, at least, the Aggies' season.
"The quarterback, in some really critical moments, has made big plays with his leg and feet," Fisher said about Daniels. "And then throwing the football … really making those plays."
A&M figured to get similar plays. King has always been heralded for his speed. Max Johnson was known as an effective runner.
Yet, A&M quarterbacks seemed apprehensive about running. In six games, King only rushed 29 times for 83 yards. Johnson ran 29 times for 58 yards.
Freshman Conner Weigman has been more willing to run. He has rushed 20 times for 76 yards in four games.
So, while LSU has celebrated, A&M has been frustrated.
Maybe the Aggies should analyze how LSU got to this point.
LSU endured a disappointing season last year but made necessary changes. Kelly changed the offensive system and brought in successful offensive coordinator Mike Denbrock, who calls plays and utilized the versatility of a mobile quarterback.
The Aggies should learn from LSU and maybe steal their identity next year.
But will they?
Never miss the latest news from TexAgs!
Join our free email list
PRESENTED BY