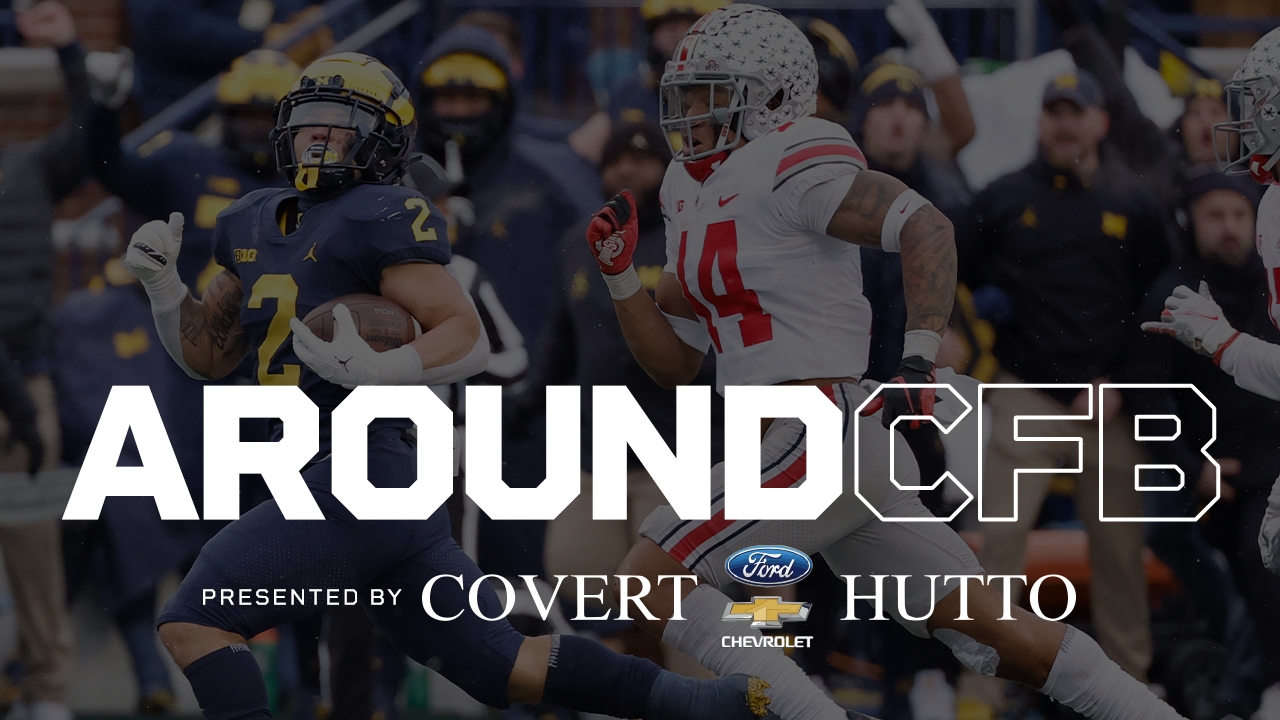 Photo by Rick Osentoski-USA TODAY Sports
Texas A&M Football
Around CFB: Magnitude of 'The Game' is higher than ever before
---
Bitter border rivalries are a feature of college football.
Oklahoma hates Texas. Florida hates Georgia. Washington looks down on Oregon, both literally and figuratively. Tennessee hates Alabama. For some reason, Missouri even hates Kansas.
But only one border rivalry actually started with a bona fide border war.
In 1865, Ohio and Michigan — then a territory — both claimed a swath of land that included the mouth of the Maumee River.
The dispute became so ugly that it became known as the "Toledo War." The United States; government intervened to suggest a compromise.
The swath — known as the Toledo Strip — was given to Ohio. In return, Michigan was granted statehood and the "Upper Peninsula."
Michigan begrudgingly accepted and, in retrospect, probably got the better end of the deal because of the natural resources in the UP.
Although no shots were fired in the "Toledo War," the bitterness never really subsided.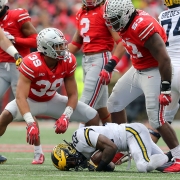 Joe Maiorana-USA TODAY Sports
Instead of front lines, Michigan and Ohio State took their dispute to the lines of scrimmage.
The Wolverines and Buckeyes have had probably the most intense border rivalry in college football. And probably the most important.
No. 3 Michigan and No. 2 Ohio State clash on Saturday in Columbus with so much at stake. Both teams are undefeated. The winner finishes first in the Big Ten East. The game is also a de facto Big Ten championship game considering the state of the West division — Iowa (7-4) wins it with a victory over lowly Nebraska.
Also, the winner will almost assuredly clinch a spot in the four-team College Football Playoff field. A shot at the national championship may be on the line.
In addition, Michigan running back Blake Corum and Ohio State quarterback C.J. Stroud are strong Heisman Trophy contenders. The outcome could determine the Heisman recipient.
"I think you got two teams that are like two superheroes going at each other," Michigan coach Jim Harbaugh said. "And that's why we're so excited about being tested. Find out about what we're made of."
That's a nice, diplomatic quote. But it doesn't really reflect the nastiness of the rivalry.
In August of 2020, Ohio State coach Ryan Day reportedly told his team he wanted to score 100 points against Michigan.
Last year, when the Wolverines beat Ohio State, 42-27, to end an eight-game losing streak to the Buckeyes, Harbaugh seemed to react to Day's comment.
"There's definitely stuff people said that spurred us on even more," Harbaugh said.
Then he added: "Sometimes, there are people standing on third base that think they hit a triple, but they didn't."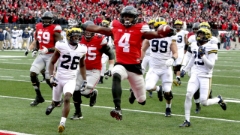 Eric Seals, Detroit Free Press
That was seemingly a shot at Day, who took over the Ohio State program from successful coach Urban Meyer late in the 2018 season.
Of course, hard feelings between rival coaches is nothing new.
Ohio State coach Woody Hayes opted for a two-point conversion after a fourth-quarter score in a 50-14 victory over Michigan in 1968. Legend has it that when Hayes was asked why he went for two, he said, "Because I couldn't go for three."
Michigan assistant coach Tony Mason complained: "That fat hog went for two. That's why he's not wanted in this profession."
A few days later, Bo Schembechler was hired to replace Bump Elliott as Michigan coach.
The next season, Michigan defeated No. 1 Ohio State, 24-12, to end the Buckeyes' national championship hopes.
Thus began the "Ten Year War" (notice a naming trend here?) of clashes between Schembechler and Hayes. Typically, the Big Ten championship and maybe a shot at the national title were at stake.
Fittingly, the series was split 5-4-1 in Michigan's favor during that span.
Yet, the best game in the series was probably a 2006 clash in which the No. 1 Buckeyes defeated the No. 2 Wolverines, 42-39.
The game on Saturday will mark the third time since 2006 that Ohio State and Michigan will square off with both teams ranked in the top five.
Of course, this could be the first of two games between the Buckeyes and Wolverines this season.
If the game is competitive, it's possible both teams could get into the playoff. Therefore, it would be possible the long-time arch rivals could play for the national championship.
Now that would be a war.
Heisman watch (If my ballot was due today)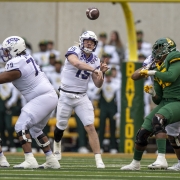 Jerome Miron-USA TODAY Sports
1. Max Duggan, TCU, QB: The Heisman goes to the "most outstanding player" in college football. Who's been more outstanding? Duggan has passed for 2,858 yards and 26 touchdowns with three interceptions. He has also rushed for 291 yards and five touchdowns. But what he has done is crunch time sets him apart. The Horned Frogs remain undefeated because, three times, he has led drives for scores to win or force overtime. Last week in a 29-28 come-from-behind win over Baylor, he passed for 28 yards and rushed for another 12 on a final drive for a game-winning field goal with no time remaining.
2. Caleb Williams, USC, QB: Williams passed for 470 yards and two touchdowns and rushed for a touchdown in a 48-45 victory over arch-rival UCLA. That was his sixth game to throw for more than 300 yards. Overall, he has passed for 3,480 yards and 33 touchdowns with only three interceptions.
3. C.J. Stroud, Ohio State, QB: Stroud had a solid, though unspectacular, showing in leading the unbeaten Buckeyes to a 43-30 victory over Maryland. He passed for 241 yards and a touchdown. On the season, Stroud has passed for 2,991 yards and 35 touchdowns with four interceptions. He has an opportunity to greatly enhance his Heisman resume this weekend against Michigan.
4. Blake Corum, Michigan, RB: Corum had a good effort in a 19-17 victory over Illinois. He rushed for 108 yards and a touchdown. He also caught two passes for 39 yards. Overall, Corum has rushed for 1,457 yards and 18 touchdowns. He has also caught 11 passes for 80 yards and a touchdown. Like Stroud, Corum has an opportunity to boost his resume this weekend.
5. Hendon Hooker, Tennessee, QB: Most voters will probably bail on Hooker after the Volunteers' loss to South Carolina. Don't blame Hooker for Tennessee's defensive implosion, but he didn't perform to his typical level. Hooker had a solid game with 247 passing yards and three touchdowns, but he completed less than 60 percent of his passes. Solid games don't win the Heisman.
Predicted playoff participants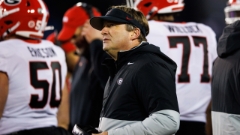 Jordan Prather-USA TODAY Sports
1. Georgia: The Bulldogs are not invincible, but their defense has allowed the fewest points in the nation.
2. Ohio State: The Buckeyes' offense is among the nation's most explosive. The defense is dang good, too.
3. TCU: Each week, it seems the Frogs are expected to finally lose. Each week, they find a way to win.
4. USC: If the one-loss Trojans finish with a victory over Notre Dame and a Pac-12 championship, they will have earned a spot in the playoff field.
Games to watch
No. 3 Michigan at No. 2 Ohio State: Arguably, the most intense rivalry in college football.
No. 18 Notre Dame at No. 7 USC: The Irish relish the chance of knocking the hated Trojans out of playoff contention.
No. 21 Tulane at No. 25 Cincinnati: The winner plays host to the AAC championship. The loser could play in it, too, but that would require UCF to suffer a massive upset to South Florida.
South Carolina at No. 9 Clemson: The Tigers still have playoff hopes. South Carolina would love to end them. The Gamecocks showed they're capable by blowing out Tennessee last week.
No. 12 Oregon at No. 23 Oregon State: Oregon needs to win the "civil war" to get in the Pac-12 championship game. A loss could put Washington in to play USC.
Never miss the latest news from TexAgs!
Join our free email list
PRESENTED BY