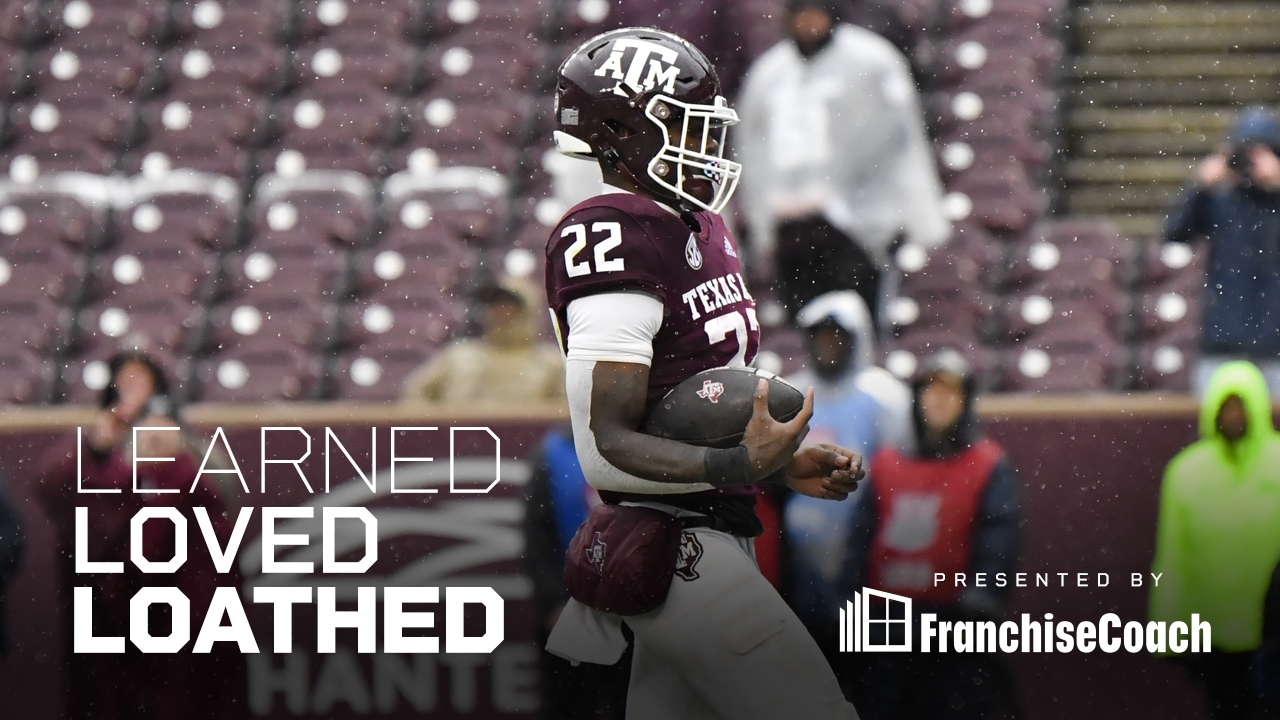 Photo by Brooke Homfeld, TexAgs
Texas A&M Football
Learned, Loved, Loathed: Texas A&M 20, Massachusetts 3
---
Looking back on what was learned, loved and loathed from a Texas A&M 20-3 college football victory over Massachusetts on Saturday.
Learned
Le'Veon Moss is a punishing runner. The true freshman displayed a physical running style in rushing for 78 yards on 12 carries. The best example of his physicality was on a 23-yard run to the Massachusetts 34-yard line. Unaware he stepped out of bounds, Moss continued upfield. He delivered a blow on the sideline to safety Tyler Randolph at the 28-yard line. The hit knocked Randolph back to the 23.
Fans are losing interest. The announced crowd at Kyle Field was 90,177. In reality, the crowd at kickoff appeared to be about half that. Blame the 11 a.m. start. Blame the inclement weather. Blame the start of deer season. Blame the caliber of the opponent. Those are all legitimate reasons for a modest crowd. However, A&M's fans typically loyally support the Aggies regardless of circumstances. The disappointment of a six-game losing streak figures to have been a factor.
A&M is the weakest team in the Southeastern Conference. That's a sobering statement, but hard to argue. Even after struggling to defeat 1-10 Massachusetts, A&M (4-7) has the worst record in the SEC. Further, perennial doormat Vanderbilt on Saturday upset Florida, 31-24. Of course, Florida beat A&M, 41-24.
Loved
Freshman quarterback Conner Weigman showed no apprehension about taking off and running. He rushed eight times for 66 yards. That included yardage lost from sacks. He had a 32-yard run, a 29-yard run and a 22-yard run.
The return of Moose Muhammad. The sophomore receiver was benched last week for wearing sleeves under his jersey. He came out with strips of tape on his forearms for protection. Muhammad caught three passes for 75 yards.
The impact of true freshmen. Weigman produced 246 yards of total offense. Moss rushed for 78 yards. Donovan Green had three catches for 37 yards. Noah Thomas caught a touchdown pass. LT Overton had six tackles, Walter Nolen had four, and Malick Sylla and Martrell Harris both recorded a sack.
Loathed
Turnovers. The Aggies lost four fumbles.
Failure to finish drives. A&M reached the UMass 38-yard line, 21-yard line, 32-yard line, 26-yard line, 28-yard line and 34-yard line without scoring. The aforementioned fumbles were a factor. There were also a couple of missed field goals.
A&M faced third down ten times. The Aggies converted for first downs just twice.
Never miss the latest news from TexAgs!
Join our free email list
PRESENTED BY