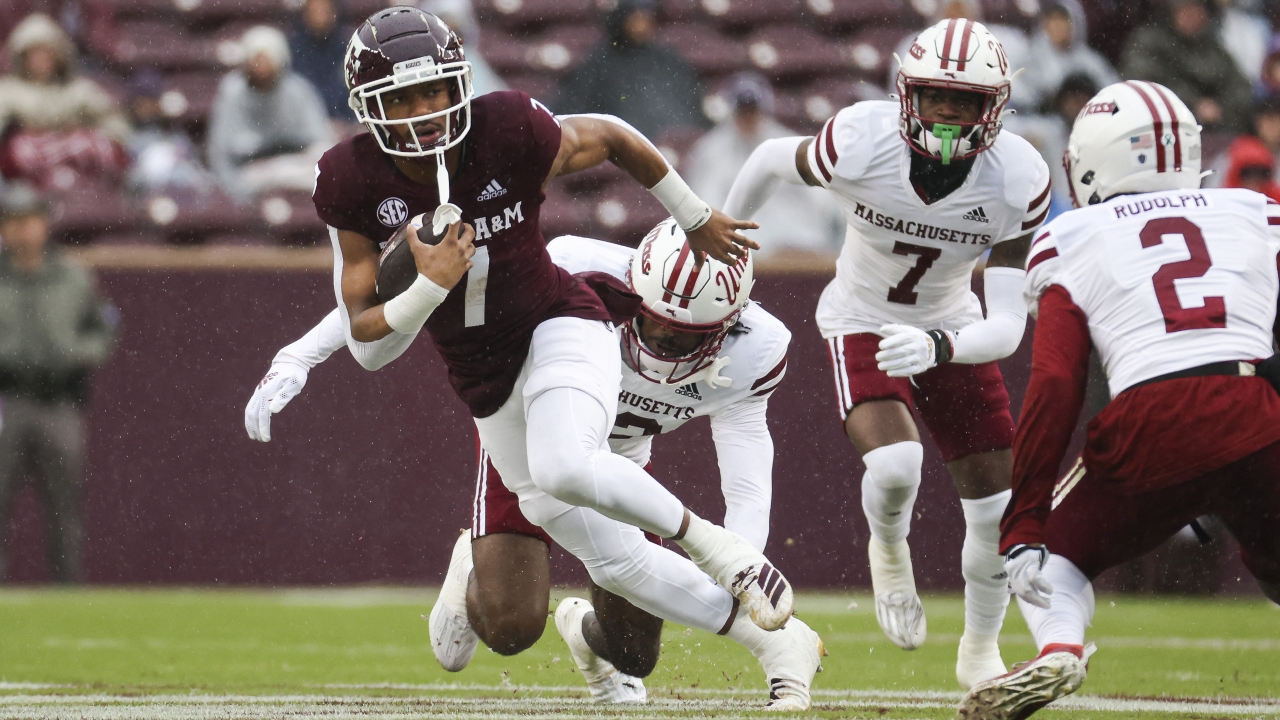 Photo by Troy Taormina-USA TODAY Sports
Texas A&M Football
Post Game Review: Texas A&M 20, Massachusetts 3
---
It was only a matter of time.
Seven weeks later, Texas A&M ended its horrific six-game slide with a 20-3 non-conference win over Massachusetts on Saturday afternoon at Kyle Field.
Off the opening kick, Jalen Preston set the Aggies up with solid field position at the 35-yard line. Quickly facing third down following successive 0-yard runs by Amari Daniels, Conner Weigman lasered a 22-yard pass to Moose Muhammad to break through midfield and keep the first drive alive. Maintaining an up-tempo pace, the freshman signal caller then found tight end Donovan Green for a 28-yard gain.
Still struggling to establish the run game after entering the red zone, the Aggies were forced to settle for a 27-yard field goal by Randy Bond.
D.J. Durkin's defense almost cornered UMass into a quick three-and-out, but an offside call against Shemar Turner gifted the visitors a first down. Yet, quarterback Brady Olson and the Minutemen were locked down at their own 31-yard line and punted after recording a measly -4 yards on their first drive.
With Weigman back on the field, Daniels found his footing on the first play to set up a 20-yard pass to Preston. A series of short gains put the team in another crucial third-down situation, and Weigman was boxed and nearly intercepted by safety Tyler Rudolph to end the drive.
Finding momentum off the big stop, UMass began to penetrate A&M's rush defense with ease as Ellis Merriweather and Kay'Ron Adams led the team to three straight first downs in less than two minutes. Olson then lobbed a 21-yard pass to a wide-open Josiah Johnson down the sideline to set up shop at A&M's 7-yard line. Luckily for the Aggies, they prevented the Minutemen from crossing into the end zone, but UMass still managed to level the score on a 25-yard field goal to start the second quarter, 3-3.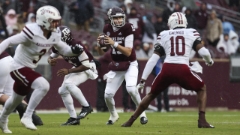 Troy Taormina-USA TODAY Sports
Preston started the ensuing possession on a high note thanks to a 43-yard return. With another opportunity for a big play, Weigman didn't shy away and bulleted a 18-yard pass to Noah Thomas. But a lapse by the offensive line allowed a sack of Weigman for an 8-yard loss. Looking to erase third-and-15, Weigman connected on a pass up the middle to Muhammad that allowed him to break away for a 38-yard reception. Though upon review, it was revealed that Muhammad fumbled with UMass recovering the ball.
Both teams then proceeded to trade three-and-outs as the Minutemen made it clear they were holding their own after pulling off their second sack of Weigman on third down.
UMass went three-and-out yet again, and Weigman ignited the offense with an impressive 22-yard scramble up the middle. It didn't take long after for the Aggies to finally find the end zone as Thomas stepped up to the plate and capped a four play, 47-yard drive with a 22-yard touchdown grab.
Down 10-3, the Minutemen continued to struggle finding success behind Olson and went three-and-out for a third consecutive time.
Weigman continued to bulldoze through the UMass defense as he bursted out a 29-yard rush, but it soon amounted to nothing as the Aggies shot themselves in the foot with Green fumbling on the UMass 32.
Adams threatened A&M's rush defense with two carries up the middle. They nearly ended their rut of three-and-outs but an offsides penalty pushed them back and they were forced to punt, giving the Aggies just over one minute to try and extend the lead before half.
The Maroon & White's offensive line continued to do Weigman no favors as he was sacked for the third time of the afternoon. Nevertheless, he burned through the field again on a 32-yard charge that created a 47-yard field goal attempt for Bond that ultimately flew just under the post and was no good.
After the break, three carries helped end UMass' string of three-and-outs as they picked up their first first down in four drives. A&M's defense held firm and contained the Minutemen to their own 36 as they punted.
To follow, Daniels quickly moved the Aggies past midfield on 7- and 9-yard rushes through the gut before a massive 26-yard gain to advance into the red zone for the sixth time. However, they couldn't capitalize on their field position and Bond saved the drive from coming up completely empty with a 35-yard field goal.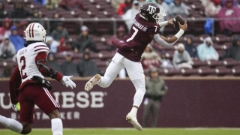 Troy Taormina-USA TODAY Sports
UMass punted again before a holding call on third-down lured the Aggies into their second three-and-out.
Olson found limited momentum on a 14-yard pass to Isaac Ross that advanced the team past midfield. Merriweather was then unable to find a first down after a string of short rushes before Olson fumbled on fourth-and-6 with Chris Russell making the recovery.
True freshman Le'Veon Moss kickstarted the next drive with a huge 23-yard rush to put A&M on the UMass 34. The offense stuttered once again and Bond missed his second field goal of the game on a 45-yard attempt.
A&M's next drive resulted in a three-and-out. UMass followed with a turnover on downs.
Taking over at the UMass 36, Moss made the most of the excellent positioning and led a four-play drive that ended in a 12-yard rushing touchdown to put the game out of reach.
RUMBLED: The Aggies weren't exactly efficient, but they were relatively explosive the few times they gained traction on offense as they totaled 10 plays with 22 yards or more. Conner Weigman accounted for three of those after flashing his speed with rushes of 22, 29 and 32 yards.
STUMBLED: Considering the Aggies were 32-point favorites entering the game, it was a pretty uninspiring performance all around. Aside from a couple big plays, the A&M offense was hardly effective, registering just two touchdowns and giving the ball away on fumbles four times. To make matters worse, UMass controlled the margin in possession time at 32:23 minutes.
UNSUNG HERO: Take your pick from A&M's secondary. Demani Richardson and Edgerrin Cooper recorded seven tackles and a pass breakup each. Up front, Albert Regis and true freshman LT Overton finished with six stops apiece.
TURNING POINT: Despite only taking two carries in the second quarter, Le'Veon Moss re-entered the game in the fourth and proved to be one A&M's lone offensive sparks of the day beside Weigman. With just under seven minutes remaining, he commanded a four-play, 36-yard personal charge that resulted in a touchdown to dash any hope for a UMass comeback — which at one point, wasn't completely out of the question.
KEY STAT: Facing the 102-ranked rushing defense in the country seemed like a key opportunity for the Aggies to find renewed confidence on the ground. Yet, in the first half they only mustered 84 rushing yards with 67 of those coming from Weigman. Talking about a lackluster first half performance, A&M's worst starting position was third-and-five and they only managed to score 10 points.
Scoring Summary
First-quarter
A&M: 10:58 - Randy Bond 27-yard field goal. Drive: 9 plays, 55 yards. TOP: 03:56. Texas A&M 3, Massachusetts 0
Second-quarter
Mass: 14:06 - Cameron Carson 25-yard field goal. Drive 13 plays, 72 yards. TOP: 05:46. Texas A&M 3, Massachusetts 3
A&M: 05:56 - Noah Thomas 22-yard reception thrown by Conner Weigman. Drive 4 plays, 47 yards. TOP: 01:56. Texas A&M 10, Massachusetts 3
Third-quarter
A&M: 07:49 - Randy Bond 35-yard field goal. Drive 9 plays, 46 yards. TOP: 03:56. Texas A&M 13, Massachusetts 3
Fourth-quarter
A&M: 05:10 - Le'Veon Moss 12-yard rush. Drive 4 plays, 36 yards. TOP: 01:48. Texas A&M 20, Massachusetts 3
Never miss the latest news from TexAgs!
Join our free email list