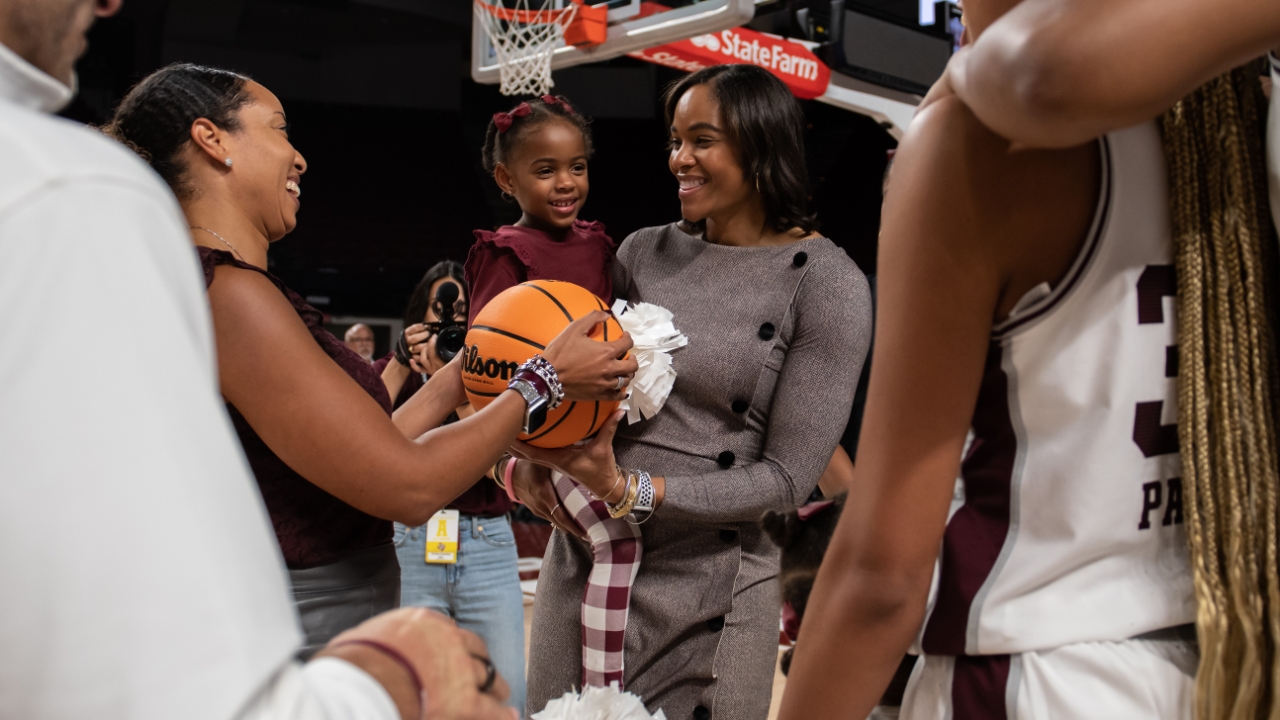 Photo by Jamie Maury, TexAgs
Texas A&M Women's Basketball
Joni Taylor prepares Aggies for Thursday road trip to Cameron Indoor
---
Texas A&M's women's basketball hits the road for the first time this season as the Aggies travel to Durham, NC, to face the Duke Blue Devils. Ahead of the trip, head coach Joni Taylor joined TexAgs Radio to discuss A&M's 2-0 start, expectations for Cameron Indoor Stadium and more.
---

Key notes from Joni Taylor interview
I'm glad to get some games under our belt. We have stuff on film to show our team and talk to our team about. This year is going to be a process, so it's just about where we want to go and moving the needle in the right direction.

This team has gamers. Some people show up in that moment, and then you can challenge them more in practice too. I love that our team is versatile. We have some really good scoring options, and we can do some things on defense as well.

Army is really good. They shot 45 3-pointers coming into our game, and I was nervous about them getting those shots off. I thought our players did a good job defending the 3-point line and making them settle for shots inside. We have to take our opponents' primary scoring option away.

This summer was amazing. My grandmother used to say that you get to stand in the blessings that you pray for. I always wanted to be a basketball coach, but I never thought I'd get to do it at the national level. To get to coach the future Olympic team is so special, and whenever you're around USA Basketball, the only expectation is a gold medal. To be around that standard of excellence is so special. Iron sharpens irons.

We are a work in progress. We're the second-youngest team in the SEC. We have Aaliyah Patty, McKinzie Green and Sydnee Roby that are seniors, but they're carrying a new load that they're not used to carrying. We're building a bridge as we cross it, and I love the excitement the fans have shown us. I also ask for patience as we continue to learn about each other and build this team.

Janiah Barker loves it. She loves College Station and the energy and enthusiasm of the 12th Man. Everybody is watching her. She does everything. Where she has to continue to adjust is knowing when to do what. She has so much to her game. There is a time to simplify and a time to show flash. She was much better on Sunday about not fouling, and it kept her on the floor. We need her.

For us, this road trip is about maturity and handling your business on the road. Some of our road trip rules are different than in the past. This is a business trip. We're going on the road to play an ACC team that is talented across the board. It's a business trip, and they're going to get tested early in a tough environment. It will be good for us.
Never miss the latest news from TexAgs!
Join our free email list