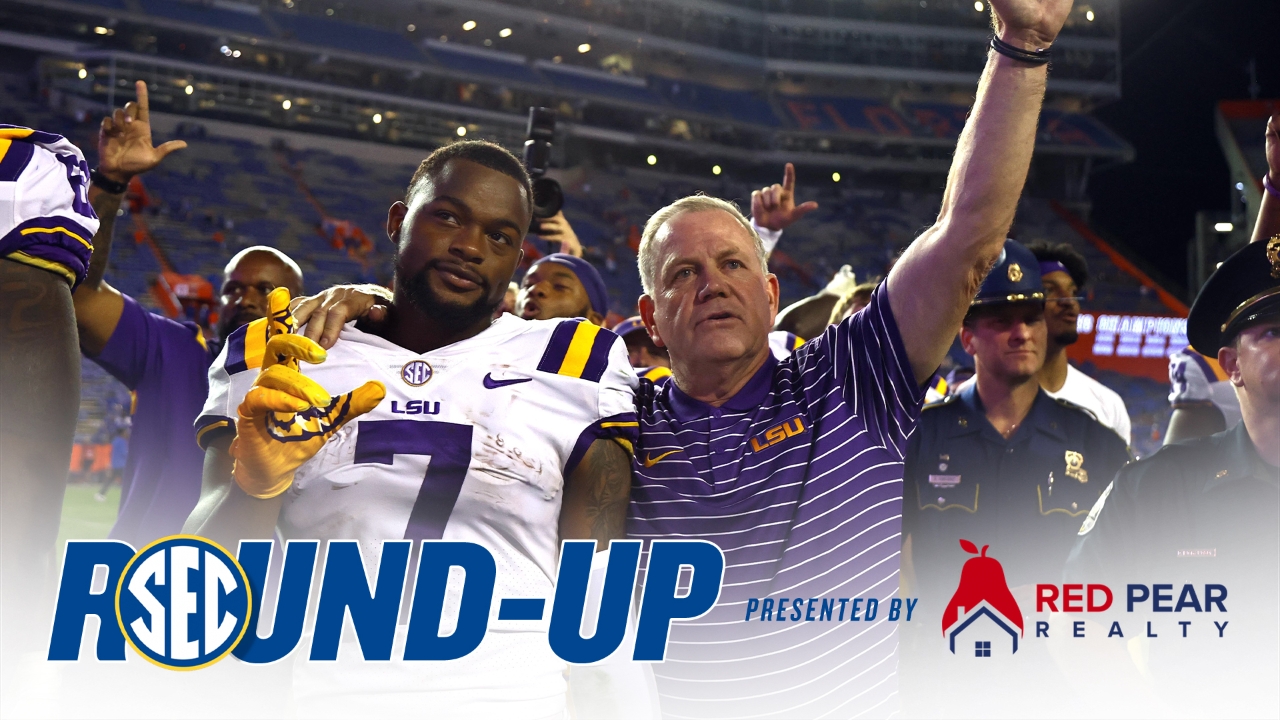 Photo by © Kim Klement-USA TODAY Sports
Texas A&M Football
SEC Round-Up: LSU path to clinching the West early requires rooting for Alabama
---
An unbelievable, unimaginable, unthinkable phenomenon may occur in Louisiana on Saturday.
LSU fans might be enthusiastically cheering on Alabama against Ole Miss.
LSU detests Alabama. Who doesn't right? But the hatred runs a little deeper in Baton Rouge because Alabama coach — and former LSU coach — Nick Saban is seen as a turncoat.
But an Alabama victory over Ole Miss would enable LSU to clinch the spot as the west division's representative in the SEC Championship Game.
LSU (7-1, 5-1) leads the division standings over Ole Miss (8-1, 4-1) and Alabama (7-2, 4-2). However, LSU has already beaten both. With two SEC games remaining, an Ole Miss loss would enable LSU to clinch via the tie-breaker.
So Reauxll Tide?
"Absolutely," said Mike Scarborough, the 26-year publisher of TigerBait.com (think Louisiana's Billy Liucci). "I think once you beat Alabama, it's whatever is the path to the SEC Championship game."
TigerDetails columnist Ron Higgins, whose father was an LSU Sports Information Director, echoed those thoughts.
"LSU wants this west division race over as soon as possible," Higgins said. "They never expected to be in this position in the first place. So, it's we beat (Alabama), so do us a favor, Nick, and beat Ole Miss.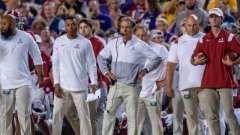 SCOTT CLAUSE/USA TODAY Network
"LSU fans look at A&M as a team that can be a thorn in the side. Even the Arkansas game, fans look at it the same way. Going up to Fayetteville in relatively cold weather for Louisiana and an 11 a.m. kickoff… so get it over as soon as possible."
That reasonable. But reason doesn't always prevail over revulsion.
Going back to the days of coach Charlie McClendon, the LSU populace never liked Alabama. But dislike became disdain, and a rivalry became a blood feud when Saban became Alabama's coach in 2006.
Of course, Saban coached LSU for five seasons from 2000 and 2004. He led the Tigers to a 13-1 national championship season in 2003.
Obviously, he was a beloved public figure in Louisiana. When he left to coach the NFL Miami Dolphins, LSU fans grudgingly understood and wished him well.
Then, two years later, he left the Dolphins for Alabama. Just like that, he went from revered to reviled in Louisiana.
In fact, when Saban returned to Baton Rouge in 2008, he was hung in effigy outside an LSU frat house.

Alabama won 27-21 in overtime.
In most seasons since Saban's relocation to Tuscaloosa, LSU and Alabama have been SEC West superpowers separated by the demilitarized zone that is Mississippi.
LSU sees Alabama as the evil empire and Saban as a traitor. Alabama sees LSU as an annoying rock in its shoe on the road to national championships.
Of course, since Saban's arrival, Alabama has won six national championships while beating LSU along the way.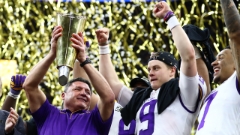 Matthew Emmons-USA TODAY Sports
LSU won national titles in 2007 and 2019. Getting to the championship game required closely-contested, hard-fought victories over Alabama.
There is no national title at stake for LSU this season, though some fans remain hopeful the Tigers can repeat history even with two losses.
In the bizarre 2007 season, which was rife with late-season upsets, LSU became the only two-loss team to win the national championship.
LSU fans can hope lightning strikes twice, but realistically, that was a once-in-a-lifetime event.
LSU fans rooting for Alabama might be one, too.
Around the SEC
This week's games: Texas A&M at Auburn; Missouri at No. 5 Tennessee; No. 7 LSU at Arkansas; Vanderbilt at No. 24 Kentucky; No. 9 Alabama at No. 11 Ole Miss; South Carolina at Florida; No. 1 Georgia at Mississippi State
Who's hot: LSU quarterback Jayden Daniels isn't considered a great passer. Yet, in the last three games — all LSU victories — he has completed almost 72 percent of his passes for 779 yards and seven touchdowns with no interceptions. Combine that with 260 rushing yards and seven rushing touchdowns in that span. That comes out to 1,039 yards of total offense and 14 touchdowns in three games.
Who's not: Texas A&M's defense has been vulnerable to the run all season. A&M allows an average of 215.3 rushing yards per game. That ranks last in the SEC and 123rd in the nation. It gets worse. In games against SEC competition, the Aggies allow an average of 245.6 yards. That would be last in the nation.
Keep an eye on: After Tennessee quarterback Hendon Hooker turned in a stellar performance in a victory over Alabama, the Heisman Trophy appeared to be his to lose. Then came last week's loss to Georgia, in which Hooker passed for just 195 yards and no touchdowns. Any contender can have a subpar game, especially against arguably the best defense in the country. However, Hooker cannot afford another dud. Fortunately, his remaining games are against Missouri, South Carolina and Vanderbilt. Hooker needs to close the season with three strong performances.
The pressure is on: Clearly, Texas A&M is going to have to make changes following its disastrous season. Could a replacement for defensive coordinator D.J. Durkin be among them? That would seem to be the case. As previously mentioned, the Aggies' run defense is among the worst in the nation. The Aggies face Auburn, which has a mediocre running game and the worst passing game in the SEC. If Durkin can't devise a scheme to slow down the Tigers, it would be hard to justify retaining him.
Best matchup: Ole Miss boasts the No. 1 rated running game in the Southeastern Conference. Freshman running back Quinshon Judkins is second in the SEC with 1,034 rushing yards. Junior running back Zach Evans is fifth with 680. Quarterback Jaxson Dart is also a legitimate rushing threat. However, the Rebels have not faced a run defense as stout as Alabama's. Not even close. Alabama allows an average of 104 rushing yards to rank No. 11 in the nation. Ole Miss running game vs. Alabama run defense. The Crimson Tide has limited six opponents to fewer than 80 rushing yards.
Never miss the latest news from TexAgs!
Join our free email list
PRESENTED BY