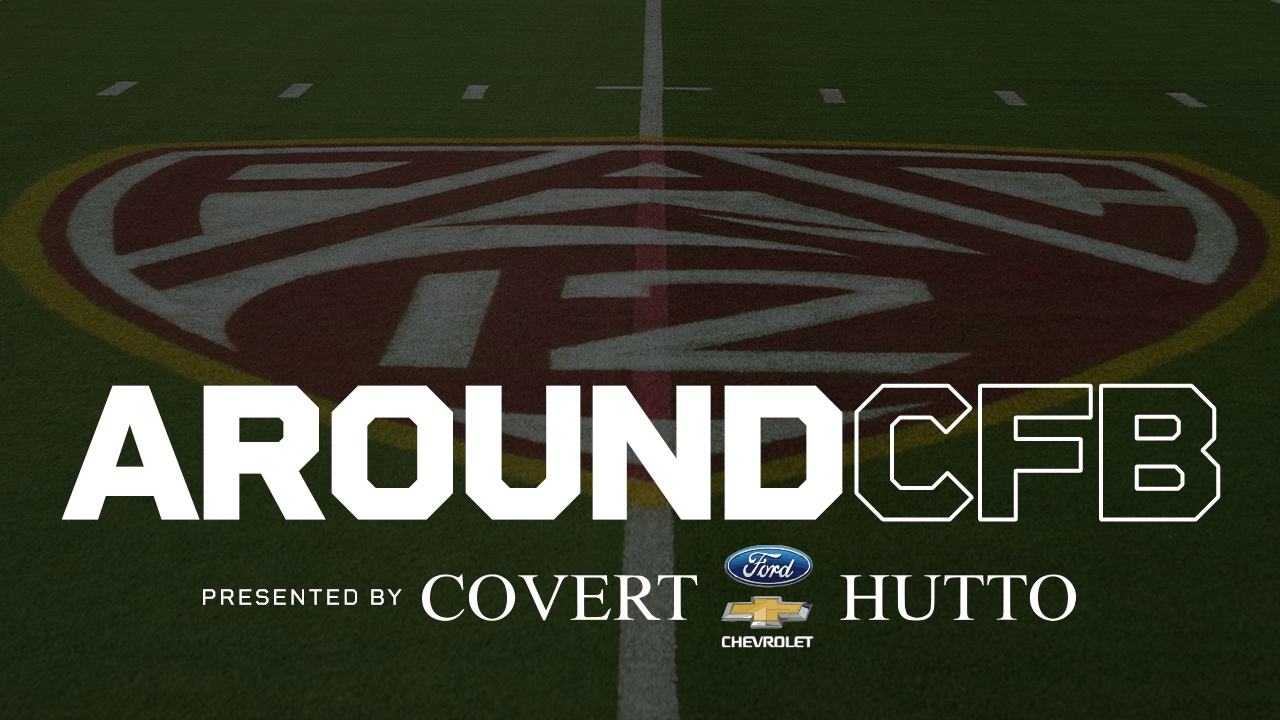 Photo by Kirby Lee-USA TODAY Sports
Texas A&M Football
Around CFB: Oregon, USC & UCLA could get Pac-12 back into the CFP
---
In college football discussions, the Pac-12 has often been dismissed as the Pathetic 12.
With good reason.
Over the last five years, only two Pac-12 teams — No. 5 Oregon in 2019 and No. 10 Washington State in 2018 — have finished in the top ten of the national rankings.
Also, in that period, Pac-12 teams are just 8-22 in bowl games. Last season, the Pac-12 was 0-5 in postseason games with losses to such opponents as Central Michigan and Utah State.
Central Michigan defeated Washington State in the Sun Bowl, 24-21. Utah State defeated Oregon State in the LA Bowl, 24-13.
The Pac-12 again appeared pathetic at the start of this year. Oregon was ranked No. 11 to open the season but was annihilated by Georgia, 49-3.
No. 7 Utah opened with a 29-26 loss at Florida. In Week Three, UCLA got a last-play field goal to escape South Alabama, 32-31.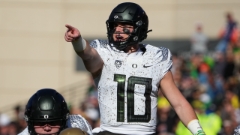 Ron Chenoy-USA TODAY Sports
However, the Pac-12 is making a comeback, which very well could result in getting one of its teams into the College Football Playoff.
Oregon, USC and UCLA all have just one loss and are ranked in the top ten.
True, a big reason for that is because they're playing Pac-12 teams, but it still provides chances to impress the committee with victories over top-ten opponents as the season closes.
Here's a look at those teams' remaining schedules:
No. 6 Oregon: vs. Washington (7-2), vs. Utah (7-2), vs. Oregon State (6-3).
No. 8 USC: vs. Colorado (1-8), at UCLA (8-1), vs. Notre Dame (6-3)
No. 9 UCLA: vs. Arizona (3-6), vs. USC (8-1), vs. Cal (3-6).
Two of those three teams will likely play in the Pac-12 Championship Game, too.
The Pac-12 would need unbeaten TCU to stumble. It wouldn't hurt if Clemson and North Carolina lost again. The Pac-12 would have to hope the committee won't limit the playoff field to two teams from the Big Ten (Ohio State and Michigan) and the SEC (Georgia and Tennessee).
But based on current records and rankings, a one-loss Pac-12 Champion would have an excellent chance of getting into the playoff.
And then would probably lose badly in the first round.
Heisman Watch (If my ballot was due today)
1. Hendon Hooker, Tennessee, QB: Admittedly, Hooker's candidacy lost some momentum in a 27-13 loss to Georgia. However, one subpar game against arguably the best defense in the country shouldn't kill that candidacy. Still, Hooker cannot afford another subpar showing. He only passed for 195 yards and threw an interception in that loss. On the season, Hooker has passed for 2,533 yards and 21 touchdowns with only two interceptions. He has rushed for 355 yards and four touchdowns.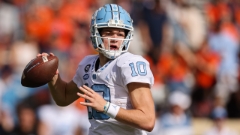 Scott Taetsch-USA TODAY Sports
2. Drake Maye, North Carolina, QB: The Tar Heels redshirt freshman leads the nation in total offense and is third in passing. Maye threw for 293 yards and two touchdowns and rushed for 74 yards and a score in a 31-28 victory over Virginia. He has accumulated 3,477 total yards in nine games. Maye has passed for 2,964 yards this season. He has rushed for 513. He has thrown 31 touchdowns and only two interceptions. He has four rushing touchdowns.
3. Blake Corum, Michigan, RB: The Wolverines' junior tailback rushed for 109 yards and two touchdowns in a 52-17 victory over Rutgers. It was his sixth consecutive game with more than 100 rushing yards. Corum has the fourth-highest rushing total in the nation with 1,187 yards. He has rushed for 16 touchdowns.
4. Caleb Williams, USC, QB: He's on a roll. In the last three games, Williams has passed for 1,152 yards and 14 touchdowns. Last week, he passed for 360 yards and four touchdowns and rushed for 38 yards and a score in a 41-35 victory over Cal. On the season, Williams has thrown for 2,742 yards and 28 touchdowns with only one interception. He has rushed for four touchdowns.
5. C.J. Stroud, Ohio State, QB: Stroud completed just 10-of-26 passes for a mere 76 yards and no touchdowns in a 21-7 victory over Northwestern. He also rushed for 79 yards. Overall, he has passed for 2,453 yards and 29 touchdowns with four interceptions.
Predicted playoff participants
1. Georgia: Unbeaten and has a decisive victory over Tennessee.
2. Michigan: The winner of the Michigan-Ohio State game gets in. The Wolverines have a great defense and a strong running game. They are looking like they can beat Ohio State in Columbus.
3. Tennessee: The bet here is Volunteers finish with just one loss. That loss is on the road to a team that will likely be ranked No. 1. They will also have wins over Alabama and LSU.
4. USC: Unless TCU goes unbeaten, a one-loss Pac-12 team likely gets the last spot. The best chance to get in would be one-loss USC. The Trojans have upcoming regular season games with UCLA and Notre Dame. They'd likely play Oregon in the Pac-12 championship game.
Games to watch
No. 7 LSU at Arkansas: Could a road trip to Fayetteville be a trap for LSU?
No. 10 Alabama at No. 11 Ole Miss: The Rebels still have outside hopes of reaching the SEC Championship game.
Louisville at No. 12 Clemson: Louisville is on a four-game winning streak. Clemson, trying to bounce back from a loss to Notre Dame, hasn't looked particularly good in a month.
No. 4 TCU at No. 18 Texas: The Horned Frogs likely must stay unbeaten to get in the playoff. Texas is improving.
No. 15 North Carolina at Wake Forest: With a victory, the Tar Heels clinch a trip to the ACC Championship game as the Coastal division winner. They also at least stay in the playoff discussion.
---
Editor's note: This story was written and published before Tuesday night's release of the second College Football Playoff rankings. Rankings in this story are from the latest AP Poll.
Never miss the latest news from TexAgs!
Join our free email list
SPONSORED BY