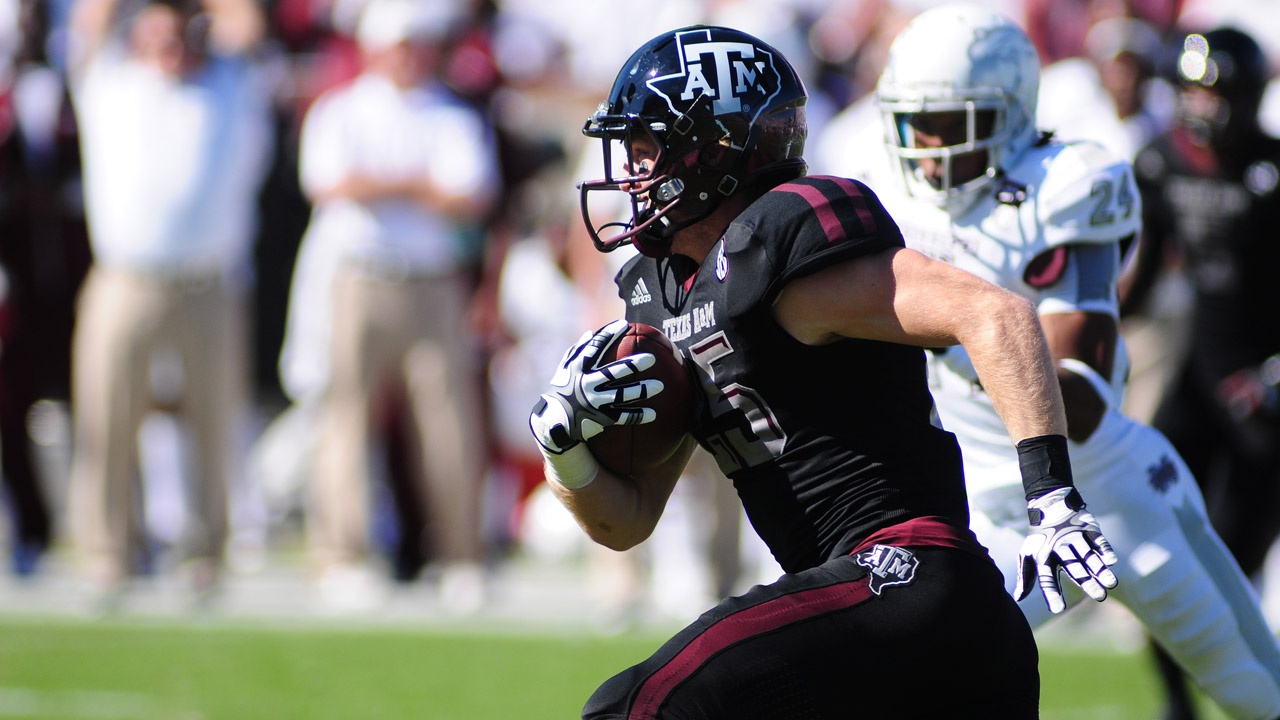 Photo by Brandon Jones, TexAgs
Texas A&M Football
Ryan Swope predicts Moose Muhammad will 'get it done' vs. Gators
---
With Conner Weigman under center, Texas A&M's offense found a spark that the Aggies had been lacking. On Thursday, former A&M wideout Ryan Swope discussed the benefits of an up-tempo offense, why he's keeping an eye on Moose Muhammad this week and more.
---

Key notes from Ryan Swope interview
It's not good. At the end of the day, the only stat that really matters is the scoreboard. I might be a little critical, but that is the most important stat. Still, there is a lot to be excited about with #15, and I thought Conner Weigman played well. It was impressive and fun to watch. We finally had an offense put up 400+ yards of offense. We hadn't done that all year, but unfortunately, we came up short again. It's a four-game losing streak, and that's not fun. At this point, I'd love to run the table and go bowling, but it's not looking good.

Texas A&M can beat Florida, Auburn and UMass. We absolutely have the talent and personnel to do that, but it's a matter of going out there and executing. We have to capitalize on big plays and tackle better. If we allow offenses to rush for 300+ yards, we're not going bowling. We have to wrap up and stop the run.

Offensively, the future is bright. #15 is a special kid, and you have to question why he has been sitting on the bench all year. He was third string. He was very, very impressive.

To be honest with you, I thought this was the first game where the tempo was up a couple of notches from what we had been doing in the past. At the end of the game, we really got into tempo. It was amazing to watch the offense with an upbeat tempo get into a rhythm and a groove. Less thinking and more doing. That's something that we need to do more of because our players respond really well to it. As a quarterback or receiver in that film room over the next couple of days, that's something that needs to be talked about. We showed we could go with tempo and play really well.

I saw these receivers respond really well to #15. He brought a new kind of energy to our offense that we needed. The chemistry was on point with Moose Muhammad and Evan Stewart. Their timing was really good as well. That's important. I feel like they took it and ran with it, and it looked like they had been playing backyard football for longer than just one game. It looked like everyone was on the same page, which was exciting to see.

It's hard to put a finger on this team. We're a couple of plays away. Offensively, we're right there. There is a lot of positive moving forward with Weigman at quarterback, and we have some good receivers. We have a chance to finish strong, and I hope they do. We had high expectations, and that's tough to deal with. If we can end strong, that's huge for our team. I'd love to go bowling, but we'll see how it plays out. The SEC West is a tough division, and you have to bring your A-game every week. If you bring your B-game, it's not going to be good enough.

It's very important to go to a bowl game from a growth and development standpoint because you buy yourself three more weeks of practice. The more practice time we can get, we need that bowl just to get more time to develop and work on our fundamentals.

The run defense is a little concerning, but it's hard to sit and point fingers at our defense because I felt like they've bailed us out a lot this year. Offensively, we haven't been clicking, and the defense has been feeling a lot of pressure. We saw it give in on Saturday.

Conner Weigman got it done. #15 is a special player. He was poised and confident. The team fed off of him, and he brought a new energy that we haven't seen all year. The future is bright for A&M. Did we win the game? No, but I saw a different spark in our offense. The togetherness we played with is very much improved. I think these guys love #15, and they'll go out and get it done. It's important to have a leader leading this football team. It's going to be something special.

Obviously, it was a tough day for our defense. They couldn't stop the run. They need to tackle better. I think the defense is coached well and get that taken care of. I expect a much-improved defense this week.

I expect Moose Muhammad to get it done on Saturday. He has been the most reliable guy on our roster after Ainias Smith went down with an injury. He is impressive, and I love how he runs routes. He has strong hands, and he has a burst when he gets the ball that is one of the best in the game. #7 has what it takes. We need to get him the ball more this weekend. He has been very dependable and reliable.

It was just one game with Weigman, so let's see if we can stack games and get some consistency. Still, for a quarterback to throw four touchdowns and for 338 yards is special. The future looks bright.
Never miss the latest news from TexAgs!
Join our free email list