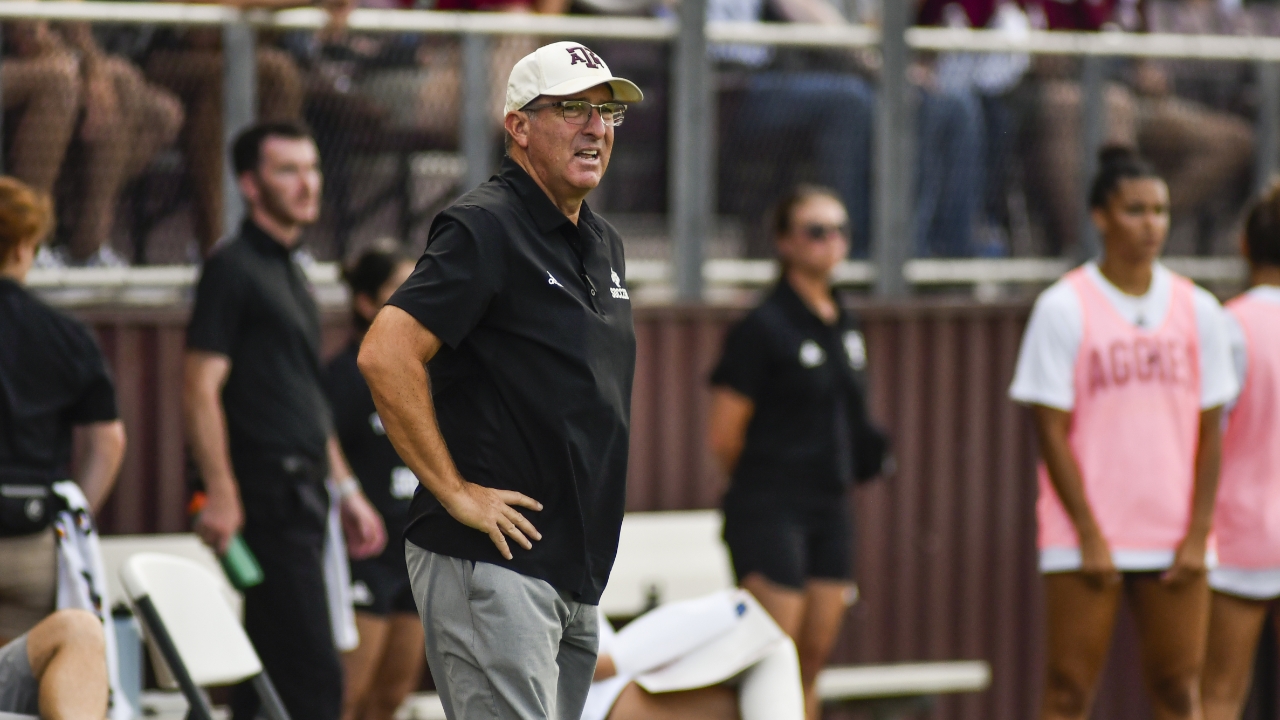 Photo by Jamie Maury, TexAgs
Texas A&M Soccer
Guerrieri & Aggie soccer hit the road to face No. 24 South Carolina
---
Winners of back-to-back matches, Texas A&M soccer has found some momentum down the stretch of the regular season. Ahead of a road trip to battle No. 24 South Carolina on Thursday night, G Guerrieri joined Tuesday's edition of TexAgs Radio to preview the contest.
---

Key notes from G Guerrieri interview
It has been a good October so far, but we have a huge challenge on Thursday. South Carolina is really, really good at home. They might drop a home game twice every three years. We're hoping one of those is this week.

We have to continue this run. We've had some heroic wins recently, and Maile Hayes has been back-to-back SEC Offensive Player of the Week. You want your striker to play with confidence, and she has had four goals in two weeks. We cannot lose focus. I'm pleased for our team, but it's a challenge for sure.

A lot of this is confidence and reinforcing that our young players are good despite some struggles early. You can't give up because some lightning has struck against us. Our defense has been much more solid recently.

If the NCAA Tournament was this weekend, we might be one of the seeded teams right now, but we'd miss the SEC Tournament because of where we are in the standings. Only 10 teams make the SEC Tournament, so not everybody gets to go.

When we went behind against Auburn last weekend, the message was that we were a good team, needed to change our shape and continue playing the way we play. We scored three times in the second half to make it a run away. You can see the body language in the team and how excited we are.

We play two games a week. We only have one home game left, and it's this Sunday against Missouri, who ended our season last year. We have three games left, and if we can win two of them, we're in the SEC Tournament. If we win all three, we could have a bye in the first round. Only 10 teams go to the SEC Tournament. It's a rough time of the year, but we're playing well at the right time.

To see the alumni on Friday was such gratification for how much pride these people have in our program. It was very cool. We had over 100 former players and their families come back. I was giving so many hugs to the former players. Even the current players thought it was very cool. There are other programs that have been around as long as Texas A&M soccer, but they don't have reunions like that.

The atmosphere at Ellis Field is amazing. It was a full house on Friday night, and Friday games are awesome at Ellis. It's so gratifying that A&M has gone along with some of my screwy ideas to do this stuff. We also get great feedback from the 12th Man and the students. You also see the feedback from former players who still make time to come back. That's special. This is part of an extended family. It's up to our current players to keep making positive impacts.

We have to win. Somehow, whatever way, we have to find ways to win. We have done that. We have to stay healthy. We have seniors like Karlina Sample, Katie Smith and Jai Smith playing at the end of their careers. They have to keep themselves together and keep everybody around them. If we stay as consistent as we have the last couple of weeks, we have a fighting chance to go far.

You can see this team growing up. We are by far the youngest team in the SEC. We are starting eight underclassmen. They have learned tough lessons, but they have learned. We're so much better than we were a month ago, but right now, it's "prove it" time.
Never miss the latest news from TexAgs!
Join our free email list