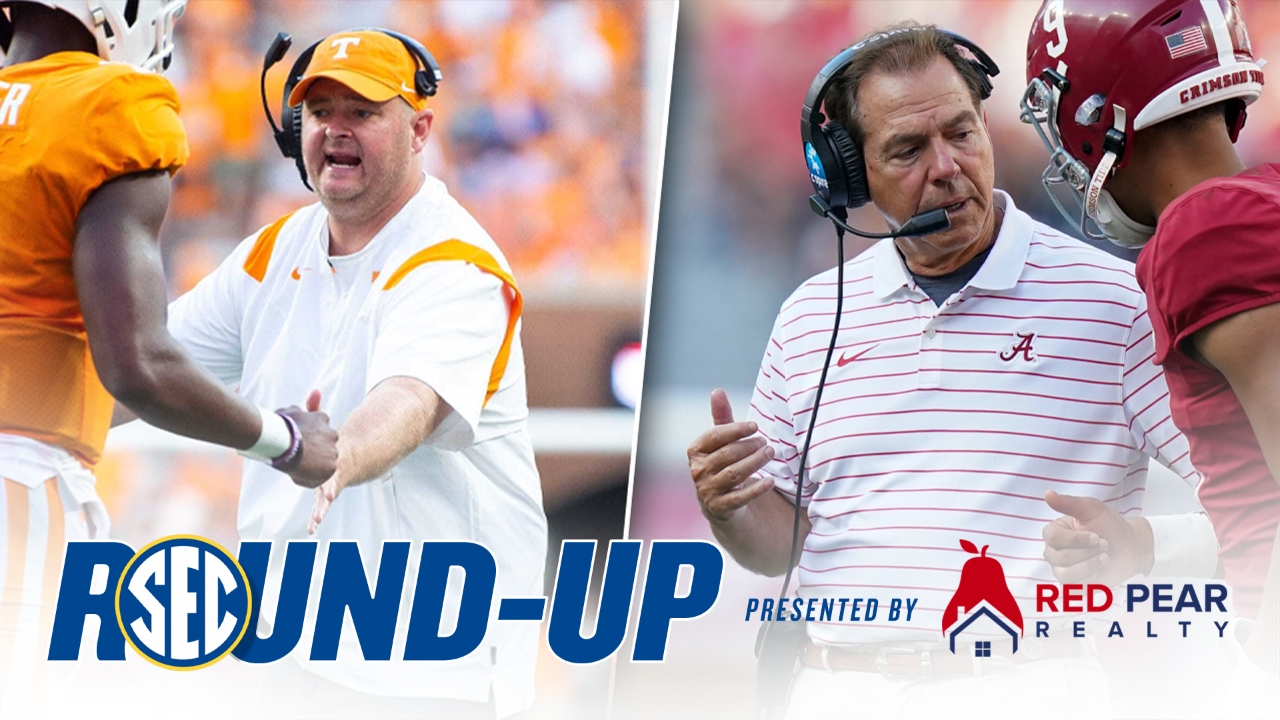 Texas A&M Football
SEC Round-Up: Stakes are high on the 'Third Saturday in October'
---
The first game in which Nick Saban faced Tennessee as Alabama head coach started with the Crimson Tide successfully executing an on-side kick.
Alabama has been taking away what Tennessee thought was theirs ever since.
That was the Third Saturday of October in 2007. The opening onside kick set the tone for Alabama's 41-17 upset of the No. 20 Volunteers.
Alabama has now prevailed 15 consecutive times on the Third Saturday. Twelve times the Crimson Tide has won by 20 points or more.
There were a couple of close calls. Alabama's Terrence Cody twice blocked fourth-quarter field goals to vanquish the Vols, 12-10, in 2009.
The Tide needed a Derrick Henry 14-yard touchdown run with 2:24 remaining to escape with a 19-14 victory in 2015.
But for the most part, the series has turned into Alabama blowout after blowout.
That's hard to take for a once-proud Tennessee program, which had won 10-of-12 in the series from 1995 to 2006.
During Saban's reign of Tennessee terror, the Volunteers have had a revolving door of coaches. Phillip Fulmer, Lane Kiffin, Derek Dooley, Butch Jones and Jeremy Pruitt have tried — and failed — to defeat Saban's Crimson Tide.
But there is new confidence in Knoxville that Alabama's dominance ends on Saturday at Neyland Stadium.
"This is a proud fan base that expects to win. This is certainly one of a few (games) that get circled by our fan base every year. We've tried to continue to grow as a program."
Second-year coach Josh Heupel has the Volunteers unbeaten and ranked No. 6 in the nation. Quarterback Hendon Hooker is a legitimate Heisman contender.
Meanwhile, No. 3 Alabama isn't 100 percent certain quarterback Bryce Young will be sufficiently healed from a sprained AC joint to start ahead of backup Jalen Milroe on Saturday.
"You have to prepare for both of them," Heupel said. "You have to have a plan even if you know who the starter is just because you know there's going to be some things that are different depending on if the other guy goes in the football game.
"Our calls may adjust in situations based on who the QB is."
In reality, it might not matter who is Alabama's starting quarterback.
Tennessee should be more concerned about whether Hooker can lead a successful offensive attack against Alabama's defense. The Tide has limited five of its six opponents to 20 points or less.
Alabama is the fifth-highest-scoring team in the country. More than 20 points are likely needed to beat the Crimson Tide.
And, oh, how badly the Volunteers and their fans want to beat Alabama.
"When you come into this job here, you have an understanding of the expectations," Heupel said. "This is a proud fan base that expects to win. This is certainly one of a few (games) that get circled by our fan base every year. We've tried to continue to grow as a program."
No doubt, the Volunteers have grown.
Grown enough to end a 15-year losing streak to Alabama, though?
Maybe not. But at least the Vols again have hope.
Still, don't be surprised if the Tide quickly takes that away from Tennessee, too.
Around the SEC
This week's games: Auburn at No. 9 Ole Miss; Vanderbilt at No.1 Georgia; No. 3 Alabama at No. 6 Tennessee; Arkansas at BYU; LSU at Florida; No. 16 Mississippi State at No. 22 Kentucky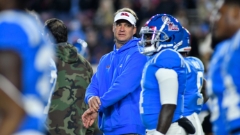 Jamie Maury, TexAgs
Who's hot: Not only is Ole Miss 6-0, but the Rebels have posted 13 consecutive victories at Vaught-Hemingway Stadium. The last time they lost at home was on Oct. 24, 2020, when they fell 35-28 to Auburn.
Who's not: Florida's run defense has allowed at least 150 rushing yards in each of the last four games. Last week, Missouri rushed for 150. The previous week, Eastern Washington had 153. Tennessee, South Florida and Utah all rushed for more than 225 yards against the Gators.
Keep an eye on: The passing combination of Auburn quarterback Robby Ashford and running back Marquez Hunter is sneakily productive. They have combined for a completion of 60-plus yards in each of the past two games. They connected for 61 yards vs. LSU and hooked up for a 62-yard touchdown against Georgia. Ashford is ranked sixth nationally with a 14.81-yards per completion average. Hunter is one of just 10 running backs in the country with two 60-yard receptions.
The pressure is on: LSU's running game was showing signs of life until managing only 55 rushing yards in the loss to Tennessee last week. Quarterback Jayden Daniels had run effectively. Running back John Emery had a couple of solid outings after missing the first two games. This week against Florida, the Tigers must prove their problems against Tennessee were just a one-game issue.
Best matchup: Alabama's secondary is among the best in the country. The Crimson Tide leads the SEC in pass defense. The Alabama defensive backs face a tough challenge against a productive Tennessee receiving corps, which is expected to have star Cedric Tillman back from injury. The trio of Tillman, Jalin Hyatt and Bru McCoy is dangerous, especially with quarterback Hendon Hooker throwing to them.
Never miss the latest news from TexAgs!
Join our free email list
PRESENTED BY