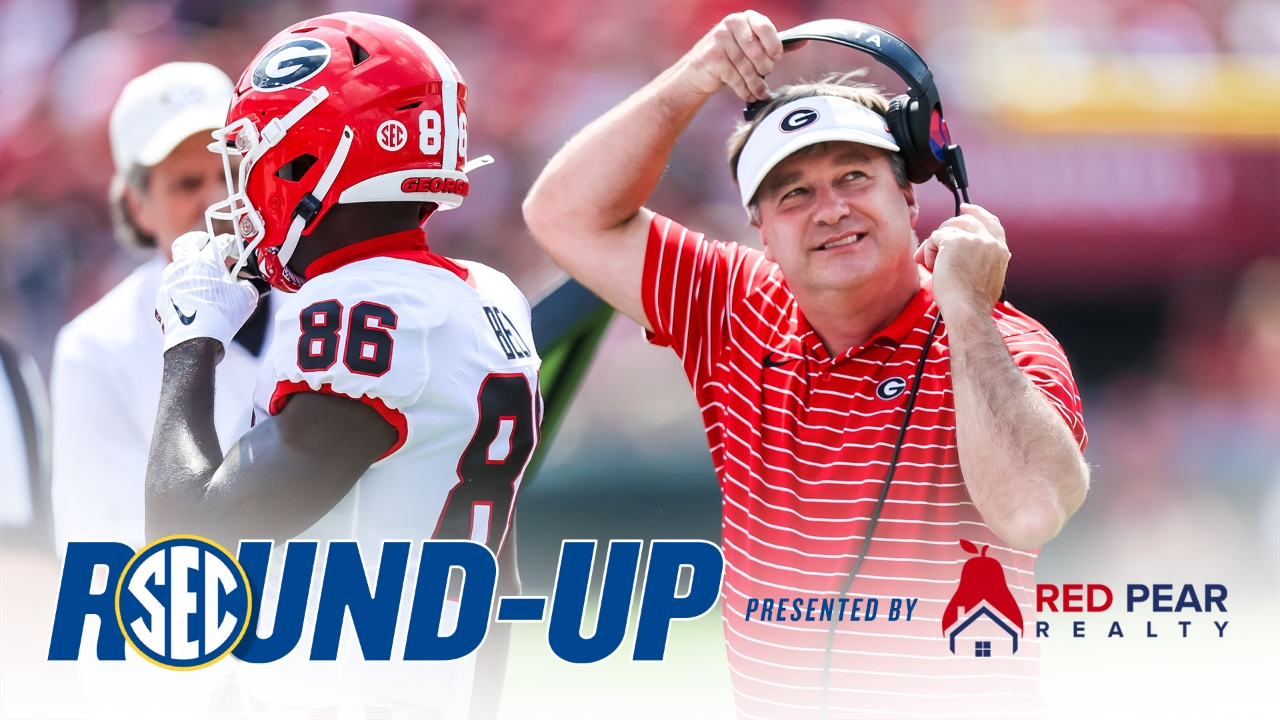 Photo by Jeff Blake-USA TODAY Sports
Texas A&M Football
SEC Round-Up: No. 2 Dawgs searching to resume dominating vs. Auburn
---
If asked three weeks ago who's the best team in college football, the answer probably would've been: "No question, Georgia."
Asked now if that opinion would be universally accepted, the response might be: "No, question Georgia."
Georgia appeared on its way to a second consecutive national championship with opening blowout wins over Oregon, Samford and South Carolina.
But back-to-back lackluster victories over Kent State (39-22) and Missouri (26-22) have created some doubt.
After a come-from-behind win over Missouri last week, the Bulldogs fell from No. 1 in the national rankings to No. 2. They had 55 first-place votes in the AP poll last week. This week, they had 28.
That's no reason to panic. In fact, Georgia coach Kirby Smart viewed rallying from a 10-point fourth-quarter deficit to Missouri as a sign of growth from a team starting about 10 freshmen and sophomores.
"There is a lot of youth there, but to be honest with you, it was a great opportunity to see what we're about," Smart said. "I don't know if you could find any greater adversity than being down 10 points in the fourth quarter. Resiliency, all those things, but we got to make sure we do a good job building on that and start faster and better."
Perhaps the first three blowout victories created expectations that every win would be easy.
But easy wins are rare in the SEC.
"We showed two of our core DNA traits (against Missouri): Resiliency and composure. It took all of the resiliency and composure we had in us to win."
"It's never easy," Smart said. "We tried to convince our guys all week. We played together. We stayed together. We showed two of our core DNA traits (against Missouri): Resiliency and composure. It took all of the resiliency and composure we had in us to win."
The Bulldogs may need all their resiliency and composure to stay unbeaten. Next, they face long-time rival Auburn.
Auburn (3-2) has had its struggles but is playing good defense. The Tigers have allowed just 21 points or less in four of their five games.
"They got some great edge rushers. Some good skill guys outside. Athletic linebackers," Smart said. "They're playing high-level defense right now. They're getting after it."
That could pose a problem for the Bulldogs, who've been struggling offensively.
Still, there is little doubt about who the smart money is on in that game.
No question, Georgia.
Around the SEC
This week's games: Texas A&M at No. 1 Alabama; No. 8 Tennessee at No. 25 LSU; Arkansas at No. 23 Mississippi State; Missouri at Florida; Auburn at No. 2 Georgia; No. 9 Ole Miss at Vanderbilt; South Carolina at No. 13 Kentucky
Who's hot: Dominic Lovett is the first player since 1958 to lead Missouri in receiving in each of the first five games. He leads the SEC with 27 receptions and 460 receiving yards. In the last three games, Lovett had seven catches for 132 yards and two touchdowns against Abilene Christian, five catches for 102 yards against Auburn and six catches for 84 yards against Georgia.
Who's not: Kentucky's offensive line is struggling. The Wildcats have allowed an SEC-high 19 sacks. That's the most of any Power 5 team. The line is proving much running room, either. Kentucky is ranked last in the SEC and 124th in the nation in rushing offense. They've not managed more than 108 rushing yards in any game this season.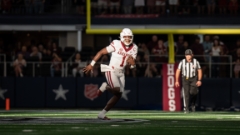 Jamie Maury, TexAgs
Keep an eye on: Arkansas quarterback KJ Jefferson's status for the game against Mississippi State is in doubt. As recently as Wednesday night, Arkansas coach Sam Pittman said, "We don't have a clue whether he's going to play or not." Last week, Jefferson left in the fourth quarter of the Razorbacks' loss to Alabama with a head injury. Pittman would not say if Jefferson suffered a concussion, but Jefferson was reportedly experiencing "mild" symptoms. Whether he practiced on Wednesday was unclear. Jefferson has emerged as one of the better quarterbacks in the SEC. If he cannot play, the Razorbacks will start either Malik Hornsby or Cade Fortin. A transfer from South Florida, Fortin replaced Jefferson last week. He completed 4-of-10 passes for 35 yards.
The pressure is on: The Arkansas secondary continues to be sieve. The Razorbacks allowed 173 passing yards to Alabama before Bryce Young's injury. They're now 12th in the SEC in passing defense. They could fall to the bottom after facing Mississippi State on Saturday. Mississippi State quarterback Will Rogers leads the SEC in passing with a 343-yard average per game. If Rogers only hits his average, the Razorbacks could suffer their third consecutive loss.
Best matchup: LSU has quietly been playing strong defense. The Tigers are ranked third in the SEC in total defense. More importantly, they've allowed 17 points or less in each of the last four games. In SEC games against Mississippi State and Auburn, they've allowed a total of three points in the second half. Their defense gives them a chance to win. That defense might be their only chance against high-scoring Tennessee. The unbeaten Volunteers have scored at least 34 points in every game. They lead the SEC in scoring with a 48.5-point average. However, LSU is by far the best defense the Vols will have faced. LSU is ranked 14th in the nation in scoring defense. Tennessee's previous four opponents are Ball State (112th), Pitt (69th), Akron (125th) and Florida (76th).
Never miss the latest news from TexAgs!
Join our free email list
PRESENTED BY