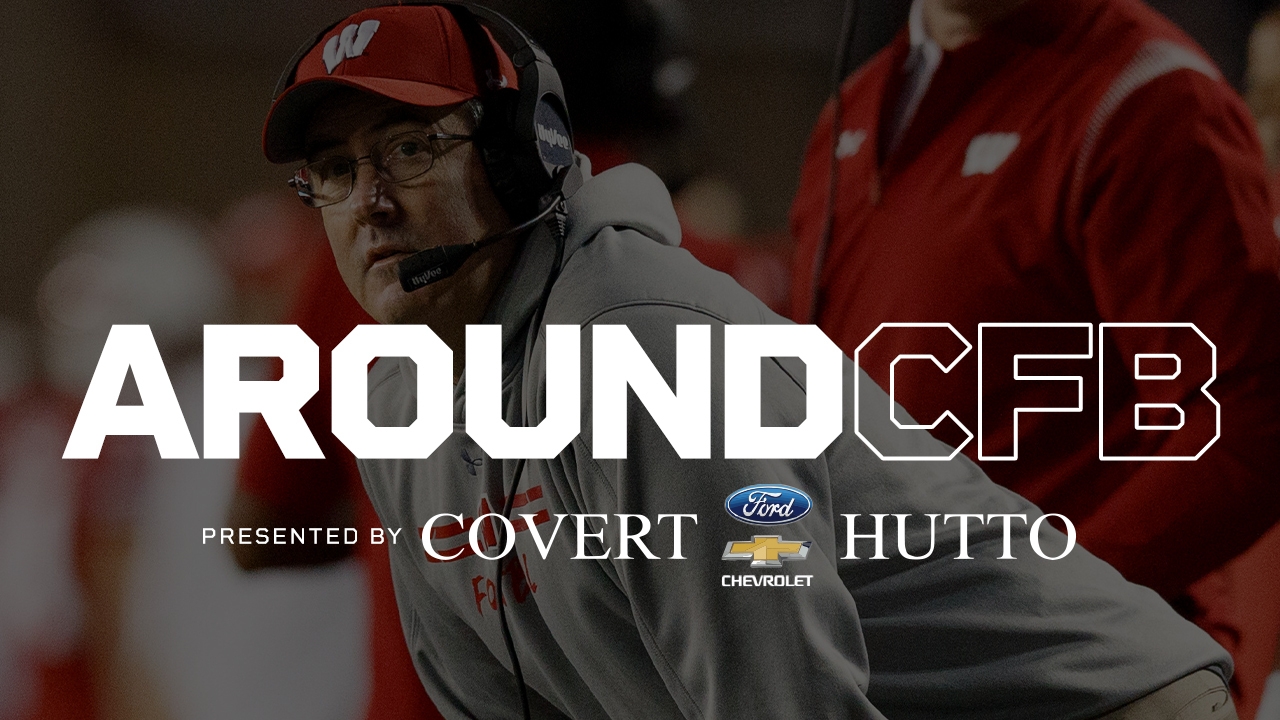 Photo by Jeff Hanisch-USA TODAY Sports
Texas A&M Football
Around CFB: Chryst out in Madison while Harsin remains at Auburn
---
Paul Chryst has been fired. Bryan Harsin has not.
That may be the craziest aspect of the crazy 2022 college football season.
We're not even one full week into October, and five head coaches have already been fired. The fact that Chyrst is among them and Harsin is not is mind-boggling.
Of course, Harsin is at Auburn, the drama queen of college football.
Auburn has fired Gene Chizik, who won a national championship. Auburn has also fired Gus Malzahn, who brought a team within 13 seconds of winning a national title. Auburn fired Tommy Tuberville, who was 80-45 in 10 seasons and fielded an undefeated team in 2004. Auburn ousted Terry Bowden, who posted 20 consecutive victories there.
Meanwhile, Wisconsin has been a model of coaching stability. Barry Alvarez coached the Badgers for 16 seasons. He was replaced by Bret Bielema, who coached them for seven seasons before leaving for Arkansas.
Gary Anderson only had a two-year stay in Madison before leaving for Oregon State in 2014. He was frustrated with Wisconsin's high admission standards for athletes.
Chryst took over in 2015. He was 67-26 in Madison. He had four seasons of 10 wins or more. They finished first in the Big Ten West three times. Just last season, the Badgers were 9-4.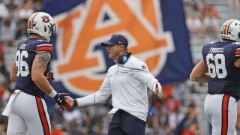 John Reed-USA TODAY Sports
This season, Wisconsin is 2-3 following consecutive losses to Ohio State and Illinois.
From 1990 to 2022, Wisconsin did not fire a coach. But suddenly, Wisky is more impatient than Auburn, which has already parted ways with athletic director Allen Greene, who hired Harsin.
"My job is to make sure the program is heading in the right direction," Wisconsin athletic director Chris McIntosh said on Sunday after announcing the dismissal of Chryst. "This was by no means a decision as the result of one game – yesterday (vs. Illinois).
"But I felt a change in leadership was needed right now... The expectations at Wisconsin are to win championships, and I felt it was the right time to make a change to pursue those."
No one can blame Wisconsin for expecting championships, but can Chryst really be blamed for not delivering them?
After all, Wisconsin once dominated the Big Ten. The Badgers won back-to-back championships in 1896 and 1897.
But in the last 125 years or so, they've won or shared 10 Big Ten titles. Wisconsin's most recent Big Ten title was in 2012.
In its quest to win championships, Wisconsin was willing to pay Chryst an $11 million buyout.
That's a lot. But that's amateurish compared to Auburn.
Two years ago, Auburn paid Malzahn a $21.4 million buyout to leave.
Harsin will reportedly receive between $15 and $15.3 million if he's fired after the 2022 season.
The question is whether Harsin will make it to the end of the season. The answer is probably not.
In fact, he could be the sixth coach fired if the Tigers lose to Georgia this weekend.
Heisman watch (If my ballot was due today)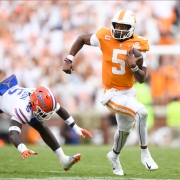 Caitie McMekin/USA TODAY NETWORK
1. Hendon Hooker, Tennessee, QB: The Volunteers have never had a Heisman winner. Hooker could change that. He moves into the top spot even though Tennessee was idle last week. Hooker is sixth in the nation in total offense. He has 1,193 passing yards and rushed for 175. He has thrown eight touchdown passes and no interceptions. He has three rushing touchdowns.
2. C.J. Stroud, Ohio State, QB: Stroud did not need a stellar performance in a 49-7 victory over Rutgers. Still, he had a rather pedestrian showing. He completed fewer than 60 percent of his passing attempts for 154 yards and two touchdowns with an interception. Overall, he has thrown for 1,376 yards and 18 touchdowns. He has been intercepted twice.
3. Stetson Bennett, Georgia, QB: He had his worst performance of the season in a 26-22 victory over Missouri and still passed for 312 yards. However, he did not throw a touchdown pass and completed just 54.5 percent of his attempts. Bennett is still on pace to be a strong Heisman contender. He has passed for 1,536 yards and five touchdowns and has thrown just one interception. He has also rushed for four touchdowns.
4. Bryce Young, Alabama, QB: Young suffered an injury early in the Tide's 49-26 victory over Arkansas. He only completed 7-of-13 passes for 173 yards and a touchdown. He also threw an interception. Young is still having a strong season. He's completing 67 percent of his passing attempts for 1,202 yards and 14 touchdowns. He ha been intercepted three times and also rushed for 154 yards and three touchdowns.
5. Michael Penix, Washington, QB: The nation's leading passer had an up-and-down showing in a 40-32 loss to UCLA. Penix passed for 345 yards and four touchdowns but threw two interceptions. Overall, he has passed for 1,733 yards and 16 touchdowns. He has thrown three interceptions.
Predicted playoff participants
1. Ohio State: Buckeyes lead the nation with a 48.8-point scoring average.
2. Georgia: Consecutive unimpressive victories over Kent State and Missouri raise doubts, but the Bulldogs might just be bored.
3. Clemson: With victories over Wake Forest and NC State in their pocket, the Tigers are looking like a good bet to go unbeaten.
4. Alabama: A case could be made to be ranked No. 2 or No. 3, but the guess is the committee won't put Georgia-Alabama as a first-round matchup.
Games to watch
No. 8 Tennessee at No. 25 LSU: Is Tennessee for real? Is LSU? Maybe this game answers the questions. Maybe.
No. 17 TCU vs. No. 19 Kansas: Whoever had this game circled as a clash of unbeatens and possibly a preview of the Big 12 championship is psychic. Or lying.
No. 11 Utah at No. 18 UCLA: The Utes haven't lost since the season-opener at Florida. UCLA had not beaten a decent opponent until last week against Washington.
Washington State at No. 6 USC: The Cougars are the best opponent USC has faced thus far.

Texas vs. Oklahoma: Who's first to three losses?
Never miss the latest news from TexAgs!
Join our free email list
PRESENTED BY