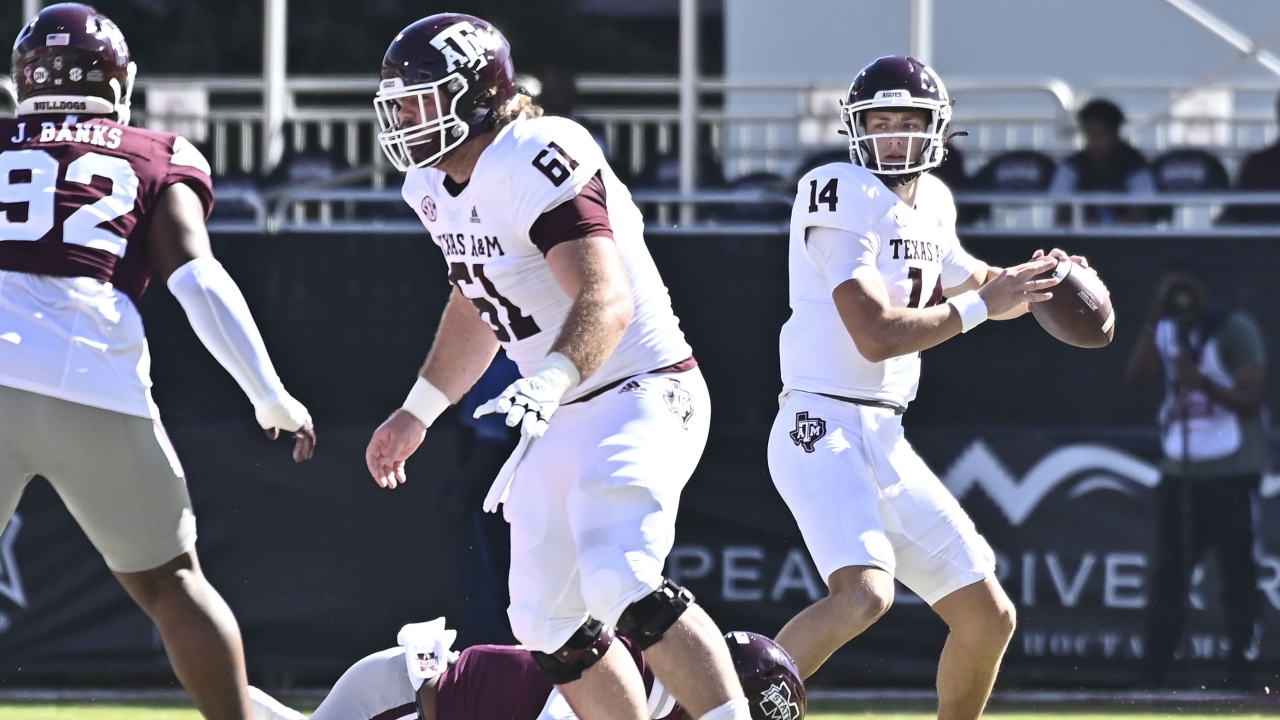 Jimbo Fisher
Demani Richardson
Layden Robinson
Texas A&M Football
Mississippi State routs No. 17 A&M as Aggies falter in all three phases
---
STARKVILLE, Miss. — There's no denying it. Jimbo Fisher's offense broke down on Saturday. There was no tow truck to call.
The Texas A&M offense — hell, the entire team — on Saturday got rattled more than the god-forsaken cowbells that reverberated through Davis Wade Stadium like a plague of giant cicadas.
The No. 17 Aggies (3-2, 1-1) once again ventured into this Land of the Loss. And as was the case in 2014, '16 and '18 they stumbled, bumbled and literally fumbled away a 42-24 loss to Mississippi State (4-1, 1-1) in a vital Southeastern Conference football clash.
Don't be deceived by statistics. A&M rolled up 386 yards of offense, but more than 200 yards were accumulated after the Bulldogs took a 21-3 lead early in the third quarter.
The Aggies' offense was up on blocks in the first half. They managed only 112 yards. Shockingly, A&M had just 50 passing yards.
The futility was obvious. Well, to most it was. Fisher was adamant that A&M was productive except for a few gaffes in execution. And, of course, except for the fact, the Aggies were scoreless.
"The plays are there," said Fisher, who said he remains confident in his reportedly complex offensive system. "We've just got to execute, and we've got to coach them better.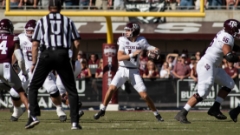 Jamie Maury, TexAgs
"That system is the same system a lot of people use. The plays are there. You see we were in the red zone ready to score, ready to hit it. We've just got to pick it up and go.
"We had chances to make plays multiple times in the game. We've got to do it. We've got to make sure we've got them called right, make sure they're executed right."
Fisher has a point. The Aggies were on the brink of taking an early 7-0 lead until star running back Devon Achane lost a fumble at the Mississippi State 6-yard line.
The Aggies again moved to the State 15-yard line just before halftime, but quarterback Max Johnson was sacked and fumbled.
Mississippi State was more aggressive, more creative and much more opportunistic. Yet the Bulldogs seemed intent on keeping the Aggies in contention.
A&M could not capitalize on several golden opportunities.
A fourth down targeting penalty boosted the Aggies on their first drive of the second half. But freshman receiver Evan Stewart dropped a pass in the end zone. The Aggies settled for a Randy Bond field goal and a 14-3 deficit.
Two plays later, freshman defensive tackle Walter Nolen returned a fumble to the Mississippi State 25-yard line.
"We had chances to make plays multiple times in the game. We've got to do it. We've got to make sure we've got them called right, make sure they're executed right."
The Aggies only reached the 22. They settled for another Bond field goal attempt, which was blocked and returned for a touchdown that gave Mississippi State a 21-3 lead.
Realistically, that doomed the Aggies. Counting on this offense to rally from an 18-point hole is a losing bet.
Especially when it's trying to keep up with the wide-open offense of Mississippi State coach Mike Leach. Or should it be Mike Leech? His play-calling slowly sucked the lifeblood out of the Aggies' defense.
State quarterback Will Rogers passed for 329 yards and three touchdowns. He made quick strikes for long scores and orchestrated three methodical touchdown drives that used 11, 9 and 12 plays.
Unlike A&M's Johnson, who left the game with an injury, and Haynes King, Rogers was rarely pressured.
A&M Defensive Coordinator D.J. Durkin usually opted for a three-man pass rush that allowed Rogers to take his time to find receivers breaking open.
It was a questionable strategy that obviously failed.
"We could bring some more pressure, no doubt," Fisher said. "We brought some blitzes two or three times. Four or five or six times. We brought some pressure, gave up some man throws and didn't get there. You've got to put pressure on the quarterback. You've got to affect the quarterback."
The defense had chances to have an effect, but also squandered opportunities.
They did not capitalize on four chances for interceptions. Star nickel back Antonio Johnson couldn't hold on to an interception that likely could have been returned for a touchdown.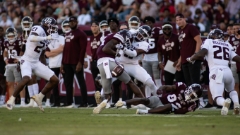 Jamie Maury, TexAgs
"We've got to make those plays," said senior safety Demani Richardson, who also dropped an interception. "The offense needs that. We feed off each other. If we make plays they can feed off us."
That's what it has come to for A&M. The defense is needed to provide offense.
It's a disturbing thought with a trip to Alabama looming next week.
Of course, the Aggies don't see it that way. Junior guard Layden Robinson insisted the Aggies are not demoralized.
"No matter how tough and difficult it is you've got to keep that mindset to just keep powering through," Robinson said. "I feel like we showed that fight. We've just got to eliminate the mistakes.
"I don't question our heart. I don't question our passion. We've just got to keep showing it every day and limit our mistakes. Who knows where we can be."
Well, unless there is dramatically improved execution the Aggies will remain stuck, spinning their wheels and looking for that tow truck to get them moving.
Never miss the latest news from TexAgs!
Join our free email list