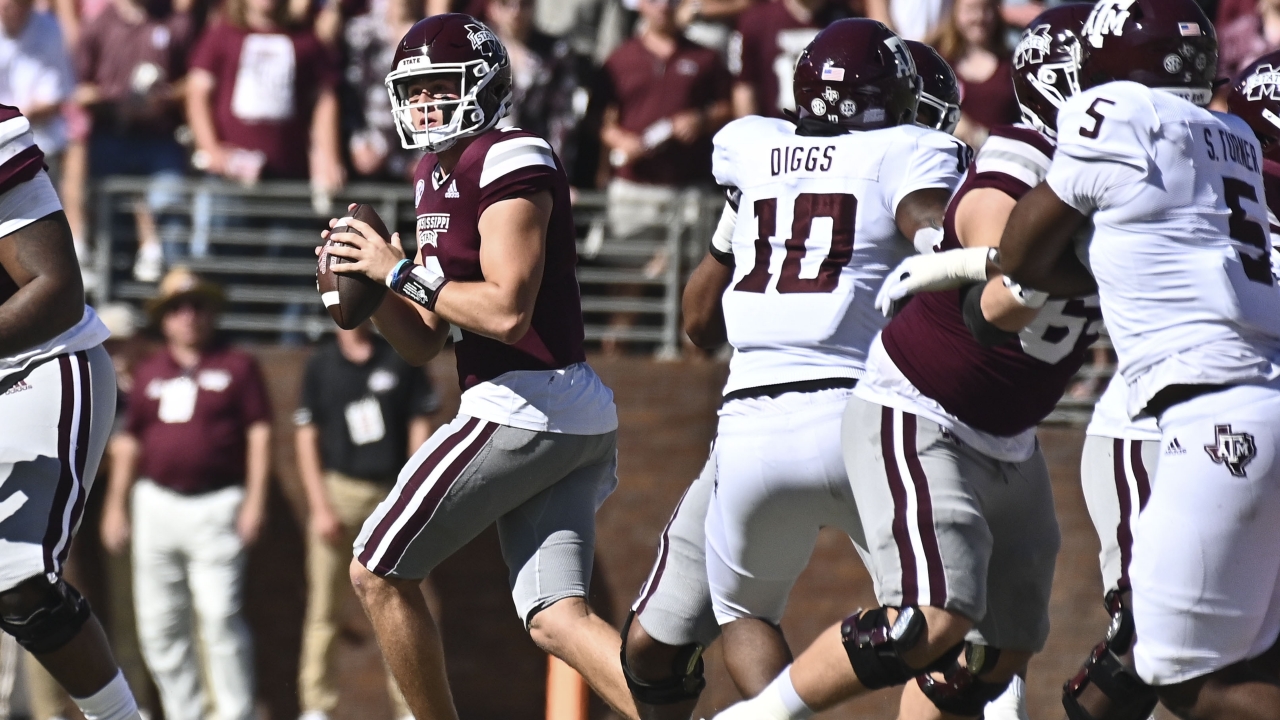 Photo by Matt Bush-USA TODAY Sports
Texas A&M Football
Post Game Review: Mississippi State 42, No. 17 Texas A&M 24
---
Marred by a stagnant offense, careless turnovers and an ineffective defense, No. 17 Texas A&M fell to Mississippi State in Starkville on Saturday afternoon, 42-24.
The Aggies are now 3-2 (1-1) on the season and face No. 2 Alabama next Saturday in Tuscaloosa.
The first quarter eventually ended in scoreless gridlock. Led by quarterback Will Rogers, the Bulldogs broke into A&M territory on the game's first possession but were shut down at the 43-yard line following a Demani Richardson pass breakup.
The Aggie offense relied heavily on running back Devon Achane in its first series as the speedster earned back-to-back first downs. Though on third-and-6, quarterback Max Johnson's pass to Achane came up 4-yards short of the first down and forced A&M to punt.
Rogers piloted a steady march for the Bulldogs that once again penetrated Aggie territory with impressive tempo. Fortunately for D.J. Durkin's defense, the SEC leader in pass breakups, linebacker Edgerrin Cooper, deflected a pass to end a taxing 16-play, 49-yard drive with a punt.
After both sides traded three-and-outs to open the second quarter, Achane's commanding start came to an abrupt halt as he fumbled at Mississippi State's 8-yard line on A&M's first red zone trip.
Prior to the turnover, Achane had accounted for 81 of the Aggies' 90 total offensive yards. He ultimately finished with his second straight 100+ yard rushing performance (111).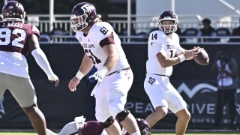 Matt Bush-USA TODAY Sports
The mistake proved to be costly as the Bulldogs began to establish firm control of both the ground and air on a touchdown drive. Rogers lasered a 25-yard pass to Rara Thomas, and the Bulldogs moved across midfield on a 19-yard rush by Simeon Price. A series of short passes then resulted in Caleb Ducking's 5-yard touchdown.
In need of a response, the absence of Ainias Smith due to a season-ending injury became crushingly apparent as the Aggies continued to struggle to find offensive firepower beyond Achane and were cornered into another three-and-out situation.
A&M's secondary remained relatively ineffective as Mississippi State had no trouble returning to the red zone following an 18-yard pass to Justin Robinson. A 27-yard completion positioned the Bulldogs at A&M's 5-yard line where Rogers subsequently extended the lead to 14-0 by finding Rufus Harvey with a touchdown pass.
Desperate for an answer before the half, Achane raced through a herd of Bulldogs and set the Aggies up with ideal field position on a 43-yard punt return. A 24-yard dart to Moose Muhammed kept the offense in motion after Max Johnson was sacked for a loss of seven yards. The attempt proved to be futile as Max Johnson was sacked twice more and ultimately fumbled in the red zone.
Texas A&M opened the second half with back-to-back first downs thanks to a string of rushes by Achane. Facing fourth down, a targeting call gifted the Aggies a second chance on offense, but they were forced to settle for a 24-yard field goal by Randy Bond after Evan Stewart dropped a pass in the end zone.
Mississippi State's next possession was cut short after Walter Nolen scooped up a fumble at the Bulldogs' 25. Lacking an offensive spark, A&M's 44-yard field goal attempt was blocked and retrieved by Decamerion Richardson for a 50-yard touchdown.
Seemingly out of nowhere, the Aggie offense finally showed signs of life and found the end zone on the ensuing drive as Max Johnson connected on an 18-yard pass to a fading Muhammad. The score marked Muhammad's fifth career touchdown and first of the season.
Early in the fourth, the Bulldogs mustered up another touchdown on a 1-yard rush up the middle by Dillon Johnson as Rogers continued to tear apart through A&M's secondary. The third-year quarterback went on to rack up 329 passing yards (31-of-45) and three touchdowns.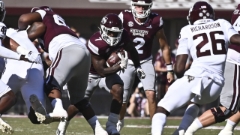 Matt Bush-USA TODAY Sports
Down 28-10, Max Johnson began the next series with an 11-yard pass to Muhammad who then led the team into Mississippi State territory with a 26-yard reception. Former QB1 Haynes King was then called upon after Max Johnson exited the game with an apparent hand injury. King, who last started against Appalachian State, capped off the drive with a 4-yard scramble his first-career rushing touchdown.
Unfazed, Rogers came back out and hit Thomas on the very first play of the drive for a 75-yard touchdown.
With Max Johnson sidelined for the rest of the contest, King remained in charge of the Aggie offense but threw two consecutive interceptions, with the second being returned by Emmanuel Forbes for a 33-yard touchdown. LJ Johnson Jr. then rounded the scoring with a garbage-time touchdown on a 1-yard rush.
RUMBLED: Another Mississippi State quarterback. Another Aggie killer. Like Nick Fitzgerald before him, Will Rogers passed for 329 yards and three touchdowns. He had plenty of time to throw for most of the day as the Aggie pass rush did not sack him once.
STUMBLED: Take your pick: Texas A&M's offense or Texas A&M's pass rush.
TURNING POINT: Achane's fumble at the Mississippi State 8-yard line in the second quarter took away a prime scoring chance and jump-started the Bulldogs, who took a 14-0 lead into the break.
UNSUNG HERO: Moose Muhammad had a nice day in the absence of Ainias Smith, catching six passes for 119 yards and a touchdown in the losing effort.
KEY STAT: The Aggies only converted on two of their nine third-down conversions (22%) in comparison to Mississippi State's 44.7 percent conversion rate (5-of-12). A&M also struggled to contain the Bulldogs' pass rush as Aggie quarterbacks were dropped for four sacks. Conversely, A&M recorded zero sacks of Will Rogers.
Scoring Summary
Second-quarter
MSST: 06:10 - Will Rogers 5-yard touchdown pass to Caleb Ducking. Drive: 11 plays, 94 yards. TOP: 4:35. Mississippi State 7, Texas A&M 0
MSST: 0:58 - Will Rogers 5-yard touchdown pass to Rufus Harvey. Drive: 9 plays, 70 yards. TOP: 3:19: Mississippi State 14, Texas A&M 0
Third-quarter
A&M: 8:49 - Randy Bond 24-yard field goal. Drive 13 plays, 72 yards. TOP: 6:05: Mississippi State 14, Texas A&M 3
MSST: 5:02 - Decamerion Richardson 50-yard blocked field goal recovery. Mississippi State 21, Texas A&M 3
A&M: 2:35 - Max Johnson 18-yard touchdown pass to Muhsin Muhammad. Drive: 5 plays, 72 yards. TOP: 2:17. Mississippi State 21, Texas A&M 10
Fourth-quarter
MSST: 12:42 - Dillon Johnson 1-yard rush. Drive: 12 plays, 75 yards. TOP: 4:53. Mississippi State 28, Texas A&M 10
A&M: 7:14 - Haynes King 4-yard rush. Drive: 12 plays, 82 yards.TOP: 5:22. Mississippi State 28, Texas A&M 17
MSST: 7:03 - Will Rogers 75-yard touchdown pass to Rara Thomas. Drive: 1 play, 75 yards. TOP: 0:11. Mississippi State 35, Texas A&M 17
MSST: 3:29 - Emmanuel Forbes 33-yard interception return. Mississippi State 42, Texas A&M 17
A&M: 1:34 - LJ Johnson Jr. 1-yard rush. Drive: 7 plays, 65 yards. TOP: 1:47. Mississippi State 42, Texas A&M 24
Never miss the latest news from TexAgs!
Join our free email list