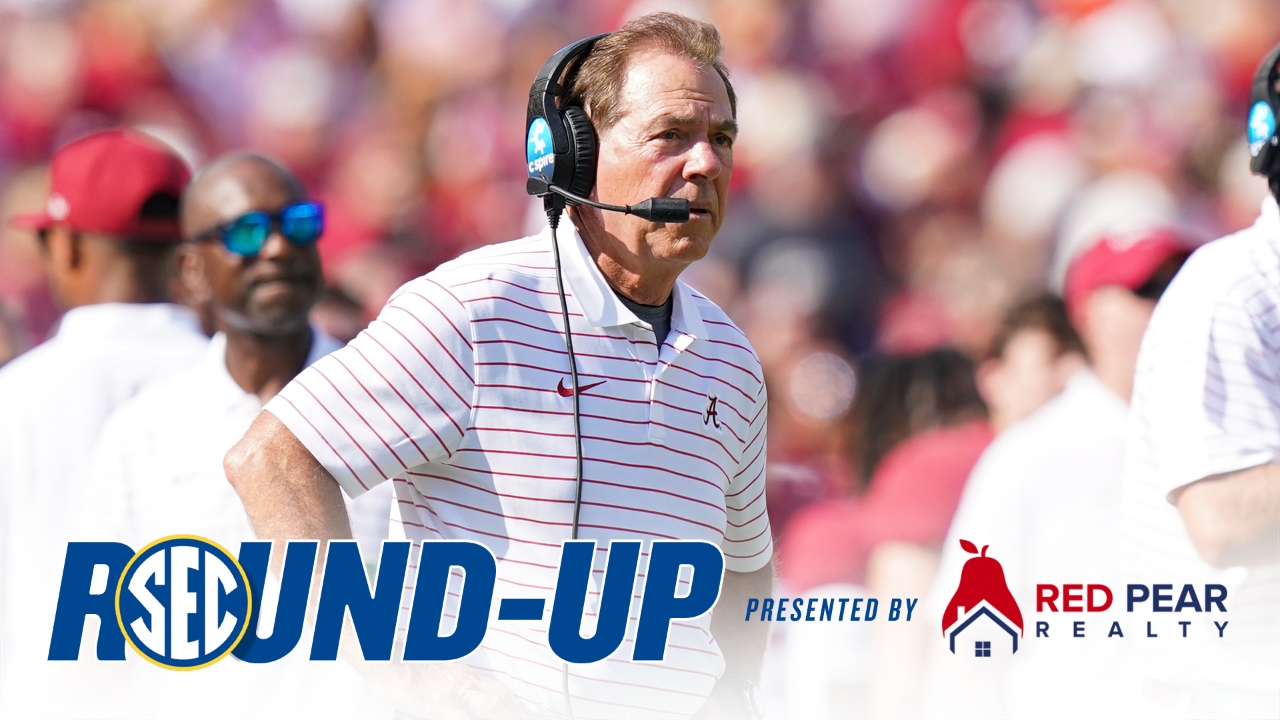 Photo by Marvin Gentry-USA TODAY Sports
Texas A&M Football
SEC Round-Up: Alabama goes for 15th-consecutive win over Arkansas
---
It's understood the road to a college football championship goes through Tuscaloosa.
But lately, the road out of Tuscaloosa has been bumpy — even treacherous — for the Crimson Tide.
Alabama rarely loses. But in the last year or so, the Crimson Tide has not been dominant away from Bryant-Denny Stadium.
In the only road trip so far this season, Alabama escaped with a one-point victory over Texas.
Last year, Alabama lost at Texas A&M. The Tide eked out a 31-29 win at Florida. It needed a last-minute touchdown in regulation to edge Auburn, 24-22, in overtime.
Lop-sided victories are expected for Alabama. Losses and nail-biting escapes are not.
That's just one more reason the second-ranked Tide (4-0, 1-0) appear vulnerable in a Saturday clash with No. 20 Arkansas in Fayetteville.
Maybe it doesn't matter that Arkansas has suffered 14 consecutive losses to Alabama. Now, the Razorbacks (3-1, 0-1) are good. And they're good at home. Arkansas is 9-1 in its last 10 games in Fayetteville.
"We know this is going to be a really tough game for us," Alabama coach Nick Saban said. "They're a good team, a tough team, play with good culture, physical, run the ball really, really well. Great balance on offense. Quarterback is over 300 yards of total offense between throwing and rushing.
"They've got 20 sacks on defense. Play really sound, well-coached defense. This is going to be a different kind of challenge for us. A tough game. We'll have to answer with how we play."
"They've got 20 sacks on defense. Play really sound, well-coached defense. This is going to be a different kind of challenge for us. A tough game. We'll have to answer with how we play."
Arkansas does indeed have one of the best running attacks in the SEC. Quarterback KJ Jefferson is having a standout season. So is running back Raheim Sanders. The offensive line is among the best in the SEC. The Razorbacks do lead in the nation in sacks.
Alabama has gaudy statistics, too. But Alabama's stats were primarily accumulated against push-over opponents Utah State, ULM and Vanderbilt.
Against Texas, the Tide was limited to 374 total yards, allowed 371 and got some fortuitous officiating on the way to a game-winning field goal with just 10 seconds remaining.
Alabama is still favored. The Tide typically finds a way to prevail even in tough challenges. And frankly, road trips to Arkansas haven't been that challenging.
Alabama won 52-3 in its last trip to Fayetteville.
Around the SEC
This week's games: Thursday - South Carolina State at South Carolina
Saturday - Texas A&M at Mississippi State; Alabama at Arkansas; Kentucky at Ole Miss; LSU at Auburn; Georgia at Missouri
Sunday - Eastern Washington at Florida
Who's hot: Tennessee quarterback Hendon Hooker is now squarely in the Heisman Trophy race. He's literally led the Volunteers to a 4-0 start with his exceptional play. Hooker leads the SEC in total offense with 1,368 yards. He has rushed for 175 yards and passed for 1,193. In last week's 38-33 victory over Florida, he completed 22-of-28 passes for 349 yards and two touchdowns. Dating back to last season, it was his seventh straight game with at least two touchdown passes. He also rushed for 112 yards and a touchdown. He's completing 71.7 percent of his passes and has not yet thrown an interception.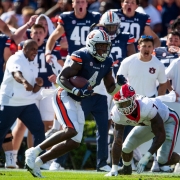 Jake Crandall / USA TODAY NETWORK
Who's not: Maybe blame the offensive line, but Auburn running back Tank Bigsby has been shut down in three consecutive games. A preseason All-SEC selection, Bigsby has rushed for 281 yards and four touchdowns. But more than half of his production came in a season-opening victory over FCS Mercer in which he rushed for 147 yards and two touchdowns. Since then, Bigsby was held to 51 rushing yards against San Jose State, 39 yards against Penn State and 44 against Missouri. That's 134 yards in three games at an average of 3.2 yards per attempt. Bigsby's frustration may have peaked last week. He was stonewalled on fourth-and-1 at the Missouri 29-yard line late in the fourth quarter. That allowed Missouri a chance to win in regulation. Of course, Missouri squandered that chance, and Auburn eventually prevailed 17-14 in overtime. Bigsby did not touch the football in overtime.
Keep an eye on: No doubt, Arkansas linebacker Drew Sanders will be psyched up for a clash with Alabama. Sanders transferred to Arkansas after spending last season as a backup in Tuscaloosa. The former five-star recruit is a key figure in the Hogs' hopes to defeat the Tide for the first time since 2006. Sanders shares the national lead with 5.5 sacks. He'll be counted to apply consistent pressure on Alabama quarterback Bryce Young, who will likely pick apart Arkansas's suspect pass defense if he isn't rushed.
The pressure is on: Kentucky's offensive line has allowed 16 sacks. Only Akron (20) and Colorado State (25) have allowed more. But those are weak mid-major programs. Kentucky has championship aspirations. Yet, the Wildcats surrendered four sacks to Northern Illinois and four to Miami (OH) and Youngstown State. That's cause for concern. That's especially worrisome against Ole Miss, which has posted 13 sacks thus far.
Best matchup: Arkansas' rushing attack built around quarterback KJ Jefferson and running back Raheim Sanders is arguably the best in the SEC. The Razorbacks actually rank second, but their 243.7-yard average was largely accumulated against Cincinnati, South Carolina and Texas A&M. Sanders, in fact, leads the SEC and is fourth in the nation in rushing with 508 yards. However, the Hogs face their most difficult test against Alabama. The Crimson Tide is fourth in the nation in run defense. Opponents are averaging just 34 rushing yards. No Alabama opponent has managed more than 79 yards on the ground.
Never miss the latest news from TexAgs!
Join our free email list
PRESENTED BY