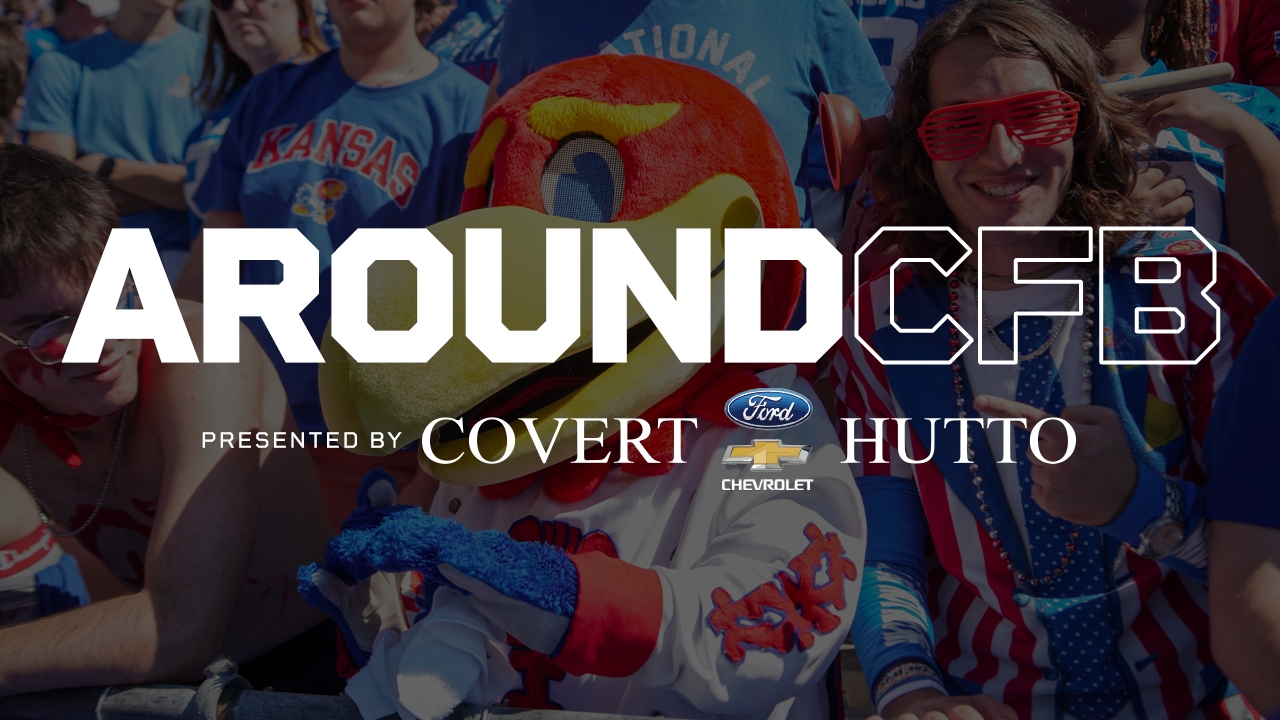 Photo by Denny Medley-USA TODAY Sports
Texas A&M Football
Around CFB: Undefeated Kansas finding rare gridiron success in 2022
---
The year was 2009.
The surging Kansas Jayhawks had just defeated Iowa State to improve to 5-0. They were aiming for a third straight bowl game.
Kansas was continuing the success of its two previous seasons. In 2007, the Jayhawks shocked the college football world by finishing 12-1 and ranked seventh in the nation following an Orange Bowl victory over Virginia Tech.
In 2008, they had gone 8-5 and beat Minnesota in the Insight Bowl.
That was no small accomplishment for a "basketball school," which typically languishes in failure on the gridiron.
Since their fast start in '09, the Kansas football program has sputtered along like a never-oiled machine.
They did not manage more than three victories in a season from 2010-2021. Indeed, in that span, the Jayhawks only posted 23 total victories. Just 10 of those were against Power 5 opponents. Two wins were over Texas (2021, 2016).
But now the people of Kansas are talking about bowl games again.
Last week, Kansas completed its first unbeaten month since September of 2009. The Jayhawks' 35-27 victory over Duke last week was their first sold-out football game in three years.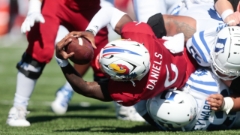 Evert Nelson/USA TODAY NETWORK
There has been a change in attitude at Kansas under third-year head coach Lance Leipold. The Jayhawks now have the audacity to expect to win.
"We talk about now, you got to take the field. I think we set it in here, expecting to win, not hoping to win," Leipold said last week. "But then we talk also: You got to prepare. You got to plan it out. Then you got to play, and then you got to execute to win."
The Jayhawks are executing. They are ranked fourth in the nation in scoring with a 48.5-point average. They're eighth nationally in rushing offense. Quarterback Jalon Daniels is third in the Big 12 in total offense.
They've beaten Big 12 rival West Virginia. They've beaten Houston, which opened the season ranked No. 24. They've beaten Duke, which was previously unbeaten.
Now, they're anticipating the 47,233-seat David Booth Memorial Stadium to again be sold out as the Jayhawks attempt to extend their winning streak.
Again, they will be facing Iowa State for a chance to start 5-0. It's just like 2009.
Well, actually, the Jayhawks hope not.
In '09 they started 0-5 but lost their next seven games.
Hey, it's still Kansas.
Heisman watch (If my ballot was due today)
1. C.J. Stroud, Ohio State, QB: He appears to be creating a little separation in the race. Stroud passed for 281 yards and five touchdowns in a 52-21 blowout of Wisconsin. That was the third consecutive game he's thrown at least four touchdown passes. On the season, Stroud has thrown for 1,222 yards and 16 touchdowns while completing 70.5 percent of his attempts.
2. Stetson Bennett, Georgia, QB: Bennett had a pedestrian showing in a pedestrian 39-22 victory over Kent State. He passed for 272 yards but did not throw a touchdown and was intercepted for the first time this season. He did run for a touchdown. Overall, Bennett has passed for 1,224 yards and five touchdowns. He has also rushed for four touchdowns.
3. Bryce Young, Alabama, QB: Though he hasn't yet faced a strong defense, Young is making the most of his opportunities. He's passed for 1,029 yards and 13 touchdowns with just two interceptions. In a 55-3 drubbing of Vanderbilt last week, he threw for a season-high 385 yards and four touchdowns.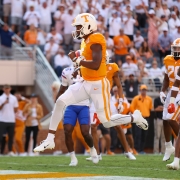 Randy Sartin-USA TODAY Sports
4. Hendon Hooker, Tennessee, QB: Hooker should start getting more Heisman consideration after leading the Volunteers to a 38-33 victory over Florida. In that victory, he passed for 349 yards and two touchdowns and rushed for 112 yards and a touchdown. Hooker has thrown two touchdown passes in every game thus far. In four games, he has passed for 1,193 yards and eight touchdowns and rushed for 175 yards and three scores. He has not yet thrown an interception.
5. Michael Penix, Washington, QB: The transfer from Indiana has exceeded 300 passing yards in all four games. Last week, Penix had 309 passing yards and two touchdowns in a 40-22 win over Stanford. Overall, he's passed for 1,388 yards and 12 touchdowns. He's only been intercepted once.
Predicted playoff participants
1. Georgia: Bulldogs took a day off last weekend and still scored 39 points in a victory over Kent State.
2. Ohio State: The high-scoring Buckeyes are the class of the Big Ten.
3. Alabama: The Tide has rolled over mediocre opponents but will get a challenge from Arkansas this week.
4. Clemson: Don't overreact to Clemson needing overtime to beat Wake Forest. In championship years, the Tigers typically narrowly escape upsets once or twice.
Games to watch
No. 2 Alabama at No. 20 Arkansas: The Razorbacks are the best opponent Alabama has faced thus far. Their second-best opponent — Texas — almost pulled off an upset.
No. 7 Kentucky at No. 14 Ole Miss: Both teams need a win to prove they are indeed "for real."
No. 9 Oklahoma State at No. 16 Baylor: Remember the last time they played? The Big 12 championship was decided by an inch. Expect another close contest.
No. 22 Wake Forest at No. 23 Florida State: Some say Florida State is "back." That might be true if the Seminoles beat Wake Forest.
No. 10 NC State at No. 5 Clemson: Was last week's close call just another example of Clemson taking an early-season nap? The Tigers better be wide awake against NC State's stingy defense.
Never miss the latest news from TexAgs!
Join our free email list
PRESENTED BY