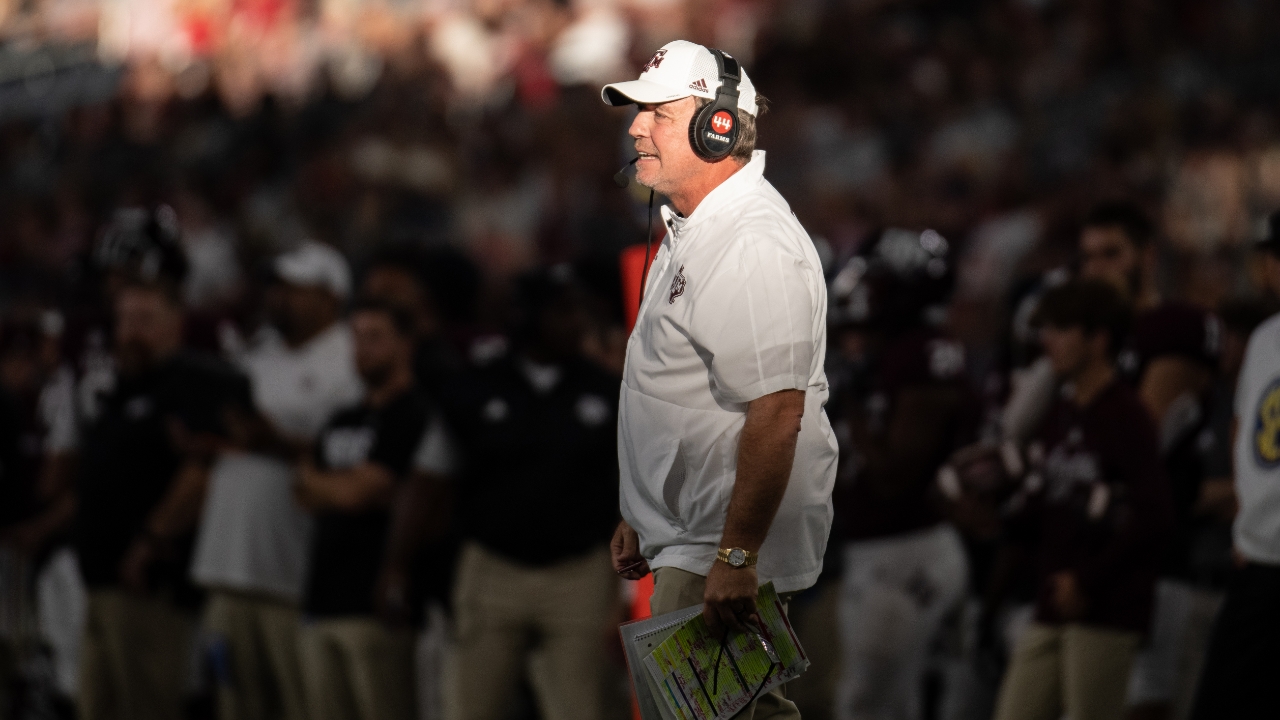 Jimbo Fisher
Bryce Foster
Tyreek Chappell
Max Wright
Jaylon Jones
Texas A&M Football
Fisher urges Aggies to increase urgency while also remaining relaxed
---
Some might think Texas A&M football coach Jimbo Fisher is sending mixed messages.
He wants the Aggies to have urgency. He also wants them to relax.
If it seems Fisher is asking his team to tighten up by loosening up that's because … well, he is.
At his weekly Monday afternoon press conference, Fisher said he was encouraged by more than the final score of the Aggies' 23-21 victory over Arkansas last Saturday.
"We won the game, and I'm very proud of that," Fisher said. "But I'm not very happy in the way we played. I don't think we played close to our best.
"That's encouraging in that there's a lot more in there in how we have to play. We have to realize that and get it done."
Unhappy but proud? There are those mixed messages again.
Actually, Fisher's main message is the Aggies can play smarter and more effectively if they relax and trust their training.
While he praised their effort, determination and toughness, Fisher cited a need to play more intelligently.
He also said it's time to stop waiting for them to perform at a high level, especially facing always-tough Mississippi State on Saturday and Alabama next week.
"You have to trust what your practice habits are. Trust what this is, and go line up and play. You have to relax and let plays happen. We have to have the urgency to get that fixed right now."
"We have to play smarter, and we have to not play with our emotions early in the game," Fisher said. "Some of our young guys sometimes get emotional early in the game. They also try to be perfect. Sometimes when you try to be perfect, it's the worst thing you can be.
"You have to trust what your practice habits are. Trust what this is, and go line up and play. You have to relax and let plays happen. We have to have the urgency to get that fixed right now."
A&M (3-1) amassed 343 yards in the victory over Arkansas. That's the Aggies' high yardage output since the season-opening victory over Sam Houston.
Fisher said there were opportunities to gain more and score more. Missed passes, missed reads, missed blocks and missed assignments resulted in missed opportunities.
"Sometimes, when you're trying to do too much, it can make you make bad decisions," he said.
Most of the frustration with the offense has been directed at the offensive line. However, Fisher said the linemen made significant progress, especially in the running game.
The Aggies rushed for a season-high 192 yards. Explosive running back Devon Achane rushed for 159 of them. He had a 63-yard run to set up one touchdown, and he ran nine yards to score another.
"I think our offensive line improved a lot," Fisher said. "I think Achane, of course, ran really well, but they (linemen) did a great job of getting him to the second and third level (of the defense)."
The return of sophomore center Bryce Foster to the lineup certainly helped. He missed the first two games because of mononucleosis.
Foster agreed the offensive line took strides forward in helping Achane make strides forward.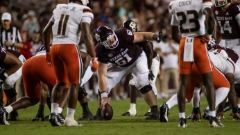 Jamie Maury, TexAgs
"I think we've progressed," Foster said. "There's a lot of things we need to work on. Camaraderie is a big one. After every game, we've always hung out at everybody's houses — hanging out just trying to mesh with each other as a group. I think that's probably the biggest part we're missing now. We're super, super talented, but I think we just need to mesh a little better.
"These past four weeks, we've slowly gotten better each week. We just have to continue to practice and continue to improve."
Fisher said the Aggies' line also fared better in pass protection. Overall, though, the passing game could have been much more productive.
Quarterback Max Johnson completed just 11-of-21 passes for 151 yards and a touchdown. The potential was there for many more completions.
Fisher hopes that potential will begin to be consistently realized against Mississippi State. He said once an open play is converted, more typically follow.
"It's amazing. Once you get over the hump, you go, 'What was so hard about this?'" Fisher said. "We left a lot out there. We didn't catch it, didn't do it or just missed the read. We've just got to relax and make the play. The harder you press, the worse you play. You've got to relax, block everything out, run the play that's called and get to the next play. We had them open."
Foster Fighting Fatigue
Foster admitted some apprehension about returning to the lineup because of possible side effects of mononucleosis.
"I was kind of nervous to start playing again, honestly," Foster said." I read somewhere your spleen could rupture if you have a lot of strenuous activity. I was kind of nervous coming back, but the trainer said I was all good to go.
"So, I decided to try and come back. The energy is still pretty low and stuff like that. I'm still really fatigued and tired a lot, but I'm just grinding through the practices and games."
Max Effort
Although quarterback Max Johnson posted modest statistics, he too has made gains in the offense.
"(He has) made progress," Fisher said. "We missed a few things here and there. But, you know, as a quarterback, when you make 80, 60, 50 decisions in a day, you're never going to make them all perfect. Nobody is.
"He's getting better and better. He definitely understands what we're doing. No doubt."
Never miss the latest news from TexAgs!
Join our free email list
PRESENTED BY