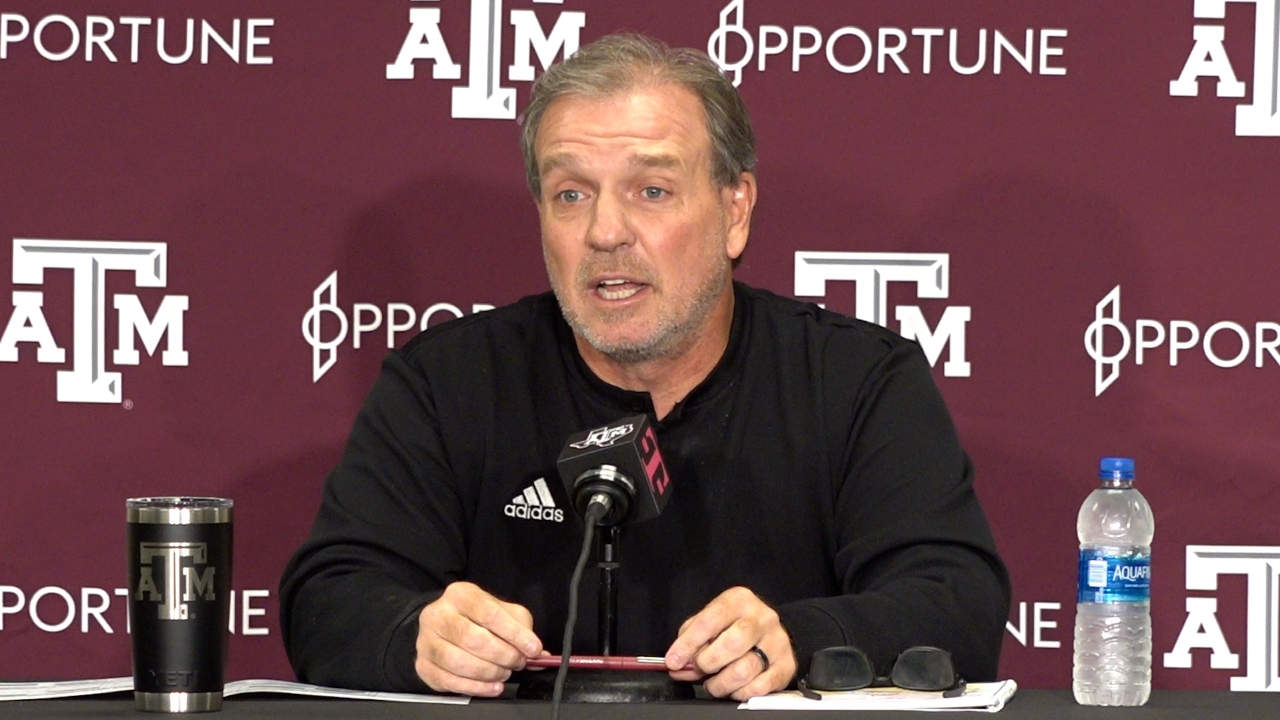 Jimbo Fisher
Jaylon Jones
Max Wright
Tyreek Chappell
Bryce Foster
Texas A&M Football
Press Conference: Fisher, No. 17 Aggies ready for trip to Starkville
September 26, 2022
13,640
---
After winning a pair of top-15 matchups in back-to-back weeks, No. 17 Texas A&M travels to Starkville to face Mississippi State on Saturday afternoon. Ahead of the SEC clash, Jimbo Fisher, Jaylon Jones, Max Wright, Tyreek Chappell and Bryce Foster addressed the media.
---
The following are live, paraphrased notes from Jimbo Fisher's Monday afternoon media availability:
After the film, proud of our team as far as hard we competed. We won the game, but I don't think we played close to our best. Playing hard is not the problem. We have to play smart. Some of the young guys get emotional. You have to trust your habits. Relaxing and letting the plays happen. Then we had penalties down the field...we're smarter than that. Sometimes trying to do too much, you make bad decisions. Defensively, you have to fit gaps and play consistently. We played physically on both sides of the ball. The offensive line played better. Left a lot of plays open in the passing game. We overcame two penalties and still kick a field goal. That shows you what you can do. On the kick, dropped the snap, and it cost us the extra point. We have to coach them better and play better. Letting emotions relax...trust yourself, and practice. You can't force the game. The game will bite you. Two top-15 wins now on the road against Mississippi State. You know Mike is going to throw the football. We'll have to play a great game on the road.

Diversity, leadership and experience are what Ainias Smith brings. He's a unique player and competitor. I love him to death. He is out for the season.

We'll mix the three and four-man fronts.

You have to make plays on fourth down. It comes down to execution.

Bryce Foster is playing really well. We had a couple of bad snaps on the ground. When a snap does to the quarterback's feet, imagine driving 50 miles per hour in Houston and having to look below your dash. That is a big deal. We have to get that fixed. He had four to five snaps that were too low.

I didn't go back and see the kick. That cost me a game one time. I like the high goal post. I think there should be a laser off the post that goes up because of how well they kick now.

Last week we started fast. It's controlling emotions, relaxing and going to play.

One was much more running, one is much more throwing between Arkansas and Mississippi State. Will Rogers can still scramble.

Moose Muhmmad and Devon Achane have returned punts. Moose has done it quite well.

There's nothing in our offense we don't have. We just have to execute better.

Chris Russell Jr. had a solid game. He's getting better each and every week.

Max Johnson made plays and got better. He understands what we're doing, there's no doubt.

Big plays change the momentum of the game. We haven't had a turnover in two weeks. Knock on wood. Mississippi State is one of the oldest, most experienced teams we'll play.

We are evaluating the injuries day by day.
Never miss the latest news from TexAgs!
Join our free email list