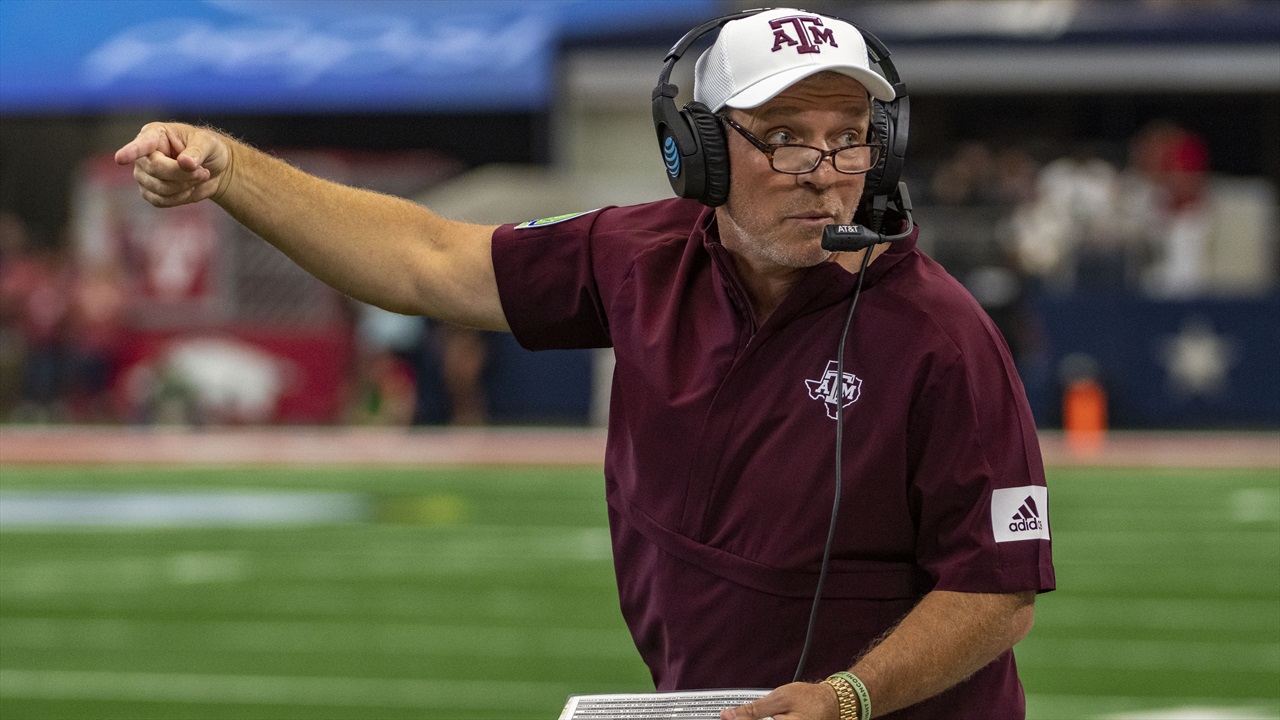 Photo by Lia Musgrave, TexAgs
Texas A&M Football
No. 23 Texas A&M set to face off with No. 10 Arkansas in Arlington
---
The Aggies emerged unscathed from dangerous Hurricanes but now prepare to enter the eye of the storm.
Last week, a 17-9 college football victory over the then-No. 13 Miami Hurricanes gave Texas A&M (2-1) a much-needed boost of confidence.
The 23rd-ranked Aggies need all the power of positive thinking as they venture into treacherous Southeastern Conference play on Saturday against No. 10 Arkansas (3-0) at AT&T Stadium in Arlington.
"It's your first conference game, and you want to get off to a good start in your own conference," A&M coach Jimbo Fisher said. "It's a hard row to hoe for everyone. That's the SEC West. It's tough each week."
Few games figure to be tougher than the 6 p.m. CT clash with the unbeaten Razorbacks.
Arkansas boasts the SEC's leader in rushing (running back Raheim Sanders), the leader in sacks (linebacker Drew Sanders), leading rushing defense and quarterback KJ Jefferson, who ranks second in the conference in total offense.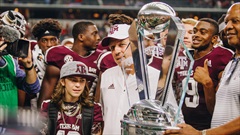 Rey Romo, TexAgs
Until last week, that all might have seemed too much for A&M to overcome.
The Aggies were spinning their wheels in a shocking 17-14 loss to Appalachian State but regained traction in the victory over Miami.
Fisher said the reason for the rebound was as simple as playing better.
"It was more execution, and it's the toughness and effort to play all the way through," Fisher said. "I think we played very hard all the way through and made more critical plays at critical times in the game, which we had to do. Our execution was better at those critical times."
Critical times against Arkansas begin at kickoff.
Last season, the Razorbacks got out to a 17-0 lead en route to a 20-10 victory, which ended A&M's nine-game winning streak in the series.
A strong defensive effort will likely be required to defeat Arkansas. That won't be easy because Jefferson and Sanders operate behind an experienced, powerful offensive line that is arguably the best in the SEC.
The Arkansas offensive line poses the sternest challenge yet for the A&M defensive front, which started redshirt freshman Albert Regis, true freshman Shemar Stewart, sophomore Shemar Turner and sophomore Fadil Diggs last week.
"We are playing a lot of young guys. I think we are getting better up front," Fisher said. "I think we're playing very solid defense right now. We're playing good, hard, tough-nosed defense."
However, A&M's offense continues to sputter.
The Aggies have managed just three offensive touchdowns in the last two games. Explosive running back Devon Achane hasn't crossed the 100-yard mark in a game. Quarterback Max Johnson, who had his first start as an Aggie, passed for only 140 yards against Miami.
"It's your first conference game, and you want to get off to a good start in your own conference. It's a hard row to hoe for everyone. That's the SEC West. It's tough each week."
The Aggie passing game projects to be more productive. Johnson should be more comfortable in his second start. Freshman receivers Evan Stewart and Chris Marshall are again available after sitting out a one-game suspension last week.
Also, Arkansas has the nation's worst pass defense. Each of the Razorbacks' first three opponents — Cincinnati, South Carolina and Missouri State — amassed at least 325 yards passing.
Fisher isn't convinced the Arkansas secondary is as vulnerable as statistics suggest.
"I think it's deceptive," he said. "They've been ahead in games. You force the other team to throw the ball a lot. I think that's part of it. You've got the lead, gotten ahead of people, so people are going to throw the ball more.
"Numbers can be really good. Sometimes, they can be skewed and deceiving."
Perhaps, but a productive passing game figures to be vital for the Aggies to post a second straight victory over a highly-ranked opponent.
Never miss the latest news from TexAgs!
Join our free email list
PRESENTED BY