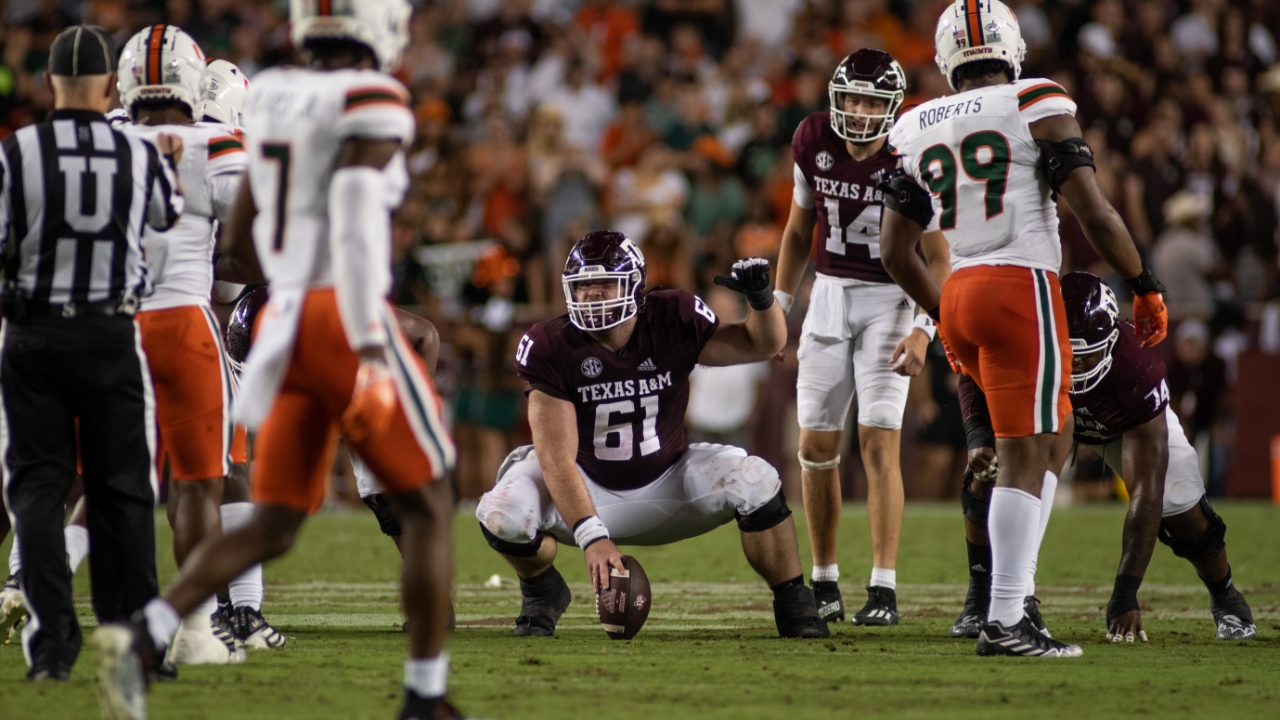 Photo by Jamie Maury, TexAgs
Texas A&M Football
U-turn in 2022 relies heavily on the Aggies winning in the trenches
---
Executing a U-turn typically isn't overly challenging.
But anyone driving Texas Avenue on a game day — or just about any other day, for that matter — knows it can be treacherous.
It requires patience, precision and focus with all of the obstacles that can cause harm bearing down on you.
Texas A&M aspires to complete a U-turn on Saturday and get its football season flowing in the right direction.
The Aggies seemed headed for a dead end after a 17-14 loss to Appalachian State. Then, last week, they veered back on course with a 17-9 victory over Miami.
But the U-turn won't be complete without a victory over Arkansas at AT&T Stadium in Arlington.
Prevail over the Pigs, and a 10-win season again looks like a reality. Flog the Hogs, and A&M may be able to navigate through the treacherous SEC West, perhaps all the way to Atlanta.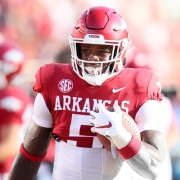 Nelson Chenault-USA TODAY Sports
That will require near-perfect execution. That starts at the line of scrimmage.
First, the defensive line must man up against the Razorbacks' experience and talented offensive front in order to keep Arkansas from running over the Aggies for a second consecutive year.
Arkansas running back Raheim Sanders leads the SEC with 440 rushing yards. Meanwhile, A&M is 12th in the SEC in run defense. Miami averaged nearly five yards per carry against A&M.
"I think, as a unit, we just need to execute a little bit more," A&M defensive tackle Albert Regis said.
"There were times that we gave it our best, but we lost it by an inch. We could have given a little more effort within ourselves to take an extra step further to stop the run.
"We had times we did stop it. Times they kept a drive alive by getting extra yards. I think, as a unit, we need to dig a little deeper to stop the run."
The Aggies need to dig like a dragline excavator.
Consistently wins on early downs and forcing Arkansas into passing situations gives A&M an advantage with its secondary.
Secondly, A&M's offensive line must give quarterback Max Johnson time to find holes in Arkansas' swiss cheese secondary.
Of course, that won't be easy. It never is. Arkansas leads the nation with 17 sacks. A&M allowed three just last week.
Yet, A&M coach Jimbo Fisher maintained the offensive line is making significant progress.
"(We must) execute," A&M coach Jimbo Fisher said. "Get good protection. Run the routes the way they're supposed to be run. Make the throws. I know this sounds crazy, but we're a lot closer than it seems. We're getting it. We've just got to keep progressing.
"We've got to be balanced. They do a good job upfront of rushing and blitzing. We have to have balance against them. They do a really good job on defense."
"I think, as a unit, we just need to execute a little bit more. There were times that we gave it our best, but we lost it by an inch. We could have given a little more effort within ourselves to take an extra step further to stop the run."
Arkansas leads the SEC in rushing defense. The Razorbacks have allowed just 205 rushing yards through three games.
That's almost Georgia-like dominance. Actually, it's better than Georgia, which has given up 251 yards.
But whether the Razorbacks are really that dominant in run defense is uncertain. Could it be opponents don't run frequently because passing options are so much more attractive?
Or could it be Arkansas just hasn't faced an opponent that runs well?
Arkansas held Cincinnati to just 113 rushing yards on 31 attempts. Cincinnati also managed only 137 yards on 36 rushing attempts in a win over Miami (Ohio).
South Carolina rushed for just 40 yards against Arkansas. The Gamecocks managed only 79 rushing yards in a close victory over Georgia State.
A&M has been woefully inconsistent with its running game, but dynamic Devon Achane gives the Aggies at least a threat to make big plays via the running game.
Also, with center Bryce Foster in his second game since returning from illness, the offensive line figures to be at least a little better.
Any success in the running game will widen those holes in the Arkansas secondary. The Aggies hope to exploit those holes. The Razorbacks have given up at least 325 passing yards in each of the three previous games.
"I say we can definitely get some confidence in that," receiver Ainias Smith said. "We would not let it bypass us that they still have a pretty good defense. We're going to give them their respect, but it's something we definitely need to take advantage of."
That's assuming quite a bit, though. The Aggies have accumulated a paltry 237 passing yards and one touchdown in the last two games combined.
How can they hope to exploit the Razorbacks' shortcomings?
"Really, just executing the game plan," Smith said. "Executing the plays that are called. Everybody plays a role. We just have to make sure we're all on the same page. Execution is the most important thing."
It always is when trying to make a U-turn.
Never miss the latest news from TexAgs!
Join our free email list