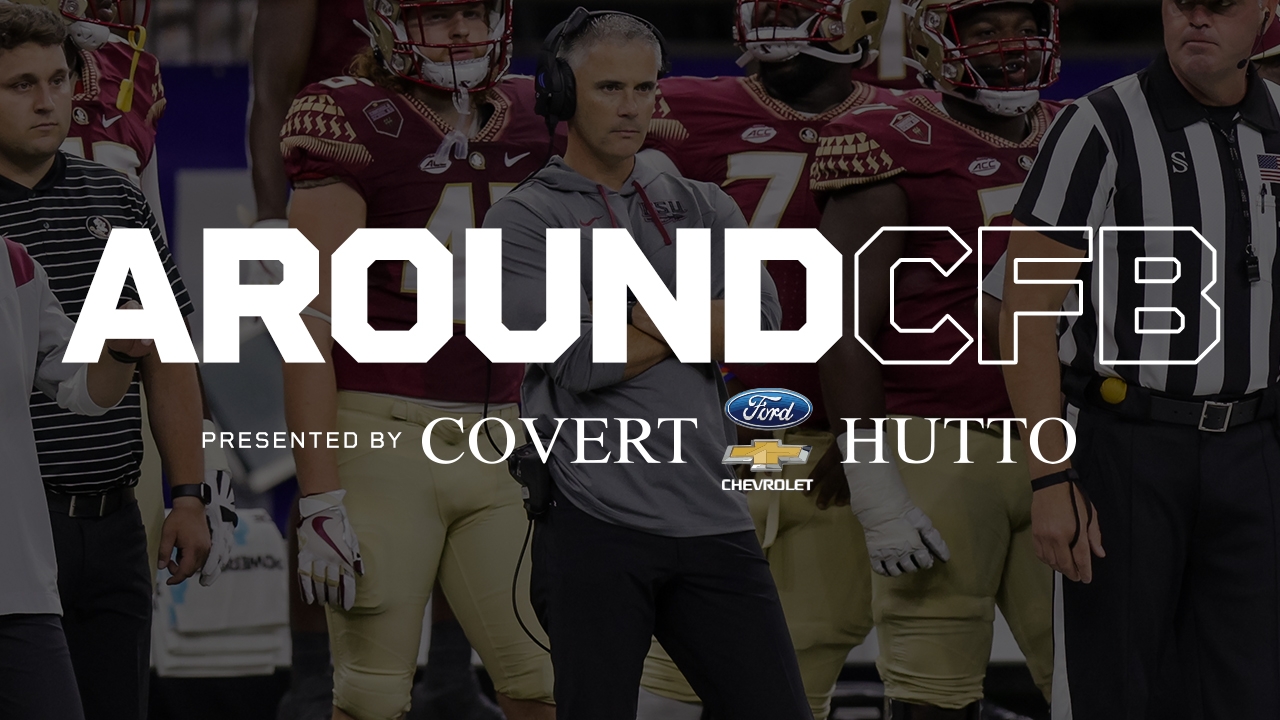 Photo by Stephen Lew-USA TODAY Sports
Texas A&M Football
Around CFB: Six squads 'lucky' to remain amongst nation's unbeatens
---
There is an adage in sports that it's better to be lucky than good.
That has been proven true over and over.
In college football, good fortune has often resulted in national championships and near national titles.
For example, Colorado was awarded the 1990 national title with an 11-1-1 record. The Buffaloes should have had at least one more loss.
They benefited from poor officiating that gave them a fifth down to score a winning touchdown in a 33-31 victory over Missouri. They also benefited from what some call a phantom clipping penalty that erased Rocket Ismail's punt return for a touchdown in a 10-9 Orange Bowl victory over Notre Dame.
Auburn didn't win the national title in 2013, but the Tigers were incredibly lucky to be playing Florida State for the championship.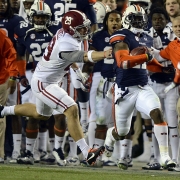 Amanda Sowards/Advertiser
They scored a touchdown with 10 seconds left to beat Mississippi State, 24-20. They escaped Texas A&M, 45-41. They got by Georgia with the "Prayer at Jordan-Hare." They defeated Alabama on the "Kick Six."
Obviously, no one knows if dumb luck will pave the way for a national championship this year. But luck has helped several teams get off to a 3-0 start.
Thirty-one FBS teams are currently unbeaten. Six are extremely lucky to be among that group.
Here's a look at them:
Florida State: The Seminoles beat LSU 24-23 mainly because LSU beat itself. The Tigers fumbled away two punts, missed a short field goal and had a potential game-tying extra point blocked on the final play. Two games later, Florida State benefitted from Louisville's errors in a 35-31 victory. The Cardinals lost a fumble inside the FSU 10-yard line.
Syracuse: The Orange can thank Purdue's stupidity for a 32-29 win. Purdue took a 29-25 lead on a touchdown pass with 51 seconds left, but the Boilermakers were penalized for taunting and unsportsmanlike conduct following the score. Purdue was forced to kick off from their own 10-yard line. That enabled Syracuse to start its next possession at midfield and set up a game-winning 25-yard touchdown pass.
North Carolina State: Like Florida State, NC State escaped a loss because of an opponent's kicking failures. East Carolina's Owen Duffer missed a game-tying extra point with 2:58 remaining. The Pirates regained the football and had a chance to pull off the upset, but Duffer missed on a 42-yard attempt. NC State survived, 22-21.
North Carolina: Twice in the last 31 seconds, Appalachian State failed on two-point conversions in Week One. That enabled the Tar Heels to win, 63-61. Appalachian State had a chance to take a 57-55 lead, but quarterback Chase Brice barely overthrew an open receiver on the conversion attempt. After both teams scored touchdowns in a span of 21 seconds, Brice's run for a two-point conversion that could've forced overtime came up a yard short.
UCLA: A highly-questionable coaching decision allowed UCLA to escape South Alabama, 32-31. The visiting Jaguars had a 31-29 lead and were at the UCLA 22-yard line with less than three minutes remaining. Diego Guajardo, who had already converted a 38-yard field goal, lined up to attempt a 39-yarder that would've put UCLA in a five-point hole. But South Alabama coach Kane Wommack called a fake field goal. Holder Tanner McGee, the third-string quarterback, was sacked for an 11-yard loss. UCLA took advantage and drove for a game-winning 24-yard field goal.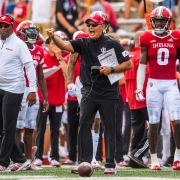 Rich Janzaruk/USA TODAY NETWORK
Indiana: Illinois seemingly did everything possible to assist the Hoosiers in a 23-20 opening victory. The Illini had punts of 12 and 23 yards that led to 10 Indiana points. The Illini also lost three fumbles — one at the Indiana 39, another at the Indiana 20 — had an interception at the Indiana 8-yard line and were stopped on downs at the Indiana 1-yard line in the fourth quarter when kicking a field goal would have given Illinois a 20-16 lead.
Heisman watch (If my ballot was due today)
1. C.J. Stroud, Ohio State, QB: Stroud exceeded 350 passing yards for the second straight game. He threw for 367 yards and five touchdowns in a 77-21 victory over Toledo. Tougher competition looms, but Stroud has 941 passing yards, 11 touchdowns and no interceptions.
2. Stetson Bennett, Georgia, QB: In a destruction of South Carolina, Bennett passed for 284 yards and two touchdowns and rushed for 36 yards and a score in a 48-7 win. Thus far, Bennett has thrown for 952 yards and five touchdowns. He has also rushed for three touchdowns.
3. KJ Jefferson, Arkansas, QB: Jefferson had his most productive performance of the season in a 38-27 victory over Missouri State. He passed for 385 yards and two touchdowns. He also rushed for 40 yards and a score. Through three games, Jefferson has thrown for 770 yards and six touchdowns. He has rushed for 169 yards and three touchdowns.
4. Caleb Williams, USC, QB: Williams had 284 passing yards and two touchdowns in a 45-17 victory over Fresno State. He's thrown for at least 249 yards and two touchdowns in all three games. Williams is completing 74.4 percent of his passes for 874 yards and eight touchdowns with no interceptions.
5. Bryce Young, Alabama, QB: Young only threw 18 passes but completed 13 in a 63-7 blowout win over ULM. He threw for 236 yards and three touchdowns but had two interceptions. Last year's Heisman recipient has passed for 644 yards and nine touchdowns. He has rushed for 144 yards and two touchdowns.
Predicted playoff participants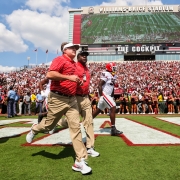 Jeff Blake-USA TODAY Sports
1. Georgia: The Bulldogs' defense made it 11 quarters and 14 minutes before giving up a touchdown.
2. Ohio State: Buckeyes lead the nation in total offense and rank 10th in scoring offense.
3. Alabama: Tide might not be as dominant as projected, but they look like the best team in the SEC West division.
4. Clemson: If the Tigers win their next two games against Wake Forest and NC State, an undefeated season is very possible.
Games to watch
No. 23 Texas A&M vs. No. 10 Arkansas: A matchup of the two biggest threats to Alabama in the SEC West division. It's usually a close game between the Aggies and Razorbacks.
No. 5 Clemson at No. 21 Wake Forest: A clash of unbeatens that may ultimately decide the winner of the ACC Atlantic division.
No. 20 Florida at No. 11 Tennessee: The Volunteers appear to be superior, but history shows to never assume a Tennessee victory over Florida.
No. 7 USC at Oregon State: USC is steamrolling the West Coast. The surprising Beavers are their sternest test to date.
Kansas State at No. 6 Oklahoma: Kansas State was a preseason pick to win the Big 12. Oklahoma looks like the best team in the conference. Can Oklahoma keep rolling? Can K-State bounce back from a stunning loss to Tulane?
Never miss the latest news from TexAgs!
Join our free email list
PRESENTED BY