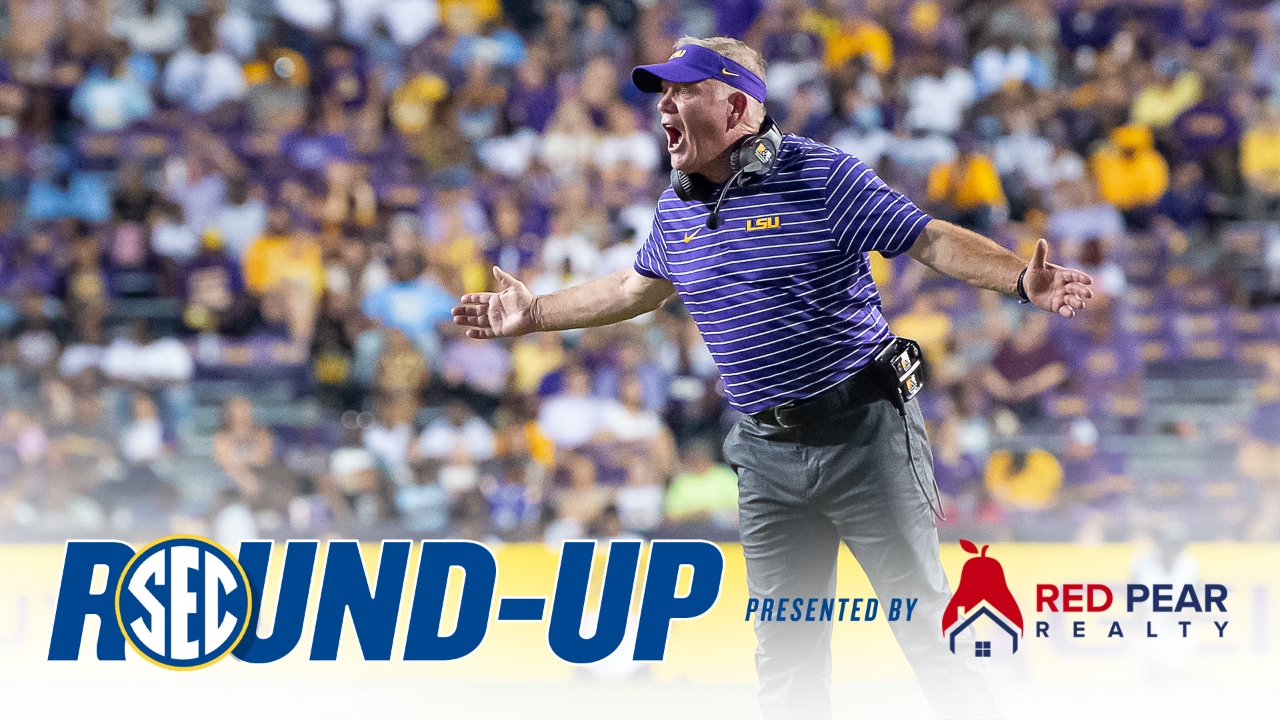 Photo by Scott Clause-USA TODAY Sports
Texas A&M Football
SEC Round-Up: Kelly makes league debut vs. The Pirate in Death Valley
---
The outrage of a season-opening choke job has finally cleared in Baton Rouge.
But it might take much longer for anger to subside if LSU falls to Mississippi State on Saturday.
An opening upset loss can be grudgingly forgiven. But losing a conference game to an opponent you once dominated? That won't get much — if any — clemency for first-year LSU coach Brian Kelly.
Kelly already caught the ire of LSU fans after a 24-23 loss to Florida State, which could have been an unimpressive victory if the Tigers could convert an extra point or short field goal.
A 65-17 victory over Southern eased the tension, but beating the cross-town visitors isn't a remarkable accomplishment to LSU fans.
Not that long ago, beating Mississippi State wasn't either.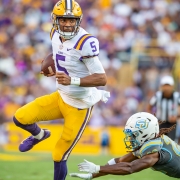 Scott Clause-USA TODAY Sports
LSU leads the overall series 76-36-3. The Tigers beat Mississippi State 21 times in 22 years from 1992 to 2013.
Times have changed. Mississippi State has won three of the last eight meetings. In that span, three of LSU's victories have been by three points or less.
Clearly, Mississippi State is no longer a pushover for LSU. Complicating matters, Kelly is facing Mississippi State coach Mike Leach for the first time.
There are Air Raid offenses. And then there is Leach's Air Raid offense. It's the Great White of the species.
Kelly knows this.
"Slowing it down is really about the fundamentals of football," Kelly said. "It's really like going against a triple-option offense in that the phases of it are such that they run it so well. From a defensive perspective, you have to be so good at your assignments first and foremost. Then you've got to tackle. You've got to fight for every yard.
"Play sound and fundamental defense, tackle, try to get (Mississippi State quarterback) Will Rogers off his spot. If he's just comfortable in a three-man rush all day, it's easy for him."
More than one defensive coordinator has made the mistake of relying on a three-man rush against Leach's offense. He's content to then dink-and-dunk his way down the field. Death by a thousand paper cuts.
However, acknowledging that can be a flawed strategy may be the first step in containing the Bulldogs.
Rogers leads the SEC with 763 passing yards and nine touchdowns, so it'll take a capable opposing coach to keep him under control.
LSU fans may be skeptical about Kelly. Leach is not. He's gone so far as to give Kelly perhaps the ultimate endorsement. The colorful Leach has said Kelly is not just a "sweater wearer."
He explained: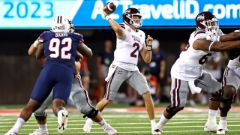 Mark J. Rebilas-USA TODAY Sports
"Some guys are just there to serve as a figurehead on the sideline," Leach said. "They don't really coach a position or coach anything They like being the head coach, the attention that goes along with it. Being seen on the sideline, but they really don't offer anything as far as Xs and Os. I've always felt Brian is always in the thick of it and got into coaching to coach type of guy."
High praise indeed.
But if LSU doesn't win, Kelly will find himself again in the thick of scrutiny from an outraged fan base.
Around the SEC
This week's games: No. 13 Miami at No. 24 Texas A&M; No. 1 Georgia at South Carolina; Youngstown State at No. 9 Kentucky; Abilene Christian at Missouri; No. 20 Ole Miss at Georgia Tech; No. 22 Penn State at Auburn; Vanderbilt at Northern Illinois; ULM at No. 2 Alabama; Mississippi State at LSU; Missouri State at No. 10 Arkansas; Akron at No. 15 Tennessee; South Florida at No. 18 Florida
Who's hot: Kentucky coach Mark Stoops passed Bear Bryant as the winningest coach in school history. Stoops is 61-53 in 10 years in Lexington. The Wildcats could be on the way to their third 10-win season in five years. They're 2-0 after defeating Florida last week. It was the first time Kentucky has beaten Florida in back-to-back seasons since 1976-77.
Who's not: Florida's passing game is last in the SEC and isn't likely to get better. The Gators are averaging just 155.5 passing yards. Quarterback Anthony Richardson is serviceable as a passer, but doesn't have high-level receivers. The Gators' best receiver is Ricky Pearsall, an Arizona State transfer who has six catches for 106 yards. Florida lacks speed and the ability to get separation. There is no also receiving threat at tight end. Former coach Dan Mullen's problems in recruiting are surfacing at that position.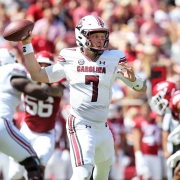 Nelson Chenault-USA TODAY Sports
Keep an eye on: Oklahoma transfer Spencer Rattler was supposed to be the quarterback addition that made South Carolina formidable. Well, that's not been the case so far. Last week, Rattler passed for 376 yards, but much of that was in the fourth quarter after Arkansas had taken a 35-16 lead. Rattler only passed for 85 yards in the first half. If he's not more productive early this week against Georgia, the outcome could be decided by halftime. So far, Rattler has thrown for 603 yards but has more interceptions (3) than touchdowns (2).
The pressure is on: Texas A&M's offense has to break out of its slump for the Aggies to have a chance at reaching expectations for this season. The Aggies are ranked 102nd in the country in total offense and 100th in scoring offense. That's while playing Sam Houston and Appalachian State. Tougher defenses await. A quarterback change might be coming, too. LSU transfer Max Johnson might replace starter Haynes King. At the very least, King may be on a short leash on Saturday night against Miami.
Best matchup: Penn State has a good group of receivers led by Mitchell Tinsley, who has 10 catches and two touchdowns. Auburn has a good secondary led by senior cornerback Nehemiah Pritchett. Penn State's running game is mediocre, so the Nittany Lions must pass to win. Auburn can pull off an upset if the secondary has a good day.
Never miss the latest news from TexAgs!
Join our free email list
PRESENTED BY