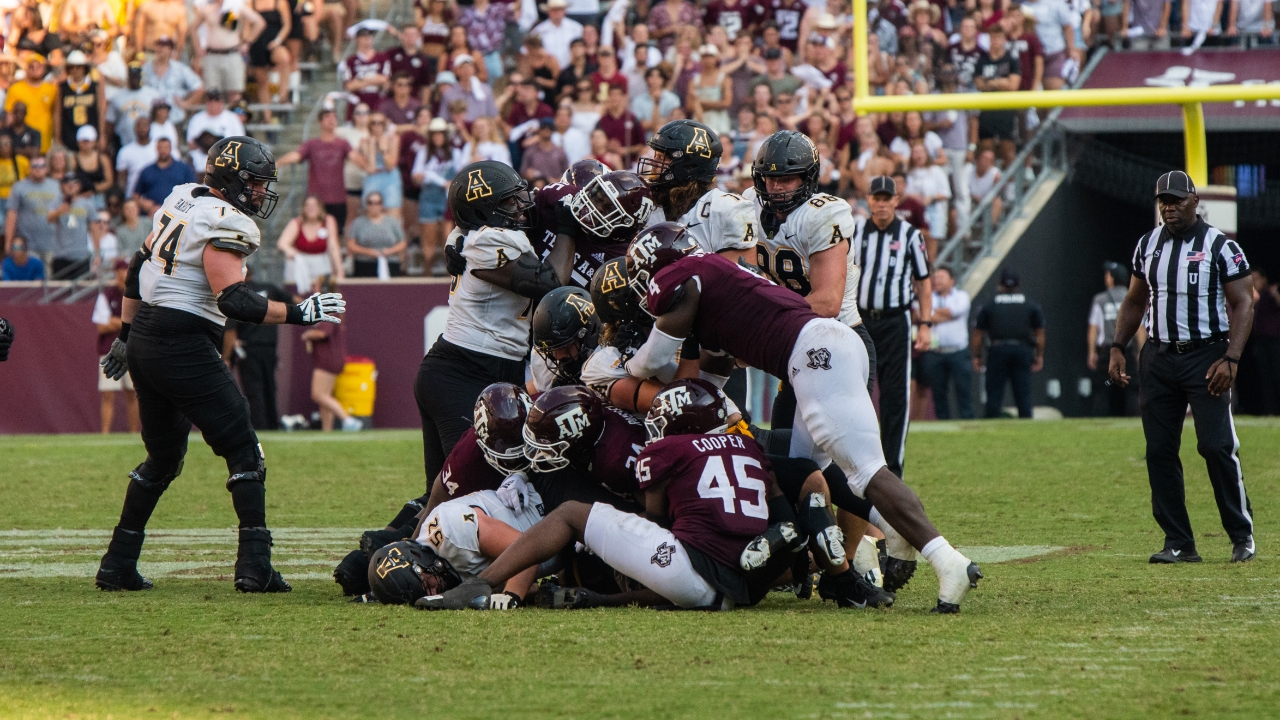 Jimbo Fisher
Devon Achane
Antonio Johnson
Texas A&M Football
No excuses for No. 6 Texas A&M's inexcusable loss to App State, 17-14
September 10, 2022
21,686
---
If the disgusted Kyle Field crowd felt a gust of wind from the north Saturday evening, it surely originated in Michigan.
It was probably a collective sigh of relief from thankful fans of the Michigan Wolverines, no longer carrying a 15-year burden of embarrassment alone.
Misery loves company.
After a miserable display of offensive ineptitude, Texas A&M now accompanies Michigan as a punch line/trivia answer for college football's greatest upset victims.
"We did not execute and play at the level we needed to, and that's my fault. As a head football coach, that's your job to have your guys ready to play and put them in a position to make plays."
The No. 6 Aggies fell to Appalachian State, 17-14. And just like No. 5 Michigan in a 34-32 loss to the Mountaineers in 2007, A&M's last chance to save face ended with a failed field goal attempt.
At least Appalachian State blocked a kick to thwart a Michigan comeback bid. The Aggies' Caden Davis was just woefully short on a 47-yard attempt that could've forged a tie with just under four minutes remaining.
That misfire was just the last in a litany of miscues, which raises questions about coach Jimbo Fisher. He is paid handsomely to lift A&M's program among college football's elite. This embarrassment — the low point of Fisher's five-year tenure in College Station — will spawn doubts about whether he can get the job done.
Fisher has said the construction process is on schedule. But the loss has to be viewed as regression, doesn't it?
"It depends on what we do, how we accept this and what we do from here and how things go forward," Fisher said. "We still have a chance to have a very good football team. Face down, lock in, coach the heck out of them and get them to play real well."
Excuse frustrated Aggies if those words ring hollow. Fisher has always said all the right things.
A&M needs results, not remarks.
Fisher is billed as a developer of quarterbacks and an offensive mastermind. Yet, A&M's offensive performance was an offensive abhorrence.
The Aggies' offense managed just one score against the same Appalachian State defense that allowed eight touchdowns to North Carolina just last week.
A&M managed just 186 yards — 381 less than North Carolina gained. The Aggies ran only 38 plays. They managed only nine first downs.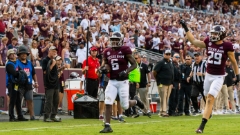 Jamie Maury, TexAgs
"We did not execute and play at the level we needed to, and that's my fault," Fisher said." As a head football coach, that's your job to have your guys ready to play and put them in a position to make plays."
Speedy running back Devon Achane made plays. He broke off a 26-yard touchdown run with 11:37 left in the second quarter but did not touch the ball again in the half.
In the third quarter, he returned a kickoff 95 yards for a touchdown.
Those were the few highlights. Quarterback Haynes King, who lost one of two A&M fumbles, completed just 13 of 20 passes for a meager 97 yards. He did have a 31-yard run, but too often, King appeared hesitant to bolt from the pocket.
His struggles sparked calls from the crowd for backup quarterback Max Johnson. Fisher admitted considering a change.
"If we would have gotten some more possessions, maybe so," Fisher said. "We've got to play better around him, but he has to play better too. There is no doubt. He had some opportunities to make some plays."
The offensive failures forced A&M's defense to spend more than 41 minutes on the field under a hot sun. Consequently, fatigued seemed to set in late in the game.
Following Achane's kickoff return, Appalachian State converted on third down four times on an 18-play, 63-yard drive that consumed more than nine minutes. The drive ended with a 29-yard field goal for a 17-14 lead with 8:05 left in the game.
On their ensuing series, the Aggies reached the Appalachian State's 30-yard line. The drive stalled there. They settled for the field goal attempt that never had a chance.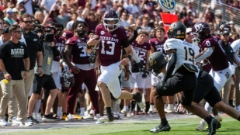 Jamie Maury, TexAgs
A wave of excuses followed.
Appalachian State's lineup is teeming with fourth and fifth-year seniors, while A&M is young.
There were issues in communication.
There was a questionable pass interference call.
Center Bryce Foster remained sidelined.
Cornerbacks Myles Jones and Jaylon Jones, linebacker Andre White and defensive linemen McKinnley Jackson and Walter Nolen did not play.
But A&M's roster is loaded with players who were four-star and five-star prospects. Also, Appalachian State leading rusher Nate Noel did not play.
There were no excuses for an inexcusable loss.
Never miss the latest news from TexAgs!
Join our free email list