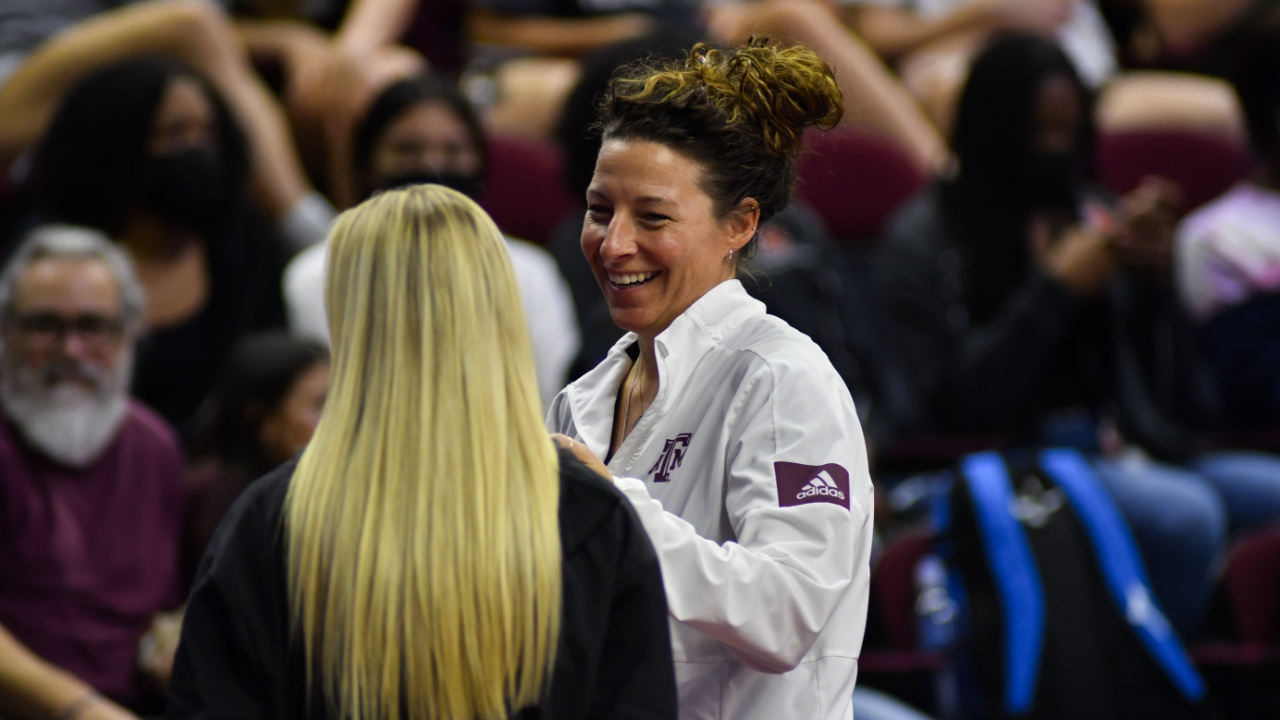 Photo by Jamie Maury, TexAgs
Texas A&M Volleyball
Bird Kuhn joins TexAgs Radio as A&M hopes to continue surging
---
Texas A&M volleyball has won four straight matches, dropping just one set during this streak. On Thursday morning, head coach Bird Kuhn joined TexAgs Radio to discuss the Aggies' winning ways ahead of Friday's match with Louisiana at Reed Arena.
---

Key notes from Bird Kuhn interview
It's like a college football game day with traffic this morning. I feel like I have been sitting in traffic for like 20 minutes. I was so excited to see you this morning and talk about "Top Gun: Maverick." We watched it again on our bus ride up to Fort Worth last week. The team was really into it.

We're playing well. It was fun to go on the road. It's always a bonding experience on the road. It was fun to go up there and to see them get challenged and respond.

In the preseason, we get to mix up who we play and the kind of volleyball we play. It's fun to see us growing together.

The biggest piece is that we have a lot of new players and new people in different roles. Their personalities dictate who is the spark from game to game. The setters are connected with our attackers. It's cool to see the players come into their own and own these new roles. People are gelling and settling into their roles, but we still have a lot of competition in the gym.

The ball control on defense comes back to our mentality. Our back row and our blocks buy into our grind mentality. Our point scoring has been strong, and that goes into our system. We've been aggressive.

Coming in as a freshman, Logan Lednicky trusts her arm. Her blocking and attacking are her bread and butter. She plays six rotations for us. She knows what she can do on the back row too. I love to see her play. She can attack out of the front or back row, and I love her mindset and seeing her owning it as a freshman.

In the summer, we felt this. We hadn't even been working with our team yet, but we could feel this bond when they were working summer camps. Their personalities are that strong. The energy and the vibes between them are high. That bus trip and the time spent together helps. It's cool to see that.

The preseason matches prepare us for SEC play, and we schedule these games to challenge our team and help us find out who we are. Our competitive chemistry and our team dynamics are things we talk a lot about. The great teams have to figure out how to make balls drop when they're being challenged. Volleyball is about momentum, so you have to respond when you're being challenged.
Never miss the latest news from TexAgs!
Join our free email list