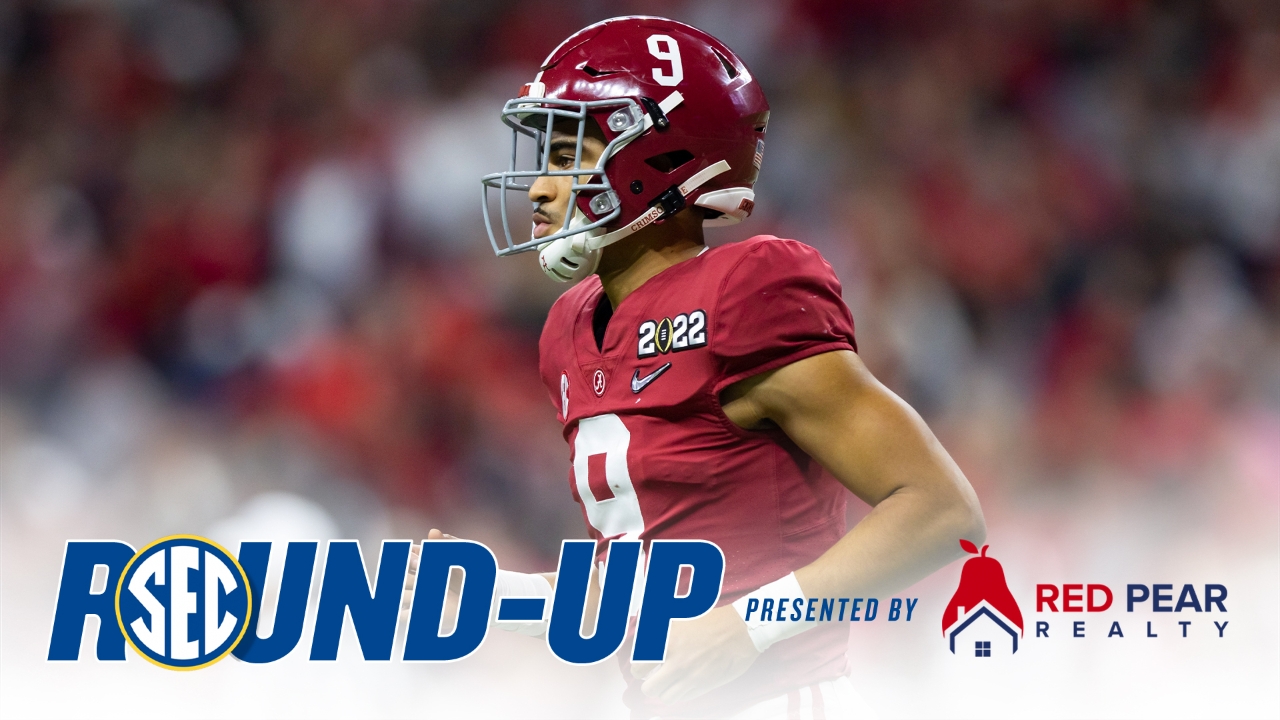 Photo by Mark J. Rebilas-USA TODAY Sports
Texas A&M Football
SEC Round-Up: Playing percentages provides insight into 2022 season
---
In the age of sports analytics, coaches often follow percentages.
If percentages indicate a high level of success by going for it on fourth-and-short, many coaches will take a chance.
Last season, six SEC teams had at least a 60 percent success rate on fourth down.
Heck, Ole Miss coach Lane Kiffen, whose Rebels were successful on 63.27 percent of fourth down conversions, twice went for it in his end of the field against Alabama.
Both failed, so obviously, percentages don't always work out.
Still, playing the percentages — within reason, Lane — is a wise move to increase chances of success.
With that in mind, here are some Southeastern Conference preseason predictions based on percentages.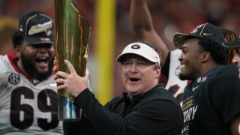 Kirby Lee-USA TODAY Sports
An SEC team will win the national championship. Twelve of the last 16 national champions were from the SEC. That would indicate a 75 percent chance an SEC team will win again.
That team will be Alabama. Since 2009, Alabama has won six national championships in 13 seasons. Statistically, that's a 46.1 percent chance the Tide will rise again. Note that in that same span, the most national championships by another individual team is Clemson with two. So, the best chance for another team would seem to be just 18 percent.
No SEC team will finish the season undefeated. Over the last 10 seasons, only two teams — Alabama in 2020 and LSU in 2019 — finished unbeaten. That's an 80 percent chance no team gets through the season unscathed.
A west division team will win the SEC championship. In 13 seasons, since 2021, a west division representative has won the SEC crown. That includes last season when national champion Georgia was the SEC runner-up to Alabama. The only year in that span an east division team prevailed was in 2017 when Georgia defeated Auburn. That's a 92.3 percent chance the west representative will win.
The SEC will produce the Heisman Trophy recipient. Eight of the last 15 Heisman winners came out of the SEC. That list includes Bryce Young, DeVonta Smith, Derrick Henry and Mark Ingram of Alabama and quarterbacks Joe Burrow of LSU, Tim Tebow of Florida, Cam Newton of Auburn and Johnny Manziel of Texas A&M. That's a 53.3 percent success rate.
A preseason favorite will not win the Heisman. Of the last 10 Heisman winners, only three — Alabama's Bryce Young in 2021, Oklahoma's Baker Mayfield in 2017 and Oregon's Marcus Mariotta in 2014 — were among the top-five preseason contenders according to Bovada Sports Book. In 2012, USC quarterback Matt Barkley was the favorite. Johnny Manziel, the eventual recipient, wasn't even in the top 20. That would indicate there is a 70 percent chance a dark horse will hoist the Heisman in December. Supporters of Texas A&M running back Devon Achane should keep that in mind.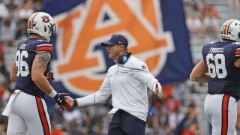 John Reed-USA TODAY Sports
An SEC coach will be fired. In eight of the last 10 years, at least one SEC coach has been fired. That's an 80 percent chance somebody will get the axe after or during the season. Some would speculate that it's a 100 percent chance it's Auburn's Bryan Harsin.
Around the SEC
This week's games: Thursday - Ball State at Tennessee; Louisiana Tech at Missouri
Saturday - Sam Houston at No. 6 Texas A&M; No. 11 Oregon vs. No. 3 Georgia (Atlanta); No. 23 Cincinnati at No. 19 Arkansas; Troy at No. 21 Ole Miss; Utah at Florida; Miami (Ohio) at No. 20 Kentucky; Mercer at Auburn; Elon at Vanderbilt; Utah State at No. 1 Alabama; Memphis at Mississippi State; Georgia State at South Carolina
Sunday - Florida State vs. LSU (New Orleans)
Who's hot: Might as well enjoy it while you can, Vanderbilt. The Commodores scored 63 points in a victory over Hawaii last week. That's the most points they've scored in a game since defeating Davidson, 63-8, in 1969. Just as impressive was the Vandy defense, which on its own outscored Hawaii. The Commodores had two defensive touchdowns while limiting Hawaii to just 10 points. Further, with FCS Elon up next, the Commodores figure to start 2-0 for the first time since defeating Middle Tennessee and Nevada to open the 2018 season.
Who's not: Tennessee's offensive line allowed an SEC-worst 44 sacks in 2021. Only five teams in the nation allowed more. The Volunteers allowed at least three sacks in nine games. That's with a mobile quarterback in Hendon Hooker. Four starters return in the line, but is that a good thing? Maybe sacks won't be an issue against Ball State, which managed only 23 sacks in 2021, but even Tennessee Tech managed a sack against the Vols line last season.
Keep an eye on: Georgia's defense was the best in the nation in 2021. The Bulldogs allowed just 153 points in 15 games on the way to the national championship. However, eight players from that defense were taken in the NFL Draft. Five were first-round selections. That's a lot of high-level talent that must be replaced. If the Bulldogs can adequately replenish the defense they could again contend for the national championship. An opening clash with Oregon, which last season averaged 31.4 points, figures to provide an indication of how good this year's Georgia unit is.
Harsin will likely be ousted if the Tigers struggle this season. Heck, he could be dismissed if they struggle in the season-opener against Mercer, which was 7-3 in 2021.
Pressure is on: Really, the pressure is never off the Auburn coach, but the pressure on Bryan Harsin is tremendous even for a coach on the Plains. First, he survived attempts for his removal following a 6-7 campaign that included five consecutive losses to close. Then last week, Allen Greene, the athletic director who hired Harsin, resigned under pressure. Two days ago, preseason All-SEC center Nick Brahms retired from football because of recurring knee problems. The Tigers quarterback is LSU transfer T.J. Finley, who won the starting job over Texas A&M transfer Zach Calzada and Oregon transfer Robby Ashford. Harsin will likely be ousted if the Tigers struggle this season. Heck, he could be dismissed if they struggle in the season-opener against Mercer, which was 7-3 in 2021.
Best matchup: Arkansas quarterback K.J. Jefferson vs. the Cincinnati pass defense. Jefferson had a breakout year in 2021 when he passed for 2,676 yards and 21 touchdowns. Talk in Fayetteville is that he'll be even better this season. Jefferson figures to face a stiff test in the season-opener. Cincinnati was second in the nation in pass defense a year ago. Of course, the Bearcats no longer have All-American cornerbacks Ahmad Gardner and Coby Bryant, so they don't figure to be as formidable. But Arkansas no longer has receiver Treylon Burks, who was selected in the first round of the NFL Draft.
Never miss the latest news from TexAgs!
Join our free email list
PRESENTED BY