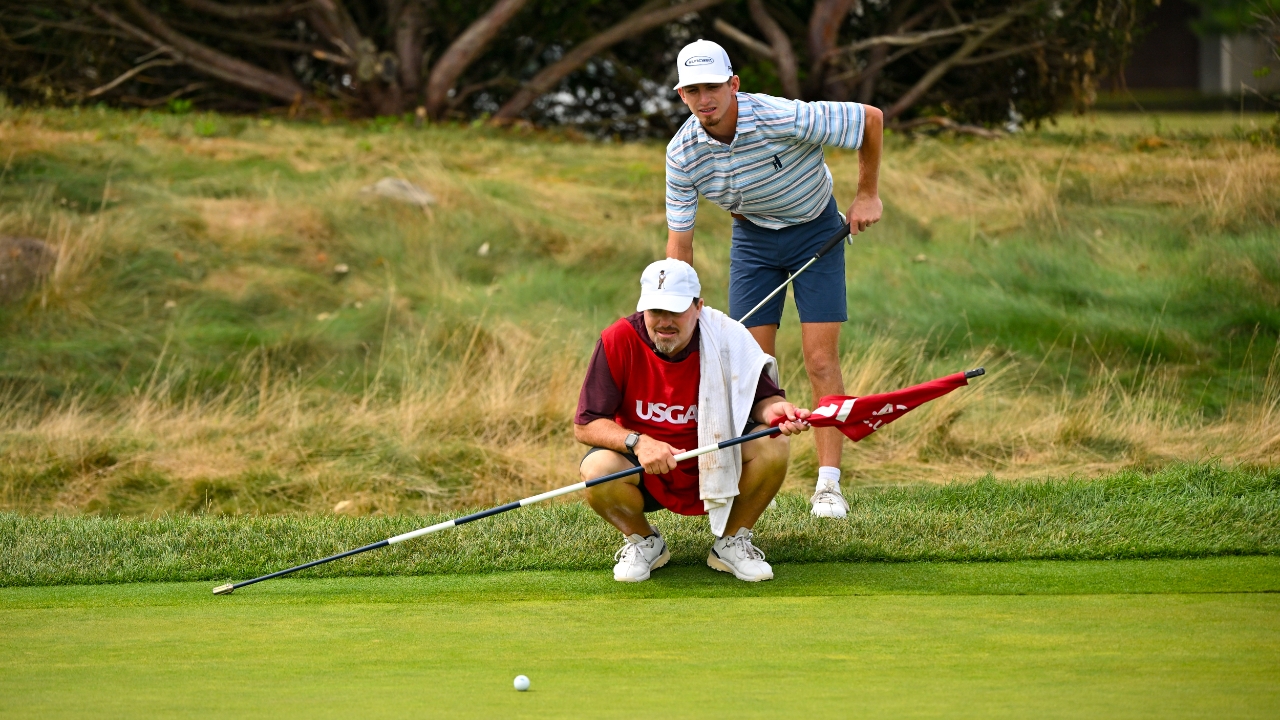 Photo by USGA/Grant Halverson
Texas A&M Men's Golf
Recapping Sam Bennett's U.S. Amateur title with his caddie Brian Kortan
---
Texas A&M head men's golf coach Brian Kortan joined Tuesday morning's edition of TexAgs Radio to reflect on his week with Sam Bennett at the 2022 U.S. Amateur Championship that culminated with Bennett bringing home the Havemeyer Trophy.
---

Key notes from Brian Kortan interview
What a great experience. That was awesome. Sunday was great. Saturday was the nerve-wracking day. When he finished, he was in tears. It gives me chills thinking about it. We just talk and do what we do. We keep the intensity appropriate. His perspective has changed a lot.

Sam Bennett is fidgety, and that is absolutely normal Sam Bennett behavior.

The U.S. Amateur Championship is the pinnacle of golf for an amateur individual. It's the hardest tournament to win. The names on that trophy are legends. Sam's name goes on there forever, and that's life-changing, but Sam won't change. He will walk into the facility with his Chick-Fil-A and shirt untucked. It won't change who he is. He's a Madisonville kid. The opportunities change. He was arguably the best player in college golf last year. Now, it's real and right in front of him.

He made some great plays and handled himself well. We really tried to stay where our feet were. He just played good golf. He never panicked. You don't know you're going to win until the end.

He has run in the stadium before for missing a workout. Our relationship is embedded in similarities. We both lost our dad at a young age. There's so much in common. It's still an evolving friendship but a coach-player relationship. He is a "Yes sir" guy. He's a little guy. He's athletic. He has great eyes, great hands and owns being an athlete.

His comments were taken out of context. He's very respectful. In match-play, there's no player that's not playing well. He was trying to say that these guys are good, but he believes he's better. He was the dog in the race. Golf is a number sport, and his numbers were great.

From what I was told, as far as rankings go, he had the toughest path anybody has ever taken to win the trophy. He beat the No. 8, No. 9, No. 10, No. 13 and No. 27 ranked amateurs in the world just to get to the finals.

Bennett could have very well left after last year. He loves being a college student and playing on the team because he knows once he leaves, that's over. He started college and wanted to graduate. He hopes he never has to use his Aggie ring to get a job because he'll continue to golf. He knew he had to mature, and he has grown a lot.

We start the season on Sept. 9, in Madison, WI, escaping the heat. We have two new guys. The first official stuff starts tomorrow.

I cleared my texts before we started. When I looked again, I had 128 texts from old friends and prayers, congratulating Sammy and the program.
Never miss the latest news from TexAgs!
Join our free email list