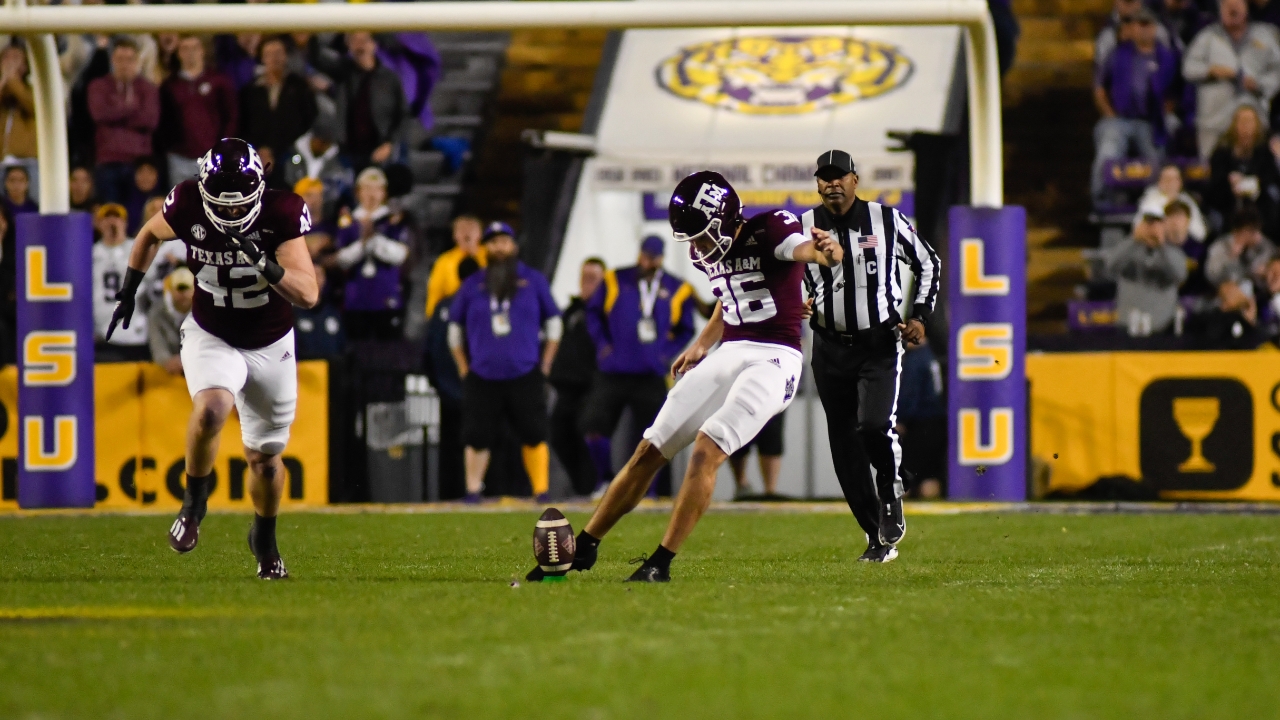 Photo by Jamie Maury, TexAgs
Texas A&M Football
Real Estate Specialist: Caden Davis aims to help expand the field for the Ags
---
In the distant future, Caden Davis aims to excel in real estate.
That's kind of his plan for the near future, too.
Davis, a Texas A&M junior who's in grad school preparing to pursue a career in real estate, is planning to expand the Aggies' red zone.
The red zone, generally considered prime scoring position, starts at the opponent's 20-yard line. But with Davis' strong leg, the Aggies can think about scoring when they reach the opponents' 40.
"My range can change on the day," Davis said earlier this week. "Typically, I'd say I'm good within 65 yards right now.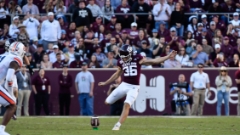 Jamie Maury, TexAgs
"Whenever the opportunity comes — maybe before the half or the end of the game — being able to extend that range maybe we can put up some big field goals."
Obviously, Jimbo Fisher can appreciate the notion of getting in prime scoring position just by crossing midfield.
"Over my career, I've been blessed with some really good kickers," Fisher said. "When you feel comfortable from (long) range (it) can definitely influence how you call plays."
Long field goals were once an A&M football tradition. Barefoot-phenom Tony Franklin converted four times from 59 yards or more. In fact, he hit from 64 and 65 in the same game against Baylor in 1976.
Terrence Kitchens also hit from 62 yards in 1999. Kyle Bryant was good from 61 yards in 1994. Layne Talbot in 1990 and Alan Smith in 1983 converted from 59.
In two previous seasons, Davis' contribution has been little more than booming kickoffs out of the end zone. His only career field goal try was a missed 37-yard attempt, but a woefully high snap caused that.
But Davis is no stranger to hitting long rangers.
He once converted a 57-yard field goal in the final minute to lift Coppell High School to a 30-28 victory over Sachse.
"It was the first game of senior year," Davis recalled. "That was after junior year finished with a tough loss in the playoffs kick because I missed. I made a 57-yarder to win the game.
"I wasn't surprised I made it. I had hit from 65 yards (in practice) at that point. But just to be in that situation was a good comeback story."
What was most impressive about that game-winning kick might be up for debate. No doubt a 57-yarder from a high school senior will raise eyebrows.
However, the ability to come through with the outcome at stake might be even more impressive.
"I know I have the raw ability, but the mental side is what's going to allow you to perform great in games and in those big pressure situations," Davis said.
"I honed in on technical stuff. I don't want to have any reason to miss. I want to be locked in as much as I can and have no reason to miss. I'm feeling really good about where I'm at technically and mentally."
Consider the two most prominent victories in coach Jimbo Fisher's Texas A&M tenure. A 41-38 victory over No. 4 Florida in 2020 and a 41-38 victory over No. 1 Alabama last season were both clinched on last-play field goals inside 30 yards by Seth Small.
Replacing Small, who converted 71 of 91 career field goals (78 percent), will be no … well, small task.
But the big-legged Davis is eager to put his best foot forward.
"Me and Seth made each other a lot better," Davis said. "What he taught me and helped me get better at was just my consistency overall. I was more like a big-leg kicker coming in. His consistency is what made him so good. So we both kind of continually made each other better. That's really what I learned from him.
"I'm super excited to have the stage to myself."
Davis has been waiting a long time for this opportunity.
He grew up an Aggie fan. His father, class of '99, brought him to games for years. He remembers as a young child an A&M player tossing him gloves. He saw Johnny Manziel leading A&M to victories in 2012 and 2013.
He can't wait to contribute to Aggie victories. He put in a lot of extra work in the offseason to ensure his right is as accurate as it is strong.
"I honed in on technical stuff," Davis said. "I don't want to have any reason to miss. I want to be locked in as much as I can and have no reason to miss. I'm feeling really good about where I'm at technically and mentally."
Never miss the latest news from TexAgs!
Join our free email list