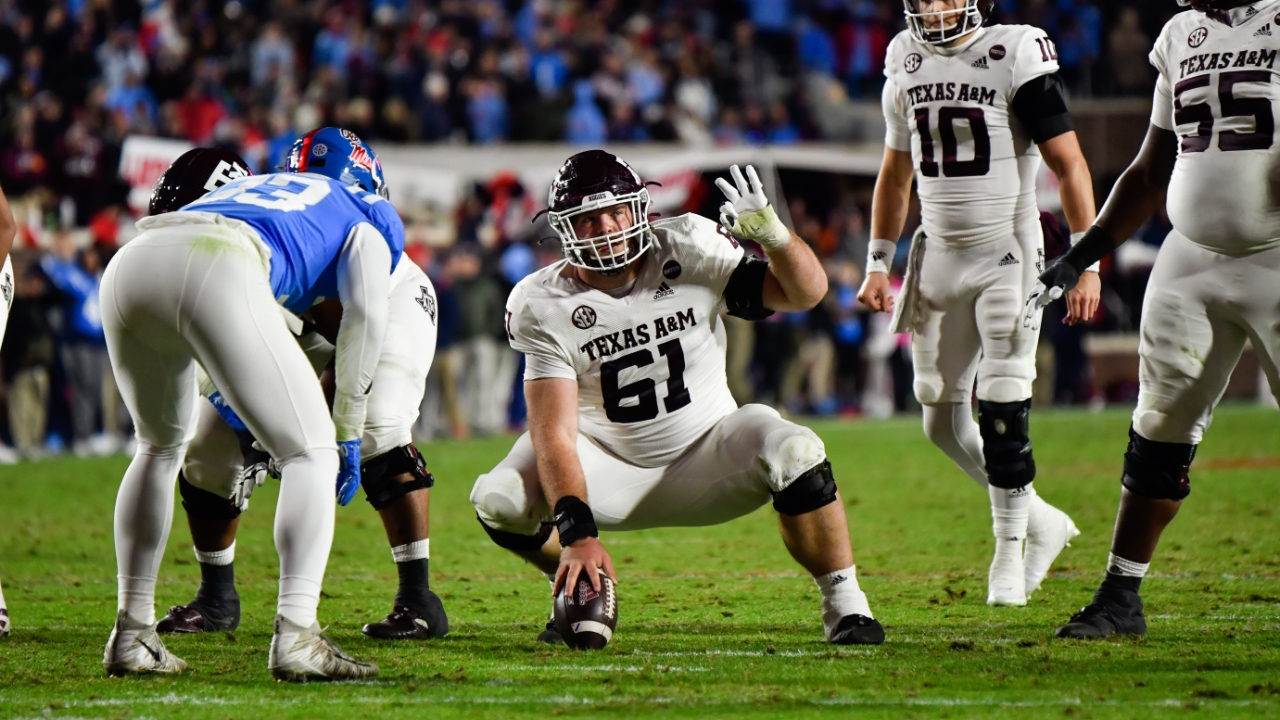 Photo by Jamie Maury, TexAgs
Texas A&M Football
Texas A&M's offensive line aims to be better than elite units of the past
---
Truth in August is almost as welcome as rain.
Oftentimes in college football, August comes with a deluge of spin, delusion, cliches and half-truths.
Coaches can be hesitant to admit a team's shortcomings. Players almost always heap praises upon teammates. An August All-American might be a December disappointment.
Here's a jolt of truth: Texas A&M — any team for that matter — needs a strong offensive line to field a championship-caliber team.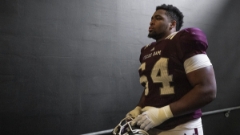 Texas A&M Athletics
That fact has been frequently proven since the Aggies moved to the Southeastern Conference in 2012.
Since then, A&M's best seasons have coincided with its best offensive lines.
The 2012 quintet of Luke Joeckel, Jarvis Harrison, Patrick Lewis, Cedric Ogbuehi and Jake Matthews set the gold standard for Aggie offensive lines.
With them paving the way, the Aggies averaged 242 rushing yards. They allowed 23 sacks. The Aggies finished 11-2 and No. 5 in the final rankings.
The 2020 line of Dan Moore, Kenyon Green, Ryan McCollum, Jared Hocker and Carson Green was recognized as one of the three best in the country. They paved the way for an average of 205.1 rushing yards and allowed a mere seven sacks.
The Aggies finished 9-1 and No. 4 in the final rankings.
A&M could be in for another brilliant season if the offensive line is as good as the 2020 crew.
But right guard Layden Robinson, who as a redshirt freshman played in all 10 games two years ago, offered an all-too-rare bit of truth last week when admitting this year's line is not yet as good as the 2020 edition.
The key word there is 'yet.'
"I would say we're not there yet," Robinson said. "But that's a good thing. We have a lot of room that we can improve on every single day. My focus is not to be as good as that line. How about trying to be better than that line?"
That's a lofty goal. It's not out of reach, either.
"I would say we're not there yet, but that's a good thing. We have a lot of room that we can improve on every single day. My focus is not to be as good as that line. How about trying to be better than that line?"
Only two members of that 2020 line were drafted by NFL teams. Moore was a fifth-round pick of the Steelers in 2021. Kenyon Green was a first-round selection of the Texans this year.
By comparison, Robinson, sophomore center Bryce Foster and sophomore tackle Reuben Fatheree likely will be first or second-day selections when their time to go pro comes.
Of course, they represent the right side of the line. The key to A&M's success up front may be more dependent on the unproven left side.
Redshirt freshman Trey Zuhn reportedly has all but locked up the left tackle spot. Despite his inexperience, he'll likely be an upgrade over last year's Jahmir Johnson, who played the entire season with a bad knee.
Replacing Kenyon Green is a much more difficult matter. The Aggies could turn to sophomore Aki Ogunbiyi, who made four starts in 2021.
Or they could turn to sophomore Jordan Moko. Or junior Blake Trainor, who started in last season's victory over Alabama. Or freshman Kam Dewberry, a Kenyon Green protege.
Robinson indicated it doesn't matter.
"The level of expectation I have for those guys is just greatness in general," he said. "We know, as an O-line, you have to stick together through rough times, good times. There are some practices where it's rough. We just have to push through it.
"That's a heavy competition over there. They're bringing out the best in each other single day. We're pushing each other as a whole."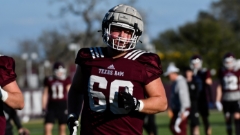 TexAgs
But will they begin showing pushing around opponents in about three weeks? Can they prove they're as adept as that 2020 line?
"We have to try to be better," Robinson said. "If you try to be like somebody else, you're putting a cap of yourself. This line doesn't need to put a cap on ourselves. We're young, but we need to keep getting better every day.
"We need to make sure that we're better than that line, which we can accomplish, but we have to focus on the little things. We've got to focus on the things to make us better every single day. We're our own O-line. We've got to find out who we are. We've got to find out what our identity is."
The Aggies could very well identify as a College Football Playoff team or SEC championship contender.
Running back Devon Achane and receiver Ainias Smith are leading what figures to be a more explosive offense. The defense again projects to be really good.
But to reach its vast potential, A&M must have a strong offensive line.
That's the truth.
Never miss the latest news from TexAgs!
Join our free email list