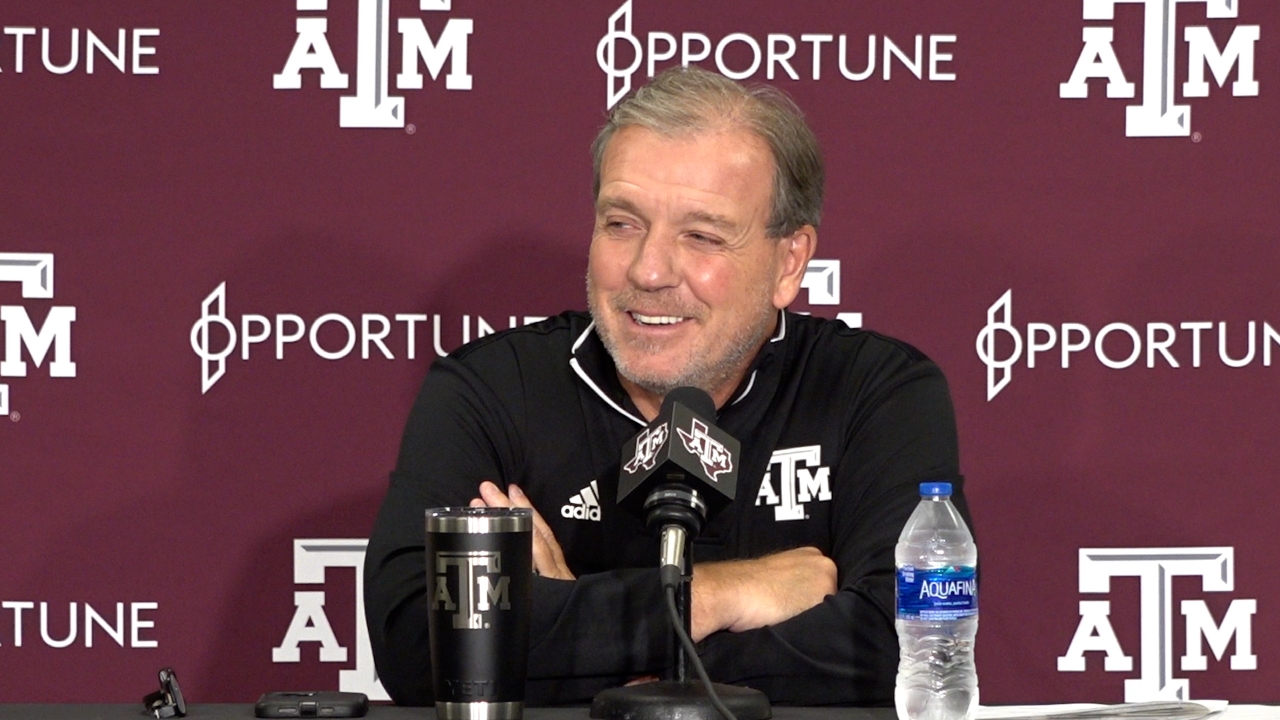 Jimbo Fisher
Demani Richardson
Caden Davis
Texas A&M Football
Press Conference: Fisher, Aggies discuss first seven practices of Fall Camp
---
Thursday evening will be Texas A&M's eighth practice of Fall Camp as the Maroon & White continue to prepare for the highly-anticipated 2022 season. On Thursday afternoon, Jimbo Fisher, Demani Richardson and Caden Davis addressed the media.
---
The following are live, paraphrased notes from Jimbo Fisher's Thursday afternoon media availability:
Basically a week of practice. Nothing earth-shattering. Working hard, learning assignments. The freshman have done a good job of adapting. They feel like they have been out there a while. Older guys getting better, and we are working a lot of situations in. Pleased with the focus. To be a great football player, you have to play great situational football. I've been very pleased to see our guys grasp those concepts. Special teams is doing well. We're about where I thought we would be with knowledge.

Depends on the score and momentum of the game. In my career, I've been blessed with good kickers. Kicking can influence calling plays.

The guys that are worried about playing time, if you develop, we'll put you on the field. Worry about becoming a good player.

How well does Evan Stewart adapt to failure? From that standpoint, he does a good job. He is a freshman. Dotting i's and crossing t's. He has to go play, and he is doing that. We have to remember he's a freshman with how we coach him. His comprehension of football along with his overall intelligence allows him to do these things.

Quarterbacks are taking exactly the same amount of reps. We're rotating guys.

Number two in the country on third down in 2020. We weren't as consistent last year. In the red zone, you have to be physical.

Conner Weiman has picked it up well for a young freshman. If he makes a mistake, he doesn't repeat it very often. Same thing with Max Johnson. Haynes King is back. He has no pain coming off that injury.

Tight-end blocking is getting there. They can block if he wants to. They are learning. The techniques of it they are learning. I've been pleased with that.

Not getting into camp injuries. There are no season-ending injuries right now.

Demani Richardson has experience. He's good at dealing with the ups and downs of camp and setting the temperament.

A couple of games last year that we got overwhelmed offensively. We teach that at the end of practice if we don't finish. You don't ever win games in the first five minutes, but you can lose them.
Never miss the latest news from TexAgs!
Join our free email list