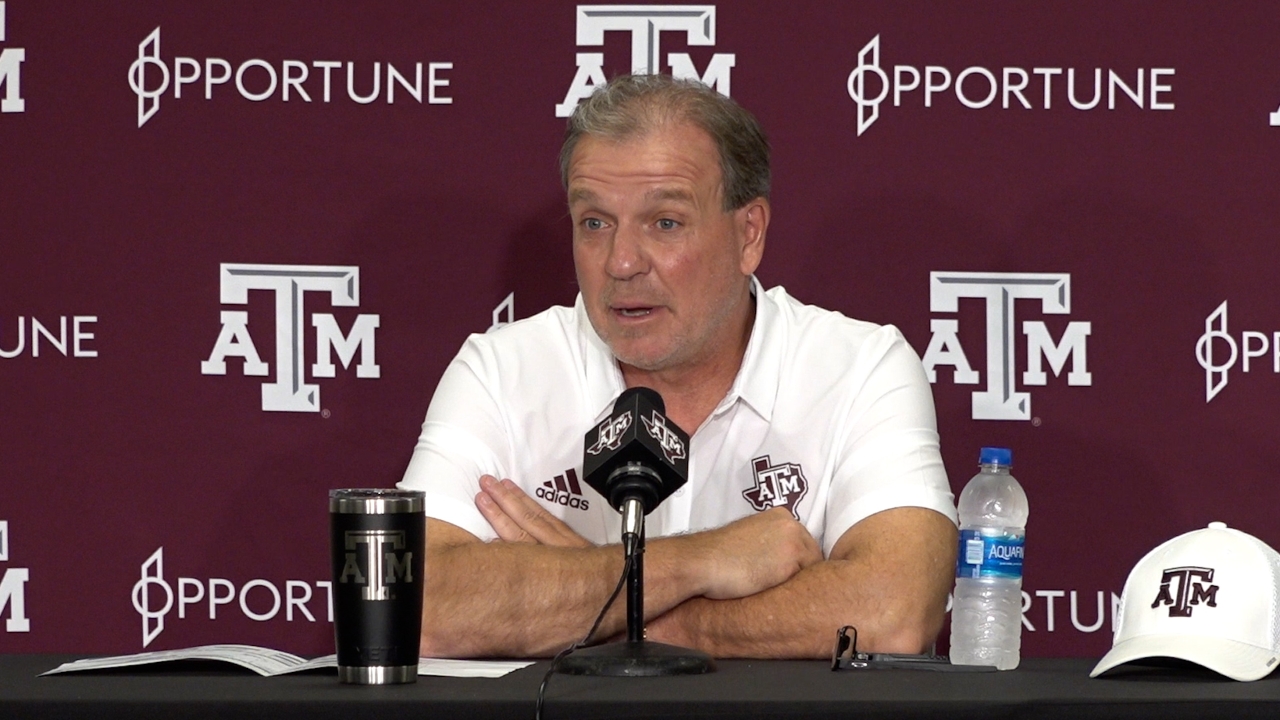 Jimbo Fisher
Elijah Robinson
Darrell Dickey
James Coley
D.J. Durkin
Layden Robinson
Devon Achane
Nik Constantinou
Edgerrin Cooper
Texas A&M Football
WATCH: Jimbo, coordinators and players take the stage for Media Day
---
Texas A&M held its annual media day on Sunday morning as the first week Fall Camp continues to roll along in Aggieland. Jimbo Fisher, Elijah Robinson, Darrell Dickey, James Coley, D.J. Durkin and four players took to the podium to speak to the press.
---
The following are live, paraphrased notes from Sunday morning's media availability:
Jimbo Fisher
We're our practices in; two in helmets, two in shells. We're getting a feel for guys hitting. Getting excited about the older guys. You hope they take steps. You want to develop your guys from a technique standpoint. Older guys are doing a good job of that. Everyone is getting reps. When you're recruiting them, they want to play. Now, they are getting reps. It's pleasing to watch. Their eyes get big, but then they see they can do it. In the beginning stages, I like our work ethic and demeanor. A lot of things we have to get better at. The power of preparation, and how you practice playing well. Everybody can sweat. You're practicing, but are you committed? What is commitment? How sore you are? How tired you are? There are battles all over the field. Competition eliminates complacency. Competition pushes you individually.

D.J. Durkin is putting guys on the same page. He runs a lot of the same stuff and is teaching how you play four-down fronts. He's a sharp, detailed guy, and guys have responded to him well.

The young guys, their knowledge physically is better now than in the past. Everybody has two physical therapists. They need to make sure they don't overwork. They have the body types and size and speed. It gives you the ability to be a good football player. You still have to play the game. They are more exposed from a knowledge standpoint. Technology and teaching make a difference.

Demani Richarson, Antonio Johnson, Layden Robinson and Ainias Smith have done a good job. Haynes King and Max Johnson too. McKinnley Jackson is healthy now and has jumped out to me. Edgerrin Cooper and Myles Jones too. Isaiah Raikes is mature. I'm trying to make sure I don't miss anybody. Those names jump out at me.

People don't realize the difference between professional and college ball because of the hashes.

We've mixed coaches around. Coach Darrell Dickey is with tight ends. Coach James Coley working with receivers. They've all coached those positions before.

When you're in shells, you can still be physical. I look for consistency and mental and physical toughness. Physicality is the best ability you can have.

All players on the team become your children. This senior class, I remember walking in their houses. Even if I didn't recruit a guy, it doesn't make me love them any less. You learn their goals.

The coaches' titles will stay the same.

We evaluate personnel on the other team. They add to their staff. It's about analytics, analytics, analytics and analytics.

That stretch of road games will challenge our guys. It's a difficult non-conference schedule. Going on the road in this league is tough. We emphasized our schedule to the players.
Elijah Robinson
Most important for young guys is teaching the small things. These guys were the best in the country in high school. Teaching the details and doing the small things is what we're focused on right now.

Success in the northeast is about building relationships with recruiting. Our support staff does a great job. All the things this school can do outside of football helps us sell it across the nation.

The older guys did a good job teaching the small things. They lead by example, and the other guys just follow.

We lost really good players, but these guys had a chance to be behind the guys that left. DeMarvin Leal, Micheal Clemons and Jayden Peevy worked. The guys now, we have to coach them up, and they have to buy into the process.

I always passed College Station driving and wondered what it was about. I would see the "Gig 'Em" barn and wonder what that was. The opportunity from coach Fisher was something I couldn't turn down. You play in the SEC and get a great education. Coach Terry Price made the transition helped make my easy.

You have to work together as a unit in a pass rush. It's not about sacks. It's about affecting the QB, and if we do that, we did our job.

We have the body types of guys that can play inside and outside.

McKinnley Jackson watched Peevy, and now he's the older guy. The young guys gravitate to him.
Darrell Dickey
Year 40 for me. There's change in the world and country, but this is still the most exciting time of year.

One of the more talented team I've been around but we lack experience. Extremely talented at tight end. Max Wright and Blake Smith are dependable and know the offense. Donovan Green and Theo Melin Öhrström will be great players and could be drafted in the first round. Jake Johnson too. They all have things they are good at. They are fun to coach. It's a room full of guys do well in this offense. We'll miss Jalen Wydermyer. It's a next-man-up philosophy.

We have more guys with outstanding talent than we've had. We have more depth too. Kind of back to Jace Sternberger's year. Wydermyer emerged after he left. We would like to have two or three emerge. I'm most excited about the wide receiver room. It's one of the fastest and most talented I've seen. Quarterback is a competitive battle. Max Johnson has SEC experience, but our offense is different. Haynes King has had the most reps in this offense. Conner Weigman is talented. Coach Dameyune Craig, who played QB in this system, will do a great job coaching. Devon Achane is one of the most dynamic players in all of college football. Do not forget about a freshman named Le'Veon Moss. The hungry guys are hungrier. A lot of competition out there, but we need to be hungry. It's going to be exciting, and we want it to be successful. We have more overall ability at all the skill positions.

Max and Jake Johnson are both great kids. They've been raised correctly. They are both trying to learn their positions.

Coach Fisher has developed great quarterbacks. It's a demanding position. They have to think, check running plays and set protections. It's a pro-style offense. They have to be very ready or willing to prepare. Kellen Mond spent hours up here watching film, asking questions. When you understand why the adjustments are being made, your QB is getting it. Kellen, during the early parts, wasn't seeing things like Fisher was. Max, Haynes and Conner need to know the offense as well as coach Fisher does. It's about decision-making and accuracy.
James Coley
Evan Stewart's speed is there. He fast in short areas and in long speed. It helps route runners get open. He's a bright kid. He brings a good package to the wide receiver room.

Ainias Smith has been huge for the old and young guys. He's always talking to them.

Everybody says this is the fastest team we've had since Fisher has been here.

The tradition brought me to A&M and being in great state that is loaded with players. The blue-collar ideals of this university are among the things that pop into my mind. Fisher is a big reason I'm here.

Everybody is pushing everybody. They talk in meetings and give each other thoughts. They've been good teammates in the meeting room and then get after it on the field.

In training camp, they are competing for jobs. With the tight ends' size, do they body-up or have a catch radius? They have a radius. They have a skill set that makes them an issue in the perimeter. The slants, those are yards you steal. Throw a bubble to a guy. That adds an element to your game.

Being a co-offensive coordinator during game day is about adjustments. Dickey is in the sky, and I'm on the sidelines.

I love Fisher's ability to have more and make the players feel as if it's less. The simple sayings. His ability to be a really good teacher.
D.J. Durkin
Fisher's track record, everything lines up to be something special. It's a good place to be.

The wrecking crew, the fans decide that. Our focus is on being better than we were yesterday. We don't care about titles. It is about getting better each day.

Coaching is about behind the scheme around the players. You play their strength. Throwing the playbook at them sometimes works, and sometimes it doesn't.

Any job, it's about creating buy-in. Coaches and players come together for one common goal. That's what I love about football.

I love our daily approach and attitude. The guys have adjusted to the new terminology. The day-to-day of coming to practice, there is buy-in right now. When you have that, you have a chance to be successful.

The defense embraces playing aggressively. That's a game-plan thing. Every week, you make the best decisions to make you successful in that game.

I'm thrilled to be in College Station, and my family is too. I'm so happy Fisher brought me here.

We're going to do what fits us best. Mixing of three and four-down looks will continue here for sure.

Position speed is important in football. Now more than ever, you better have it. Edgerrin Cooper has that. He is so willing, and he wants to be great.

Our defense staff is tremendous, and that transition has been awesome. Robinson and Price, I can't imagine a better coaching group. Tyler Santucci too. They have a great investment in the program. They have relationships with the players, and that part has been helpful for me.
Never miss the latest news from TexAgs!
Join our free email list