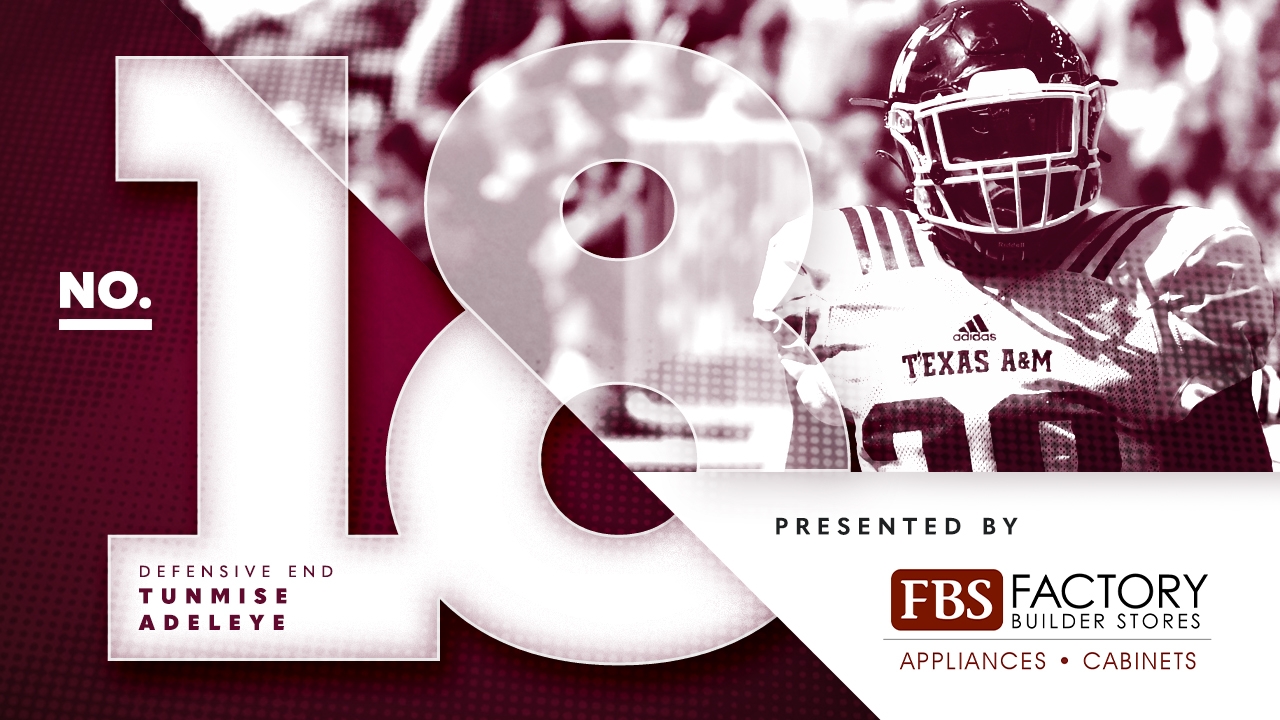 Texas A&M Football
22 Players in 22 Days: #18 Tunmise Adeleye
---
Position: Defensive end
Classification: Redshirt Freshman
Hometown: Katy, TX
Listed Height: 6'4"
Listed Weight: 295 lbs.
---

Key notes from Olin's thoughts on Adeleye
If I was building a defensive lineman in a factory, I'd build them like Tunmise Adeleye. He gave Trey Zuhn some trouble in the spring game, and I just love the name.

He's a five-star guy. He redshirted last year, and you almost forget that he's there. He's big. He's powerful. He's quick off the ball. On paper, he's everything you're looking for in a defensive end, but he has to show it. He hasn't done it yet, but all the indicators say that he can be really, really good.

We talked earlier about the pass rush and how there are question marks. Can they continue to have a strong pass rush? A lot will depend on Adeleye being a productive pass rusher. Can he get you a half dozen sacks and provide consistent pressure? A lot of guys have shown flashes that they can become dominant pass rushers, and Adeleye is one of those guys.

If Tunmise Adeleye is as good as we think he is and if McKinnley Jackson is a different guy now that he's healthy and you have Walter Nolen and others, who are opponents going to double team? If you can get consistent pressure with four guys or even three, then you're dropping seven or eight into coverage, which will make it even more difficult on opposing offenses. If they can get that pass rush this season, the defense could be even better than they were last year.

I think the secondary is going to make a difference vs. Mississippi State, but you have to have the pass rush. Don't go in there afraid of them like you did last year, giving them five yards and letting them dink and dunk it down the field. How did Ole Miss do defensively against Mississippi State last year?
Never miss the latest news from TexAgs!
Join our free email list
PRESENTED BY