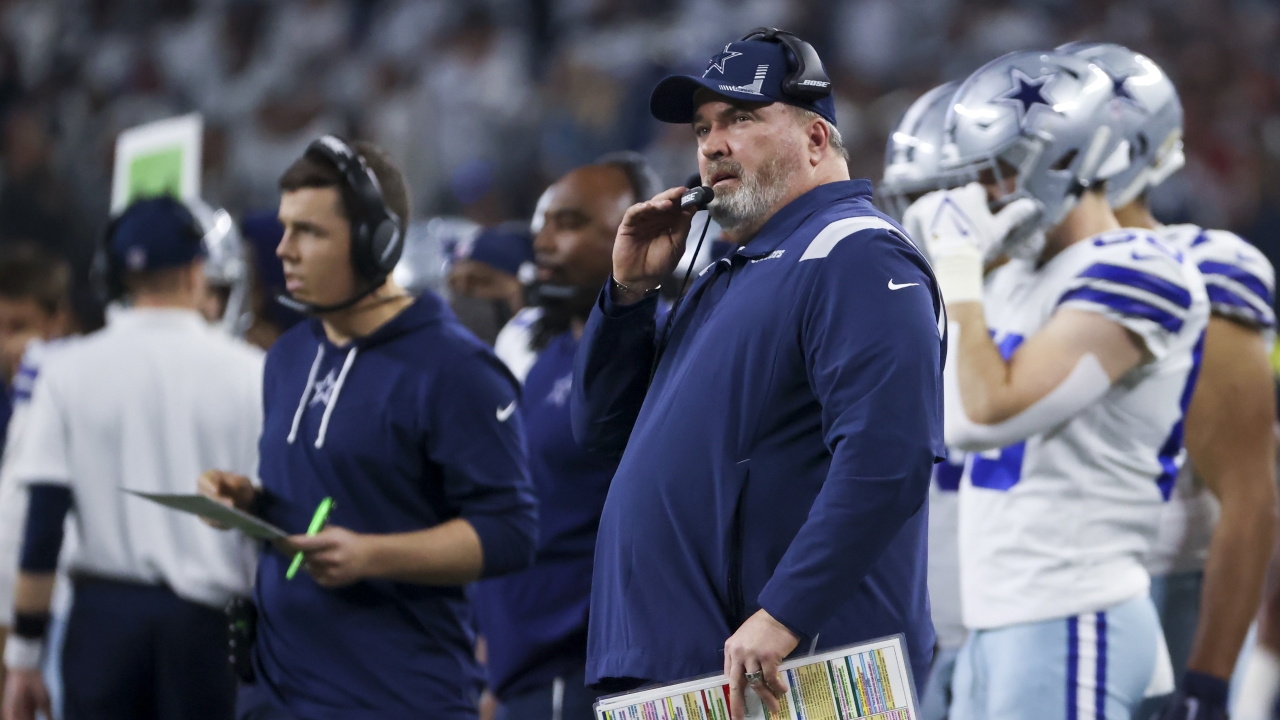 Photo by Kevin Jairaj-USA TODAY Sports
Texas A&M Football
Charean Williams gives thoughts on future of Dallas' coaching situation
---
Pro Football Hall of Fame writer Charean Williams joined Friday's edition of TexAgs Radio to discuss the conversations surrounding the NFL and the Dallas Cowboys. Williams also broke down her perspective of how conference realignment will impact college sports.
---

Key notes from Charean Williams interview
I'm watching Tiger Woods coming up on the 18th hole. What a great career for Tiger Woods. He's 150th right now. I love watching him play. There's speculation that this could be his last British Open.

With Ainias Smith, Layden Robinson and Demani Richardson at SEC Media Days, you get leadership and can look at all the things they have accomplished. They will be good professional players. They are good representations of the university. You don't have a quarterback up there, but we don't know who the starter will be yet. Those three guys will be a big part of what the Aggies do this season.

Ainias Smith needs more opportunities to show what he can do. Deebo Samuel and what he's done in the NFL is what I think who Smith could be in the NFL. He's going to get a chance this year to showcase that.

There was disbelief last year when Texas and Oklahoma announced they would be joining the SEC. It was pretty stunning the way it played out. When you first heard it, you didn't want to believe it. It's been one thing after another in college football. I don't think this is the last time we are stunned by teams switching conferences.

I don't know what's going to happen with college sports. I don't think anybody in charge does either, and that's a huge problem. Sending a USC volleyball team to go play Rutgers, I don't know how that's going to work.

For football, is it going to just be the conference champions that get into the playoff or do you expand? If there are two major conferences, then everyone else is just kind of there. They probably have a plan in place and may drain the other conferences. I don't know where this is headed. Maybe in the future, there are no conferences. Officials in charge need to think about how this is going to play out in the next 2-5 years.

The travel for the teams that play more than one game a week will be difficult. Baseball teams play series, but volleyball and soccer play midweek matches as well as games on weekends. You are keeping them out of school. This has to factor into the thinking. Football is what the thinking has been geared towards, but you do have to take the other sports into consideration.

The Cowboys had a deal to hire Sean Payton. It blew up not for the reason that you think. The Saints blew it up last minute. They had a deal in place at that time. Payton still has a house in Dallas. He is still in contract with the Saints. It would have taken a first-round draft pick to get Payton. I know Jerry Jones very well, and I don't think he wants to give that up to get Payton or pay him the right amount of money. It's going to be $50 million a year. I don't think he winds up here next year.

If the Cowboys do not make the NFC Championship, they will have a new head coach this season. Jerry Jones loves Dan Quinn. I think Jerry thinks Quinn is as good of a coach as Sean Payton, and he can get him for far less money next season.

I'm surprised more teams don't try to trade for head coaches. Sean Payton turned the Saints around. He will end up somewhere next season. It could be Miami.

With the trade that sent Baker Mayfield to the Panthers, the disappointment is that it didn't get done before now. When Brady went to the Buccaneers, he was not very good at the start of that season. He was struggling with the playbook. Mayfield hasn't worked with his future teammates, and that's not ideal to learn an offense in four to five weeks. I don't know if he's the starter in week one. He's better than Sam Darnold. You know he wants to beat the Browns in week one.

A decision on Deshaun Watson's future has to come quickly. I'd be surprised if his suspension is less than 12 games. I wouldn't be surprised if it's the whole season.
Never miss the latest news from TexAgs!
Join our free email list