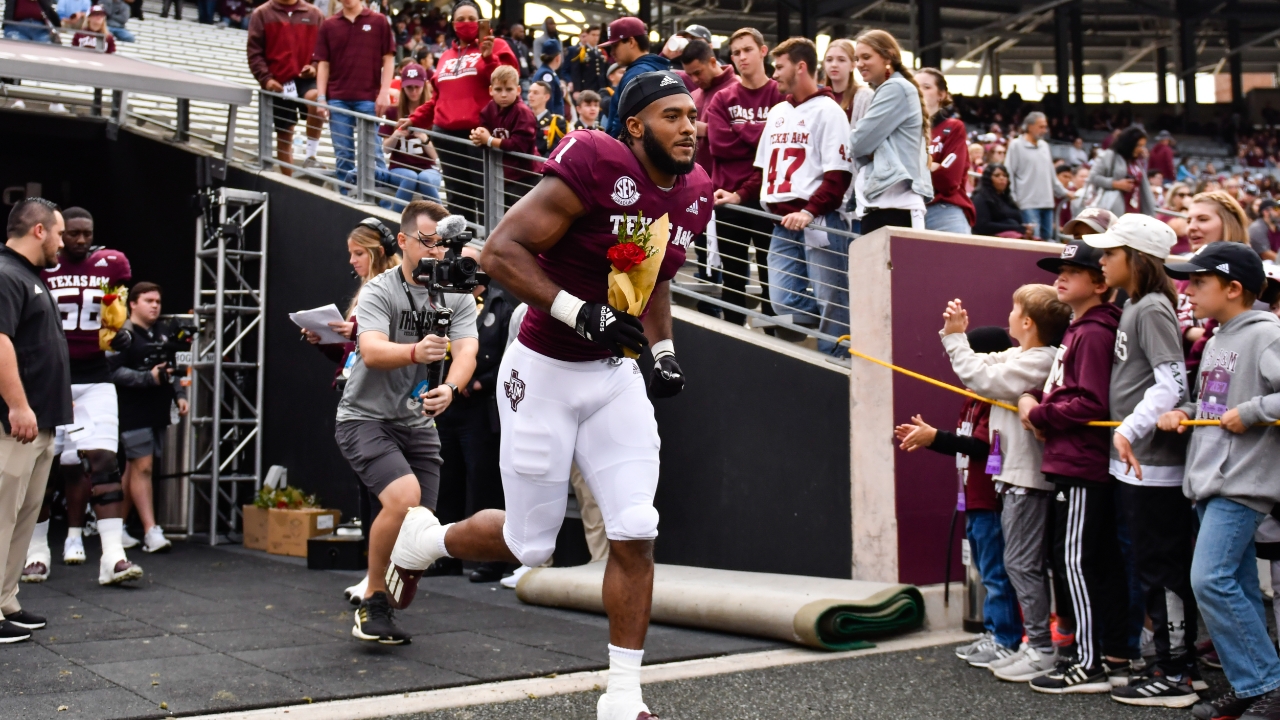 Photo by Jamie Maury, TexAgs
Texas A&M Football
Always Learning: Aaron Hansford's unique journey appears destined for NFL
---
The National Football League consists of 32 teams. Kids dreaming of playing in the NFL typically don't care which of the 32 teams draft them.
But some teams are just a better fit for a certain individual. Thus, in next week's draft, it would be fitting if Texas A&M linebacker Aaron Hansford was selected by the Philadelphia Eagles.
Philadelphia is known as the "City of Brotherly Love."
No one has more love for his brother than Aaron has for Emmanuel Hansford.
"He's an inspiration to all of us," Hansford said on A&M's Pro Day.
Emmanuel was born with Down syndrome. Yet, in his 21 years, he's shown he can achieve, and he can teach.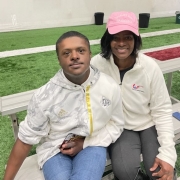 Hansford Family
"I always say kids with special needs and Down syndrome have a lot of love in their hearts," Aaron said. "They never discriminate no matter who the person is. He's always shown love to everyone.
"We judge too much. We're judgmental of everyone but ourselves, so when you have a younger brother whose whole life has been an open book, you learn to appreciate those things. Not everyone can express as much love as my little brother does."
Emmanuel loves with all his heart … a heart that has been surgically repaired three times.
"(Emmanuel) was born with a heart defect," explained Maudeva Hansford, Aaron's mother. "He had surgery within seven days after he was born. He had open-heart surgery at two years old. And again in Houston, open-heart surgery at Texas Children's Hospital in 2017. Those were some difficult times."
No doubt, difficult for the entire Hansford family, but especially Aaron.
Aaron wasn't just concerned about his younger brother. He was concerned with his future.
He arrived at Texas A&M as a four-star prospect in 2016. Recruiting website 247sports ranked him as the 148th overall player.
He was rated higher than Alabama defensive tackle Quinnen Williams, Notre Dame wide receiver Chase Claypool and Alabama quarterback Jalen Hurts. All three had successful collegiate careers and were taken in the first or second rounds of the NFL draft.
Aaron was rated as a linebacker but moved to tight end in an A&M scheme that rarely utilized that position. In two seasons, he caught just three passes for 39 yards.
Then, coach Kevin Sumlin, who recruited Aaron, was fired following the 2017 season and replaced by Jimbo Fisher. Aaron also was struggling with a knee injury that forced him to miss the entire 2018 season.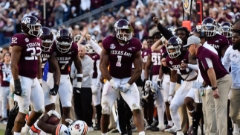 Jamie Maury, TexAgs
"That was a very difficult time in his life," said Adam Hansford, Aaron's father. "He didn't really know how he was going to recover as a level of athlete with all the transition between coaches. Sometimes you can get lost and fall through the cracks."
Perhaps that's when Aaron started exercising what he learned from Emmanuel. He would overcome his obstacles.
"Manny has always been (Aaron's) motivation," Adams said. "It's just beautiful to see how he embraces his brother with such love and compassion."
Quitting or transferring was not an option for Aaron. His dad always taught him to finish what was started.
The Hansfords are a family of achievers.
Adam earned a master's degree from the University of the District of Columbia. He also ran track at Texas Southern. Now, he owns an insurance agency in Houston.
Maudeva has a Doctorate of Ministry from Wesley Theological Seminary in Washington D.C. She also ran track at Southern University and set numerous sprinting records there.
She was commissioned as a Naval officer in 1985.
Their daughter, Gabrielle, also has a master's degree in International Relations from American University in Washington D.C. Emmanuel graduated from Bryan's Rudder High School in a program designed for students with special needs.
Aaron knew he could achieve, too. But if changing schools wasn't an option, perhaps changing positions was.
Before the 2019 season, he asked Fisher if he could shift back to linebacker. The move completely changed the trajectory of his career.
Aaron posted 15 tackles in a backup role in 2019. That included an eight-yard sack of Georgia quarterback Jake Fromm.
"I'm always learning. I've only been in the (linebacker) position for about two-and-a-half years. So I have a lot to learn. I played very well here at A&M, but I know that I can only play a lot better."
The next season, Aaron beat out incumbent starter Anthony Hines. He posted 49 tackles.
Prior to last season, he earned his degree in Communication and then had 89 tackles, two sacks, broke up four passes and returned a fumble 17 yards for a touchdown during the 2021 campaign.
"I'm always learning. I've only been in the (linebacker) position for about two-and-a-half years," Aaron said. 
"So I have a lot to learn. I played very well here at A&M, but I know that I can only play a lot better.
"If I had a time machine, I'd want to go back and play linebacker from the get-go. Maybe it turns out different for me."
It still may turn out fine next week.
A 6-foot-3, 240-pound linebacker who ran a 4.6 40-yard dash at the NFL Combine will get the attention of NFL scouts. The fact that he's still learning the position shows tantalizing upside.
Also, Hines landed on the Los Angeles Rams roster last season. With that in mind, it doesn't seem to be a stretch that Aaron Hansford — who beat out Hines for a starting role — would have a good chance to get drafted and make an NFL roster.
The Hansfords will be anxiously waiting to celebrate when Aaron's name is called.
Even if it's not called by Philadelphia, rest assured there still will be an abundance of brotherly love in the celebration.
Never miss the latest news from TexAgs!
Join our free email list
PRESENTED BY