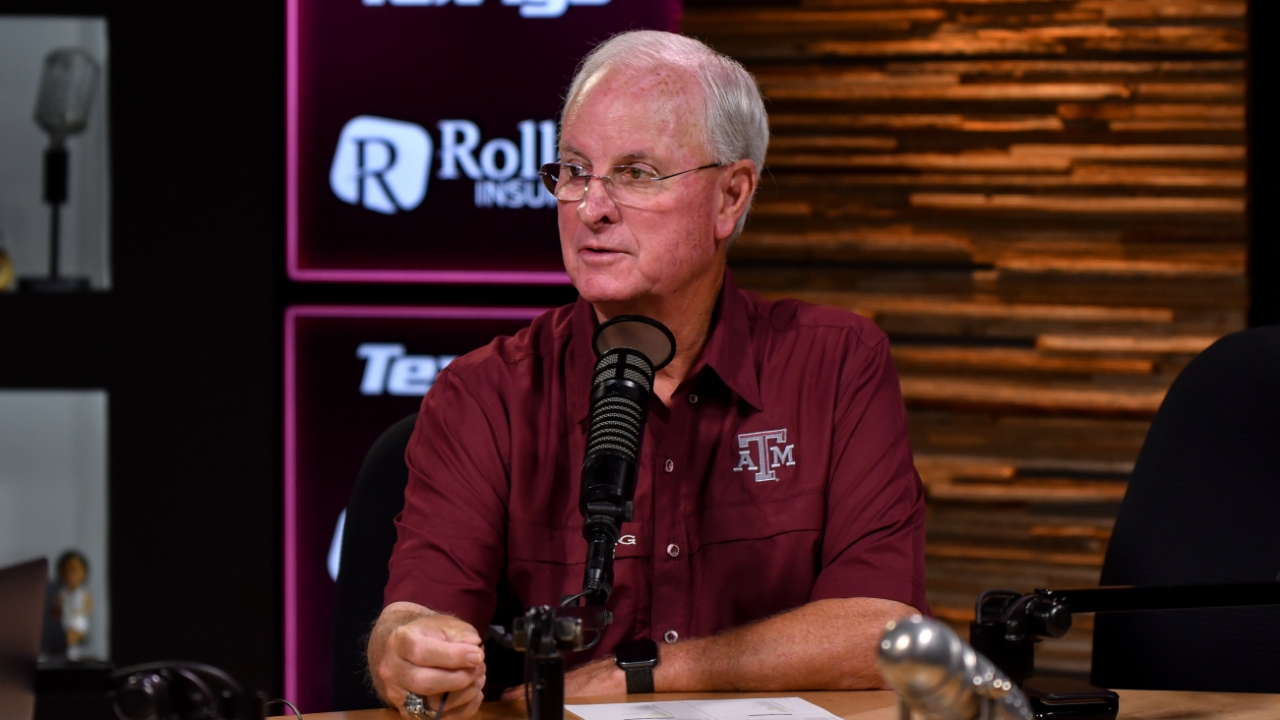 Photo by Jamie Maury, TexAgs
Texas A&M Track & Field
Track & Field Report: Pat Henry recaps 44 Farms Invitational
---
During Tuesday morning's edition of TexAgs Radio, Aggie Track & Field head coach Pat Henry joined for the Track & Field Report to go in-depth on his team's performance at the 44 Farms Invitational.
---

Key notes from Pat Henry interview
We split our team a little bit this time. For the mile and up, they're going out to California. Inevitably, the top group goes to one spot, and Mt. SAC has been one of those places where the top milers go. The Tom Jones meet in Florida is the best meet of our year for us so far. It's very competitive. Great things can happen here if you're ready to go.

This is the time of the year when things move very quickly. This is the time of the year where you're in trouble if you have a little bit of an injury. You cannot afford to miss this time of the year. It's a qualifying time of the year.

It is great to have 44 Farms involved in our program. They're great people that want to be involved in track, which we appreciate.

It was a good meet, but the wind blew about 100 mph. It wasn't very friendly if you ran around the entire oval. A really bad wind is tough for short hurdlers. It blew hard enough where even long jumps weren't qualifying. If it's over 4.0, which it was, you can't use it as a qualifying mark.

We kept hoping the wind was going to die later in the evening. Brandon Miller even warmed up to get ready to go. We're trying to run really fast, and that wasn't possible last weekend.

Bryce Foster is at a time of the year and the season where he is so competitive that, in some instances, he has to back off a little bit. He needs to relax a little bit. He's learning, and he's a big man with a young brain. He's going to be really good. He just has to learn how to do some things that come very naturally to him. Sometimes, your brain is so fast that your athletics can't keep up with it. He's a spinner in the ring for the shot put, and he moves too fast coming around that circle. You have to throw with your hips and your lower body. His hips are gone, so he's just throwing with his arm. He just needs to time it up.

Ryan Martin ran really well this weekend. He ran 10.14 and beat Devon Achane. Devon's concentration level was a little bit off because he spent some time over at football on Saturday. You can't be on your feet all day. You have to rest. Even though Devon didn't do anything on the field during the spring game, he still got beat on the track. Still, I think it was great that he was over at football. It's great for him.

If you're not fueling yourself at the right time, that's a huge determiner. Timing that out and finding the right time is key. About three or four hours out, you better eat something, no matter who you are. You have to put something in your body because that's your energy source.

That's the first time Annie Fuller ever ran that race, and she set a school record. That shows how good of an athlete she is. It's fun to watch her. It was a really good race for her.

Allyson Andress had about four personal bests in the heptathlon. She is still leaving some points on the table too. If she stays in it for another year, she's going to be stronger, smarter and more competitive.

Luke Barrett is a guy that works. Nobody knows the hammer throw when you come to college. No high schools throw the hammer in Texas. It's a learning practice, and he's going through it.

When it's 85-90 degrees in the south, you know it's going to rain in a lot of cases. You deal with it. I just hope it's not a sustained, long rain. As long as it's warm, you're usually OK for most events.

Moitalel Mpoke needs to run in the intermediates this weekend. Brandon needs to run the 800m, and he will do that this weekend.

I don't like when the team is split up at all. I don't like sending people to other places. However, that's part of the game, and you have to play the game. We don't do this much, and I don't think it's good for the sport. You can't lose the concept of scoring the most points and winning the track meet. If we lose that aspect, what are we doing? We've been asking the NCAA to step in and stop that, but they won't do it.

About half of the SEC schools will be at the meet in Florida this weekend, and it will be very competitive. Everyone thinks the Texas Relays is such a big deal, but it's just another track meet.

Watch both relays this weekend. Both relays are prepared to run. Laila Owens is going to run a 200m again. I want to see the consistency of effort out of her this weekend. Charokee Young as well. Achane has a great opportunity to run well. There are a lot of things we're watching this weekend.
Never miss the latest news from TexAgs!
Join our free email list