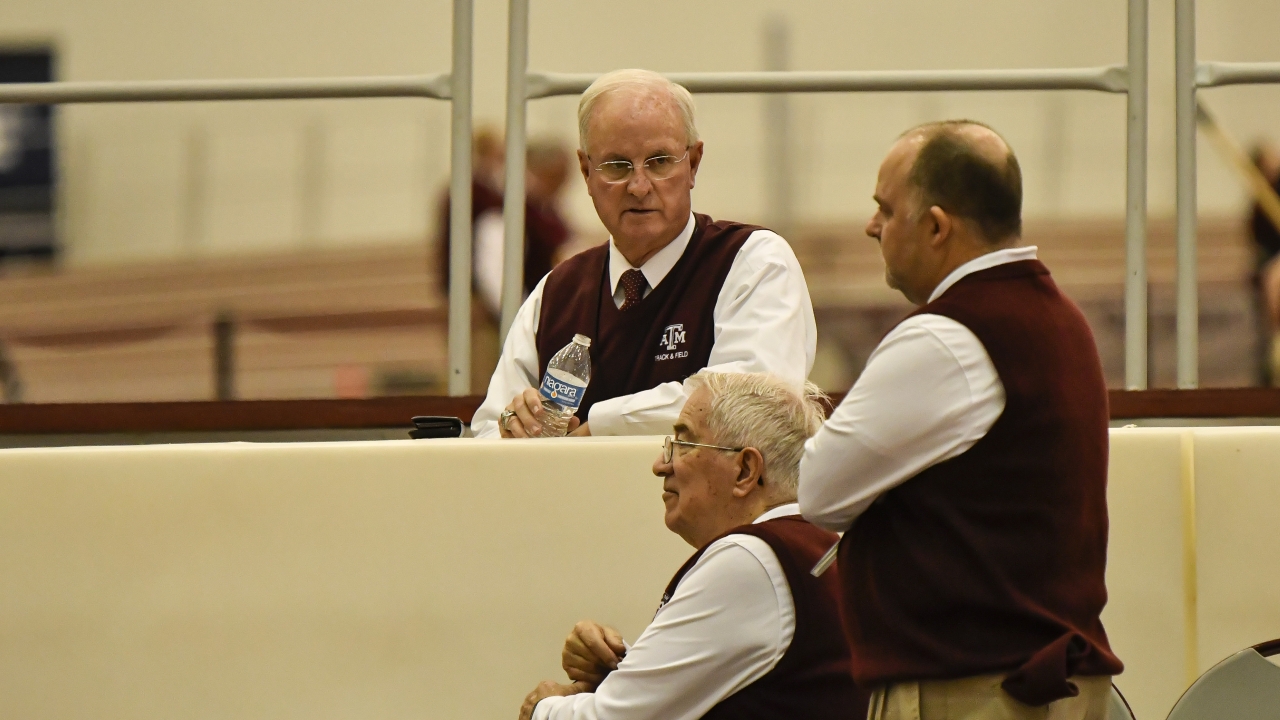 Photo by Madelyn Giles, TexAgs
Texas A&M Track & Field
Pat Henry looks back on Texas A&M's showing at 2022 SEC Indoors
---
Last weekend, Texas A&M hosted the 2022 Southeastern Conference Indoor Championships in what was the final at Gilliam Indoor Stadium. On Tuesday, legendary head coach Pat Henry joined TexAgs Radio to recap a number of good performances from the Maroon & White.
---

Key notes from Pat Henry interview
By placement, it looks terrible. We didn't do the things, but we knew going in that we would have some issues. The team I put on the track, I was pleased with. On the men's side, we had three that couldn't compete. On the women's side, a lot of people know why we were without 20-plus points. It's just the way it is. We had some great, great things happen this weekend that will be fun to talk about.

The building was full. It was a great crowd, and it was the last time we ran a track meet in that building, which is a sad state of affairs. We will have a nice facility in a year and a half or two years. There were so many great things that happened in that building, so it was sad to think it was the last thing to happen there. There are few buildings that hosted four NCAAs, and that was one of them.

Zach Davis had his best day at the SEC Championships and won the pole vault. That's what you want to happen. It took 17-3 to win this one, and he PR'd to win that one. He was an excited guy, and I'm proud of him.

It's hard to say anything but great things about Brandon Miller. He ran 1:45 in the 800m, and it was the third-best time ever run by an American. It was a collegiate record. If you watch him, not too many people have to guts to get the lead from the get-go. He challenged himself to go out and win that event.

Lamara Distin is jumping really well. I think she has a couple more inches in her. She has to have somebody pushing her. If somebody else jumps 6-4.5, I think she could do it as well.

Deborah Acquah jumped well in the long jump. She has a bit of a problem in the triple jump right now, and she has a shin that's bothering her. We took her in to see the doctor yesterday, so we'll have to see what it looks like at the NCAA.

We got beat in the women's 4x400 on this day. I think we have the opportunity to turn that around in 10 days, but to think we ran faster than we did last year, which was a collegiate record last year, is a huge run for that group of four ladies.

Bryce Foster is going to be very good. His hard work shows up. He's just not there yet. It's a transition between the two sports. I hope that he can be competitive in the conference by the time the outdoor season ends. It will be a while before he's competitive nationally.

I thought Devon Achane ran well. He was one one-hundredth of a second away. He's in the mix. I just don't think he's confident in himself in the 200m yet. He needs to be a positive thinker about himself. He thinks about indoor and outdoor completely differently. He just doesn't like the banked turn, but it's a mental state of mind.

This weekend will be the first time we're putting together a high school outdoor meet, and 70 schools said they wanted to come immediately. There will be a lot of people in town this weekend. It looks like we will have good weather this weekend, which will certainly help us.

We'll have a couple of days right now to rest. We did some work yesterday, and we'll work today. Wednesday will be a day off for those who competed. We will get back on schedule quickly.

When we first got started here, I didn't have an indoor or outdoor track, so we were on the road every weekend. Some of that is not good, but some of that is good. You have to balance some scheduling, and we'll look at that over the next year and a half without an indoor track.
Never miss the latest news from TexAgs!
Join our free email list