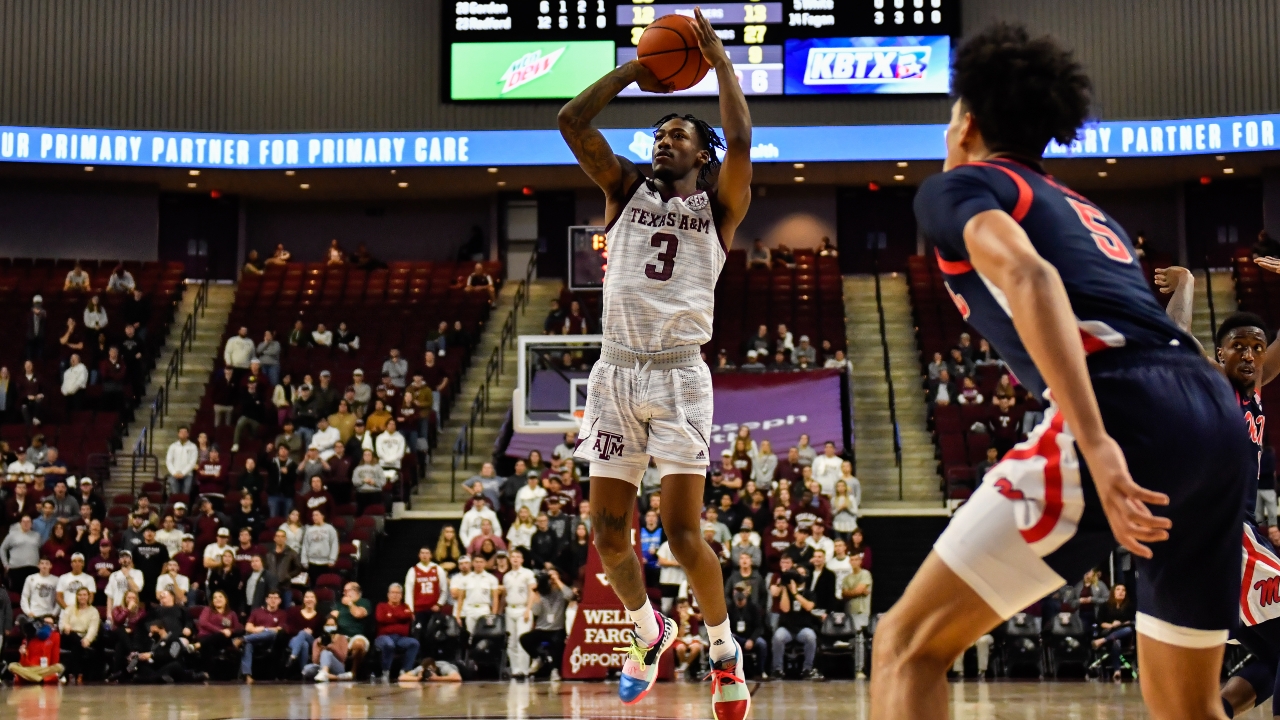 Photo by Jamie Maury, TexAgs
Texas A&M Basketball
Getting the ball to playmakers key in Aggies' rematch with Ole Miss
---
The keys to Texas A&M winning two of its last three basketball games appear to be simple and obvious.
A. Put the ball more often in the hands of guards Quenton Jackson and Tyrece Radford, who have been productive.
B. Decrease playing time for guards that are struggling.
"We want the most energy on the floor," Texas A&M coach Buzz Williams said. "We want the most toughness on the floor. We want the most consecutiveness on the floor. It's not just going to be five guys the whole time. But whoever it is that's on the floor, that's what's required."
The Aggies (17-11, 6-9) will try to follow that plan when they travel to face Ole Miss (13-5, 4-11) on Saturday at 2:30 p.m. A&M is seeking to post consecutive victories for the first time since beating Ole Miss and Missouri back-to-back in early January.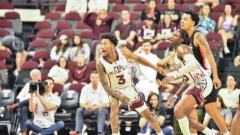 Jamie Maury, TexAgs
Jackson is on a torrid hot streak. He's tallied 54 points in the last two games, scored in double figures in 10 straight and has shot 62.5 percent (20-of-32) from the field in the previous three contests.
He hit 11 of 11 attempts from the field in a 91-77 win over Georgia on Tuesday.
"The only shot he missed was a free throw," Williams noted. "I knew he was playing well. I'd look at the stats at each TO. But I never addressed it during the game because that's kind of like bad karma, in my opinion. He's playing real well."
Radford also has been consistently effective. He's been in double figures in six of the last seven games and has shot just under 50 percent (10-of-21) in the last three.
They've been operating the point in the half-court in recent games. That's because Marcus Williams and Wade Taylor IV have been ineffective of late.
Williams, who was benched against Georgia, had made just 3-of-22 shots in the last five games in which he's played.
Taylor, who may have hit a freshman wall, has made 2-of-19 shots in the last three games. He played nine minutes against Georgia. The freshman figures to get a chance to break out of his slump because he had nine points and four rebounds in a 67-51 victory over Ole Miss on January 11.
Radford scored 12 and Jackson had nine in that victory. Forward Henry Coleman III was the dominant force in that win with 18 points on 9-of-10 shooting.
A&M was particularly effective on defense in that first clash with the Rebels. Ole Miss shot just 34.6 percent and only had nine offensive rebounds.
The Rebels were boosted by guard Daeshun Ruffin, who had 10 points and four assists. They don't have him this time. Ruffin sustained a season-ending knee injury on Feb. 1 in a 76-72 victory over LSU in which he scored 19 points and had three assists in just 20 minutes of play.
Ole Miss has lost five of six games since Ruffin's injury.
"They've had some injuries, and their personnel is a little different than when we played them the first time," Williams said. "Their plays are kind of the same. Their players and how their players play is a little different.
"The usage rate of some of those guys have changed. So we've tried to make some adjustments relative to what we've seen them do since the last time we played them."
"We want the most energy on the floor. We want the most toughness on the floor. We want the most consecutiveness on the floor.
Guard Matthew Murrell is averaging 11 points, and guard Jarkel Joiner has averaged 17.1 points in five games since returning from a back injury that forced him out for a month.
A&M matches up well as the earlier victory over Ole Miss indicates.
However, the Aggies have lost five consecutive SEC games on the road.
"The two Achilles heels of our program: We can't get crushed on the defensive glass, and we can't give them points off live-ball turnovers," added Williams. Those would be the separators, whether we've played at home or on the road.
"Regardless of locale, I think those have been the two things we have to handle in order to have a chance to win."
And A&M will likely need Jackson and Radford to continue playing at a high level to end its road skid.
Never miss the latest news from TexAgs!
Join our free email list
PRESENTED BY