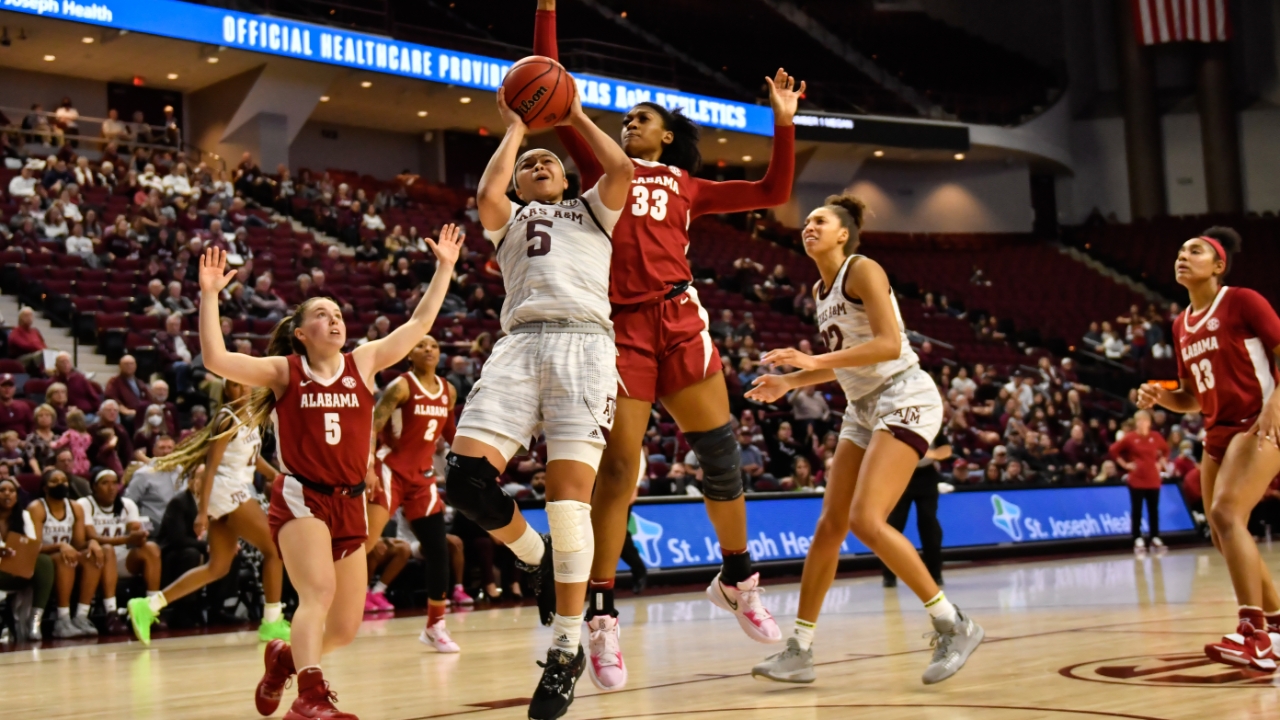 Photo by Maeve Neville, TexAgs
Texas A&M Women's Basketball
Despite late rally in regulation, A&M falls to Alabama in double OT, 81-79
---
The Aggies entered the game with their postseason aspirations in peril.
Yet, they fumbled what could have potentially been their last lifeline.
Unable to overturn a second-half collapse and offensive inconsistencies, Texas A&M (14-12, 4-10) fell to Alabama 81-79 on Sunday evening in a dramatic double-overtime affair.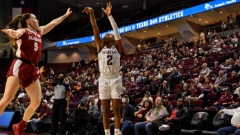 Maeve Neville, TexAgs
"This loss did not happen tonight," A&M head coach Gary Blair said. "This loss happened in the first game we played against LSU, the first of the [SEC] season.
"We've got to get better, and that's what we're not doing. We're trying hard."
After leading by as many as 12 points in regulation, the Aggies were forced into the comeback situation after a dismal second-half performance.
Alabama's backcourt — Megan Abrams and Brittany Davis — finished with a combined 58 points and gave the squad a desperate spark to stay afloat in overtime. Davis hit two triples in the final three minutes to seal the win.
Both teams had several opportunities to clinch the victory, but a final back-and-forth sequence resulted in a wild finish to regulation.
After Destiny Pitts made it a one-possession game down with 30 seconds left, Alabama was subsequently cornered into using their final timeout, nearly avoiding a five-second call on an inbound.
Freshman Eriny Kindred intercepted Alabama's second-chance inbound and scored her lone basket in transition to tie the game with 13 seconds left.
"We've got to get better, and that's what we're not doing. We're trying hard."
The final stretch of regulation was still unfinished.
Abrams squeezed by A&M's post for a layup to take the lead with 1.4 seconds on the clock, but a defensive lapse by the Crimson Tide resulted in a wide-open Aaliyah Patty underneath the basket that tied the game as time expired.
But the Aggies were unable to close, losing grip of a five-point overtime lead and eventually suffering their third-consecutive loss.
Despite shooting a lackluster 39 percent from the field, five Aggies finished in double-digits, paced by Qadashah Hoppie's 16 points. Patty added another double-double at 11 points and 12 rebounds.
Now slipping into 12th in the SEC with tonight's loss, the Aggies will have to close out their remaining two games with little margin for error in hopes of squeezing into tournament play.
Texas A&M will return to Reed Arena to host the top-ranked South Carolina Gamecocks in Blair's home finale this Thursday.
Tip-off is set for 7:30, with the naming dedication ceremony for Gary Blair Court also taking place pregame.
"We've got to have some Olsen Magic happen in Reed Arena," Blair said. "So that means South Carolina, we're going to give it everything we got."
Never miss the latest news from TexAgs!
Join our free email list