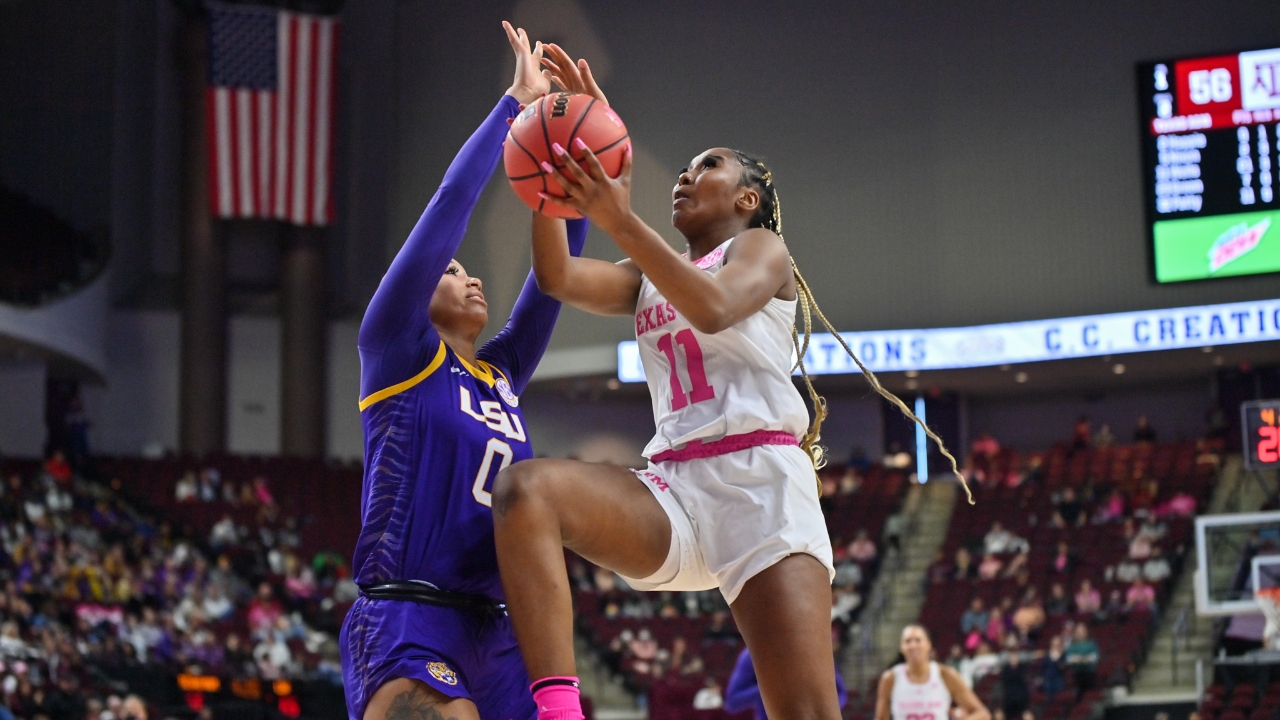 Texas A&M Women's Basketball
Aggies struggle defensively in second half, fall to No. 14 Tigers, 74-58
---
It's not about how you start. It's how you finish.
Texas A&M (14-10, 4-8) fell to No.14 LSU (21-4, 9-3) in a Southeastern Conference clash on Sunday afternoon at Reed Arena, 74-58, as the Tigers snapped the Aggies' three-game winning streak.
A&M faltered in the second half after that a 33-27 lead into halftime. LSU struggled shooting early and at one point went 0-for-11 from the field. Fueled by the Tigers' misses, the Aggies closed the second quarter on a 13-6 run.
The Maroon & White led by as many as eight points and shot 44 percent from behind the arc in the second quarter. Guard Kayla Wells had fifteen points, and the Ags held all the momentum going into halftime.
"I thought we were very much into this game. We had an eight-point lead, and we couldn't finish it up."
"I thought we were very much into this game," Texas A&M head coach Gary Blair said. "We had an eight-point lead, and we couldn't finish it up."
Both teams battled early in the second half, but a 14-7 LSU run capped off the third quarter. Shots started falling, and LSU quickly regained the lead by making six of their final seven shots.
"They were able to find their flow, and they stayed with it, and we weren't able to come back," guard Jordan Nixon said. "We took a punch and couldn't recover."
An 11-5 run by LSU to start the fourth dashed any A&M hopes of a comeback. The Tigers' dynamic backcourt proved to be the difference.
"We got beat at the guard position, and when you get beat at guard play, you get beat at coaching play," Blair said.
LSU guards Khayla Pointer and Alexis Morris combined for 50 points as LSU shot 42 percent from the field and a blazing 56 percent from deep.
"They are quick, athletic and know how to play the game of basketball to get one-on-one situations, and it's a tough cover for anybody in the country," Nixon said. "They hit shots in big moments, and that's what good players do."
A&M shot the ball just as well, shooting 40 percent, but only two Aggies finished in double figures. Wells had 23 points, shooting 9-of-16 from the field, and forward Aaliyah Patty added a double-double with 11 points and 10 boards.
"Wells played her heart out there today, and she needs some help out there," Blair said. "We need to catch up to her level. She gave us everything we have."
A&M has four more games remaining and look to close out Blair's final season strong.
"We are going to take Monday off, and we are going to get better, not bitter," said Blair. "As a coaching staff, that means it's a work day for us."
The Aggies will get a chance to bounce back next Thursday on the road against Ole Miss.
Never miss the latest news from TexAgs!
Join our free email list