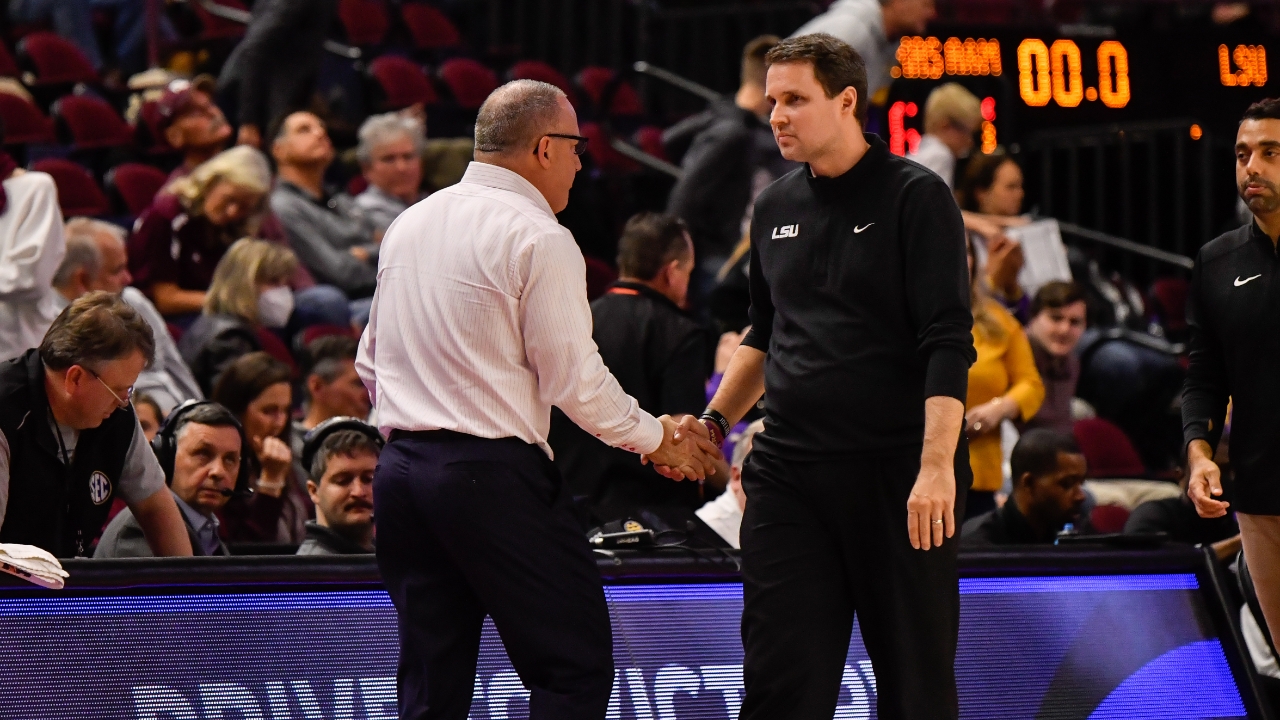 Photo by Jamie Maury, TexAgs
Texas A&M Basketball
Aaron Torres takes us around college basketball as A&M searches for answers
---
Key notes from Aaron Torres interview
It's not going well for Texas A&M basketball right now. The other night, you lost to an LSU team that isn't playing very well. Obviously, in the first game with LSU, you lost a game that was in your hands. LSU came in this week having lost four or five in a row. They had lost every game since they first beat A&M. Without having looked too closely at A&M's schedule, there are still some good wins to be had in this league, but I don't know how many games they have left vs. those top teams. Things are not going well for them right now. I understand the frustration. I really do.

I know how Arkansas' season has changed because I had Eric Musselman on my podcast, and we talked yesterday for my podcast about the win over Auburn. He shook up his Arkansas lineup. Musselman comes from the NBA and has coached everywhere. He is used to losing and gaining players. He told me about when he was in the CBA and had his three best players get called up to the NBA during stretch time. He's used to adjusting his lineups.

Tennessee is on a six-game SEC win streak since losing to Kentucky. I would lean towards Arkansas in that game, but we're going to learn a lot about both teams. Arkansas has to go to Alabama, and Tennessee faces Kentucky on Tuesday. We'll learn about both teams.

Musselman has a little bit of a history of going shirtless. When he was at Nevada, we went viral for taking his shirt off. He told me that the Arkansas fans have been clamoring for a shirtless celebration. When you come to a place like Arkansas that has struggled forever, and they finally have some momentum, you have to embrace the moment. If you don't enjoy beating the No. 1 team on your own court, then you're Alabama football, where you go in expecting to win in dominant fashion from start to finish. I have no problem with that celebration. Sports are supposed to be fun. Was the shirtless celebration a bit much? Maybe, but he was only out there for a minute or two. Enjoy it. This is what sports is supposed to be about, and it's fun.

Shaedon Sharpe was the top player in the high school class of 2022, and he enrolled early at Kentucky to train. With where his graduation date and birth date fall, he is eligible for the NBA Draft this year. They could have a top-ten pick that never played a minute for Kentucky. John Calipari officially said this week that he is not going to play this season, but Cal claims he will be back next year. I don't necessarily believe that. Kentucky might be the No. 1 in the country right now, and with how the guards are playing right now, I think it's the right decision not to play Sharpe.

As someone who covers the SEC but not Auburn, I'm curious if this Bryan Harsin situation is something where we're one big family, but we know we have a delinquent brother? One, this goes back to the recruiting conversation we had last week. A big part of A&M's recruiting success has to do with dysfunction at LSU, Florida, Texas or wherever. Auburn's issues are like Texas' on steroids. If you hire a guy, you have to give him a legitimate shot to prove if he can do the job or not. Auburn was 6-2 coming into that A&M game and ranked in the top 15. There were reasons for optimism at Auburn, but clearly, there were too many cooks in the kitchen. Harsin left the country for vacation, and the boosters staged an uprising. I'm not sure I've seen anything like this. I'm kind of rooting for Harsin to some extent, but at some point, they're going to have to find a solution because this isn't sustainable.

I don't think any high-level recruit doesn't look at NIL at some point. It's part of every conversation right now, but there are tangible, obvious reasons why Texas A&M had success with this class. Most of this class was committed before this season. Other big names committed on big visit weekends. The conversation surrounding A&M paying players bothers me. As Jimbo said, the fact that credible media members ran with this story as fact also seriously bothers me.
Never miss the latest news from TexAgs!
Join our free email list