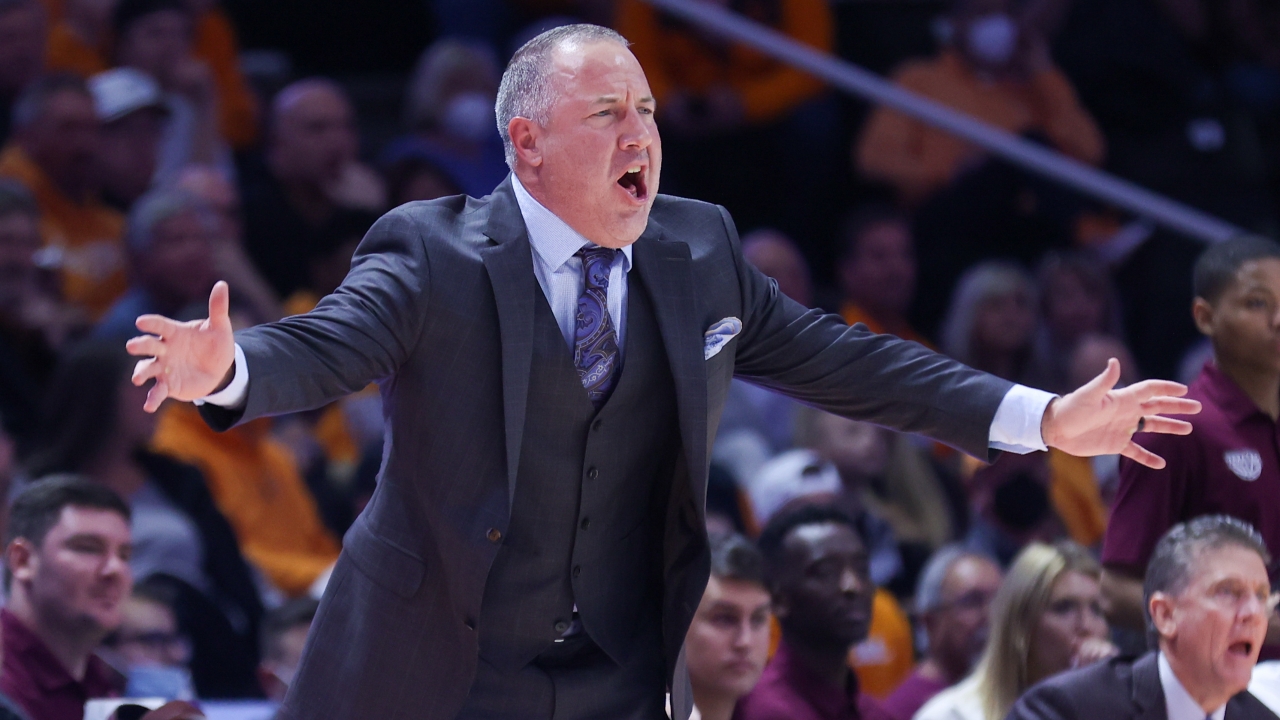 Buzz Williams
Taylor & Radford
Texas A&M Basketball
Losing streak reaches five as Texas A&M falls to No. 22 Tennessee, 90-80
---
A Texas A&M rally was extinguished, and a streak was extended.
The Aggies came back from a 14-point deficit to pull within one in the second half but ran out of steam in a 90-80 Southeastern Conference basketball loss to No. 22 Tennessee on Tuesday night in Knoxville.
The Aggies (15-7, 4-5) could point to recurring problems for their fifth consecutive loss.
"The difference in the game tonight was the live-ball turnovers we had," Texas A&M coach Buzz Williams said. "We had 16 turnovers. Ten of those were live that turned into 15 points. Then, when Tennessee shot, they offensive-rebounded 52 percent. Their offensive rebounds turned into 13 points.
"I understand we're going to have turnovers, and I understand we're going to give up rebounds. But we gave away 28 points in those two categories."
"I understand we're going to have turnovers, and I understand we're going to give up rebounds. But we gave away 28 points in those two categories."
Despite those problems, A&M fought back from a 53-39 deficit early in the second half to pull within 60-59 on Andre Gordon's baseline jumper with 8:49 to play.
Momentum abruptly changed in favor of Tennessee (15-6, 6-3). Volunteers forward Olivier Nkamhoua hit a mid-lane, fade-away jumper to start a 16-2 run.
That flurry staked the Vols to a 76-63 lead. The stubborn Aggies pulled within 77-70 on Wade Taylor IV's three-point play with 3:29 left but could get no closer.
"I thought we played with incredible fight," Williams said. "Not to over-diagnose it … (we took) two timeouts in the first half, two timeouts in the second half. All four that we used were on their runs. Their runs were coming off our live-ball turnovers or their offensive rebound putbacks.
"When we made runs was when we weren't turning it over at that high of a rate and when we were finishing the possession with a defensive rebound."
The Aggies echoed that appraisal.
"We stopped defensive rebounding and starting turning the ball over," Taylor said. "Our energy was always there. It was just defensive rebounding and turnovers."
Taylor led the Aggies with 19 points. Quenton Jackson had 14. Henry Coleman III registered, 12 and Tyrece Radford had 11.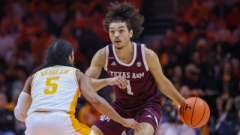 Randy Sartin-USA TODAY Sports
Guard Kennedy Chandler scored 16 points to lead five Tennessee players in double-figures.
The Aggies did a lot of things surprisingly well.
They converted 84 percent (21-of-25) at the free-throw line and shot 57.1 percent (16-of-28) from the field in the second half.
But Tennessee shot 50.9 percent from the field and 42.3 percent (11-of-26) from 3-point range.
Williams said Tennessee's high shooting percentage was a byproduct of offensive rebounds and A&M turnovers.
"If you give the (opposing) team the ball 10 times and they shoot layups, that equates to 15 points," Williams said. "If you defend your guts out but don't finish with a defensive rebound and they get it and score bunnies, that's 13 of their points.
"That won't work. That won't work against a team that's good enough to play in the Final Four in an environment like this. That won't work at home, no matter who we play."
Never miss the latest news from TexAgs!
Join our free email list