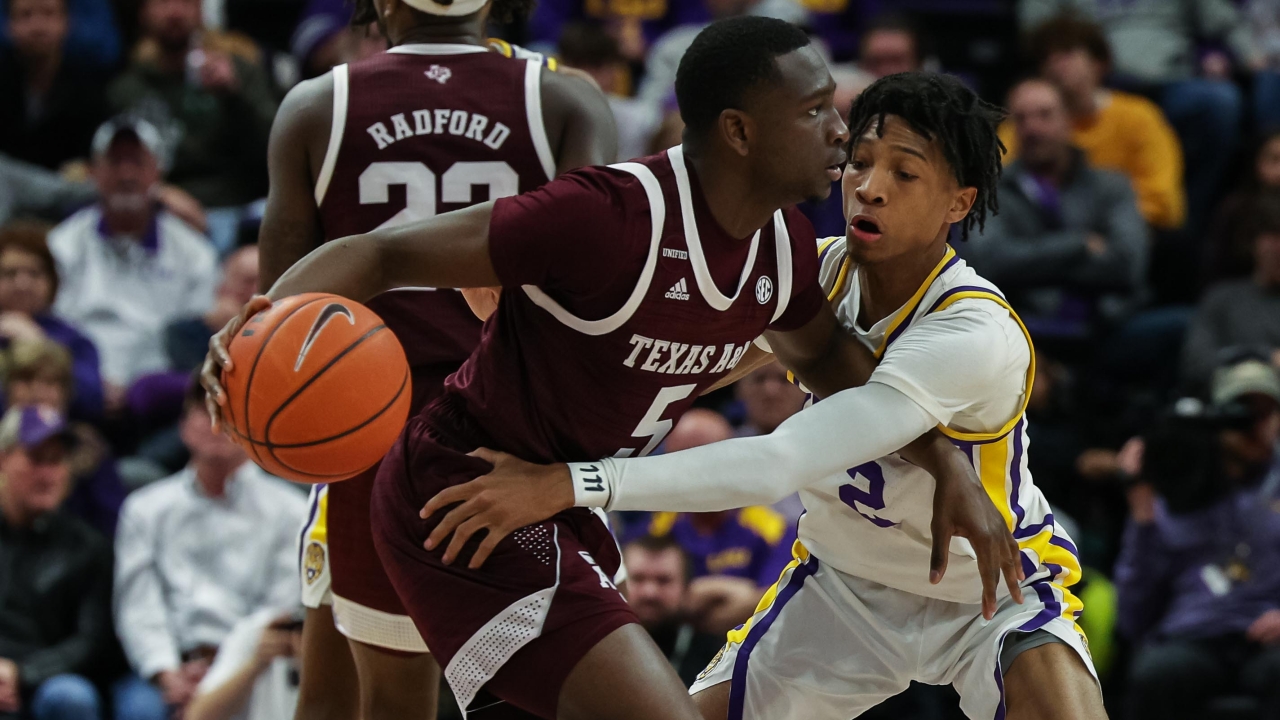 Photo by Stephen Lew-USA TODAY Sports
Texas A&M Basketball
Despite late lead, Aggies drop third straight as No. 19 LSU prevails, 70-64
---
Late-game icy shooting resulted in a prolonged Texas A&M skid.
The Aggies (15-5, 4-3) missed eight of their last nine shots — including their last six attempts — to suffer a 70-64 loss to No. 19 LSU (16-4, 4-4) in a Southeastern Conference basketball clash on Wednesday night in Baton Rouge.
A&M appeared in great shape to end a two-game losing streak with fewer than four minutes to play.
Quenton Jackson's layup with 3:45 remaining staked the Aggies to a 62-57 lead.
Also, LSU was without injured starters Darius Days and Xavier Pinson. Top player Tari Eason also was in and out of the lineup with an apparent leg injury.
But A&M's offense limped down the stretch as LSU outscored the Aggies 13-2 over the final three-and-a-half minutes.
A&M only managed a Tyrece Radford put-back for a 64-61 lead with 1:45 to play.
"I don't think it was just necessarily the last four minutes that hurt us. I think it was the entire game. We have to do things better as a team."
But LSU's Mwani Wilkerson hit a game-tying 3-pointer — his only basket of the game — over A&M's Marcus Williams.
A&M's frustration peaked on its next possession.
Marcus Williams misfired on a 3-pointer. After an offensive rebound, Jackson failed to convert a layup. Another offensive rebound followed, but Andre Gordon's layup was blocked by Shareef O'Neal.
Radford missed a 3-pointer with 17 seconds left that could have given A&M a 67-66 lead.
LSU Tigers converted six free throws in the final 34 seconds to turn back the Aggies.
"They hit the three on the sideline out of bounds. I think right after that, we missed three layups," A&M coach Buzz Williams said. "(We) shot a ball, got an offensive rebound, missed a layup. Got an offensive rebound, missed a layup.
"I don't remember every single shot after the last media time out, but I think we were up going out of the huddle. I felt comfortable with our shots."
The game featured 11 lead changes and ten ties, and there was no scoring run longer than seven points until LSU's 9-0 flurry to close the game.
Though the win slipped away in the final minutes, the Aggies lamented too many missed opportunities throughout the game. That included 17 turnovers and converting only seven of 18 layups.
"It's not just from the end of the game," Gordon said. "I think it's throughout the game. Free throws, turnovers, rebounding. I don't think it was just necessarily the last four minutes that hurt us. I think it was the entire game. We have to do things better as a team."
Jackson led the Aggies with 20 points. Andre Gordon broke out of a personal slump to net 18, and Tyrece Radford, playing in his hometown for the first time as a collegian, had 14.
Guard Brandon Murray led LSU with 20 points. Guard Eric Gaines finished with 16, and Eason had 14.
The Aggies had sputtered to start in their previous two losses, but with Gordon leading the charge, they got off to a fast start.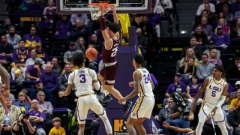 Stephen Lew-USA TODAY Sports
Gordon, scoreless in the previous two games, scored 13 points in the first half. He had 11 before the second media timeout to give A&M an early 13-7 lead.
That was the largest margin by either team in the half.
LSU went to the free-throw line to come back. The Tigers hit 11 of 19 free throws en route to taking a 34-31 lead at the break.
"I thought we started better," Buzz Williams said. "I didn't think we played very well in the first half. Several different reasons. I think their 2-2-1 pressure bothered us. Our turnover rate was too high, which led to transition baskets for them.
"I think the second thing was, in the half-court, they had too many offensive rebounds. We did not do a very good job from a defensive rebounding perspective."
Buzz Williams said LSU was more aggressive in securing contested rebounds and loose balls.
"In a game that's as competitive and as physical, there were too many 50-50 type balls on unclean rebounds," he said. "Too many 50-50 kind of loose balls on the ground, 50-50 type kind of a possible jump ball.
"We've done a good job of winning that category. Tonight, we didn't win. I thought in a game that's as highly contested as this one, particularly on the road, we've got to do a better job with that."
Never miss the latest news from TexAgs!
Join our free email list